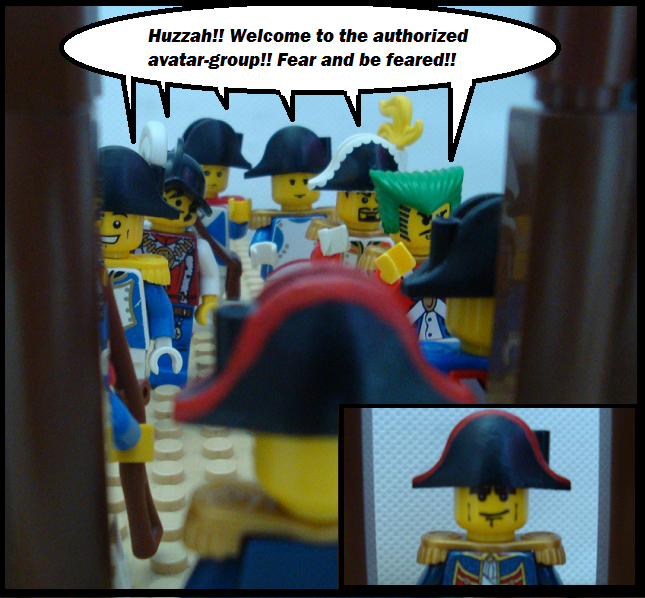 The Rules State: "The use of avatars in comics is encouraged and permitted but limited to the avatars of those who have entered the Tournament, Tournament Hosts and Classic-Pirates Crew Members. Eurobricks members who wish to allow the use of their avatar in the Tournament may do so by signing up in a special topic that will be opened. By joining the Tournament or authorizing the use of your avatar you are agreeing to have your avatar abused in whatever way competitors and Tournament Officials see fit to abuse them."

If you would like to join the fun and allow competitors to use your avatar in their comics please provide the requested information in this Topic. Competitors and Classic-Pirates Staff are already fair game but if you'd like to provide your specific information in this Topic that is OK.
Please Post:
1) Your username
2) An image of you avatar
3) Which side do you support (ie. Redcoat or Bluecoat).
If your avatar has a custom torso decal, please provide an image of the decal.
If you don't have a certain minifig that you'd like to abuse: no problem!
Most of the torso decals can be found here in
The Great Pirate Torso Library
(then scroll down to
Official PIRATES/SAILORS
) ready for you to print! Torsos from the Pirates of the Caribbean theme can be found
here
.
Tip for if you don't have an avatar yet: don't use too many rare parts if you want to feature in multiple comics.
IMPORTANT Tournament Threads
The Rules
Official Sign Ups
Avatar Authorization
(this thread)
Prize Pool
Please do not post questions here or any other comments. This topic is just for authorizing the use of your avatar during the Tournament!
Questions can be asked in the RULES thread.