Vig. 24c
Okay, so here's my first ever pirate MOC. I know that it doesn't have a lot of stuff packed into it, like some Vigs can/do, but I liked it simple, so kept it like that. I focused on making nice planks and so other cool stuff, but still, mainly simple. Iā€™m hoping to come in third; it was creative at the very least.
Okay, so when I heard about PTV I thought about how, maybe, the pirate's life isn't as bad, and maybe I could show their cruelty another way, like them effecting others by looting too much. So, here we go!
Captain Fang-Russ, after a good and long night at the bar, comes back to his ship and is surprised to see his gang-plank already lowered. As he stands there confused a British Officer walks off his boat, carrying some of his treasure. This simply confuses Fang-Russ more. Noticing the Pirate Captain the Officer looks apologetic. ā€œIā€™m sorry,ā€ he says ā€œbut we need it far more than you. Weā€™re not getting paid any more you see. Youā€™ve taken the money they would use to pay us.ā€ He then walks off, followed y many of his fellow soldiers, each lugging one of Fang Russā€™ treasure chests after them.
The scene
The figures (and bird)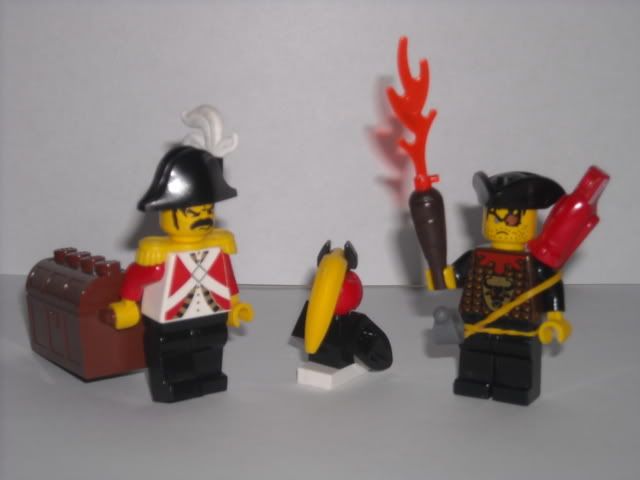 -Zeph