I was greatly inspired by Batbrick's magnificent Interactive Apocalypse, and had this idea of an interactive LEGO story of my own. But instead of focusing on just one character, this story features a large and varied cast hailing from different points in history. They are all survivors of a dimensional collapse, and they will get stranded on a strange place between time and space. In each episode, some of the survivors will lose their lives, while others join the group as they explore the place further. The best thing is that it's totally up to you readers who gets to live and discover the secrets of the dimensional crash!

But that's all in the upcoming episodes. This first episode is all about the backgrounds of the first 25 characters created for this story. That's why there is no poll for killing anyone off just yet, just one about which characters you want to hear more about. Note that you can choose multiple options.

The background stories are accompanied by pictures of MOCs I created and photographed just for Time Crash, so I hope you'll enjoy both the text and the images. I hope this interactive story kicks off well, so I will get the boost to make the next episode soon.

All comments, feedback and especially questions are very welcome, so don't hesitate. But for now, I'll leave you with the actual story.
*****
Prehistoric Era ~ Oceania, 8000 BC
1. Shamaness Uhla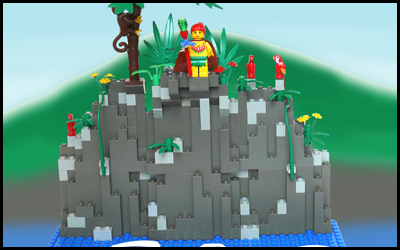 She stands on a high cliff with the ocean raging below her, and wind whisking her dyed hair. She knows the sea and the wind, so she does not fear them. They are her brothers.
But suddenly, something changes. She senses that the sea and the wind grow afraid.
"Why do you fear, indomitable sea? Why are you afraid, ever-travelling wind?" asks Uhla, the shamaness of the small tribe that inhabits this island.
The sea and the wind bring a warning to her, but it is too late. Uhla wants to warn her tribesmen, but there is no time. She can just watch in terror as the brightness takes over.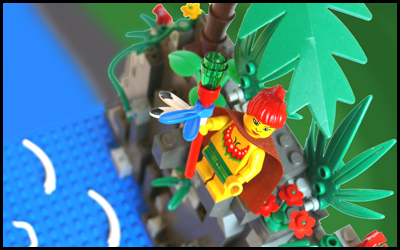 Ancient Middle-east ~ Persian Empire, 200 BC
2. Assassin Ferid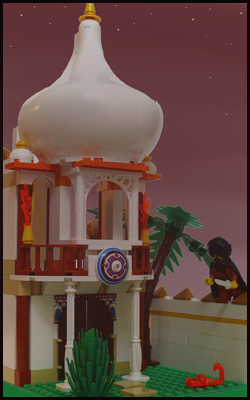 The night was hot, which suited Ferid well. It meant that his victim would keep his chamber's windows open. Without a sound, Ferid jumped like a cat to a ledge in the wall and climbed into the chamber through the window. Silently and without mercy he slashed the throat of his victim.
"The will of the gods is fulfilled", he muttered. He took a moment to look at the dumbstruck expression lingering in the face of his victim. This man was a treasurer for the shah, but he had fallen to the common vile of humanity: greed. Thus Ferid was hired to end his days.
Without a sound or guilt, Ferid climbed back to the window he came through. A sudden light blinded the eyes of the deadly assassin, and for a split second he thinks he was caught. In that moment, he felt sheer joy. But that moment passed all too soon.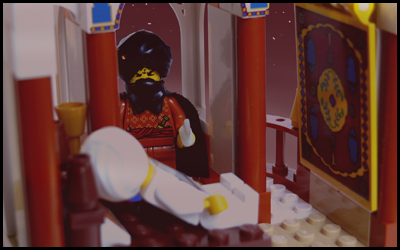 Viking Age ~ North Atlantic, 1000 AD
3. Viking Thurbaldr
"My men, beyond that horizon lies Vinland, where untold wealth await us! Few ships have reached it, but we will make it! In the name of Odin!"
"In the name of Odin!" cried Thurbaldr, along with the rest of the hundred warriors on board. But enthusiasm had long died from his cry, for they had been on this cursed journey for weeks, and Thurbaldr dearly missed his wife and the newborn son he left home.
Alas, the obligations of a viking warrior outweigh the obligations of a father, and the captain of the ship was a very persuading man. You either join him or face his blood-smeared axe.
Thurbaldr wished nothing more than a mutiny on the ship, but he was too afraid to start it, even though he knew many of the other men felt the same way. Ashamed and bitter, he hung his head down, and thus missed the brightness that encircled the ship.
Middle Ages ~ Scotland, 1300 AD
4. Maiden Ywen
5. Black knight Ghast
6. Witch Morrigan
Ywen did not know where the brute of a knight was taking her. The man in a black armor had just entered the household of her father, slain all those who opposed him, pillaged the family heirlooms and swept the young maiden away with him. Now she couldn't do anything but hold tight as the knight rode through the morning mist on his fierce black stallion. She tried to hold back tears, but failed miserably.
Eventually they came to a halt in front of an ominous tower. The knight roughly pulled her down from the saddle.
"Get in" the knight muttered, and kicked Ywen forward. Ywen opened the creaking door, and saw a woman sitting by the fireplace. What little Ywen could see in the smoky room was chilling her spine.
"Back so soon, Ghast? Ah, you brought a guest!" the woman said when she saw Ywen cowering in the doorway. "Come in, lass, make yourself comfortable."
"With all due respect, Lady Morrigan, the girl's mine", the knight said as he entered, carrying the sack filled with loot. "These are for you."
"Why did you bring me here?" Ywen managed to ask, trying to act brave.
Lady Morrigan watched her with cruel pity in her eyes. "You poor thing. So oblivious to the darkness of the world. The life of innocent souls is always so short and sweet…"
The woman reached to the floor and took a human skull to her hands, gently stroking it. Ywen gasped with horror, and turned back to the door, only to meet the knight, whose face was spread in an evil grin. At that moment, she fainted.
Mysterious Orient ~ Ming Dynasty China, 1500 AD
7. Mystic Zhu Que
8. Apprentice Huang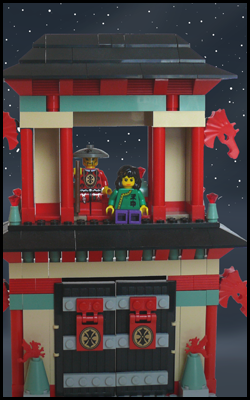 "Laozi said: even the longest journey begins with the first step. You will do well to remember this, my apprentice."
Huang bowed her head, taking in every word her master Zhu Que uttered.
"Now, look again."
Huang opened her eyes to the starlit sky. It took a long while before she finally saw it. "The Vermilion Bird… There is something wrong with it… The stars… Are they moving?"
"Yes, my apprentice. Do not be afraid of moving forward slowly, only be afraid to stop."
"But master, what does this mean? An ill omen?" Huang asked in despair. She was only fourteen, not versed in the secrets of the stars at all. She was just learning all this from Zhu Que.
"Distortion in the tapestry of being... It can bring nothing but a great misfortune. Be aware, my apprentice."
Huang looked at her master in confusion, and saw his eyes widening as the stars exploded.
Pirate Age ~ Caribbean Sea, 1700 AD
9. Pirate Rosette
10. Lieutenant Santiago
11. Old Pirate Jeremiah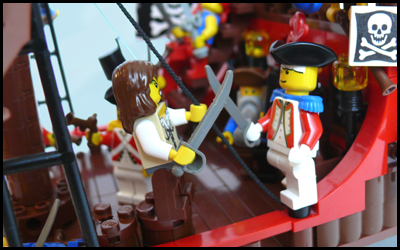 Rosette was not going to give up easily – she was the daughter of the notorious Jasper Hook, after all. Her cutlass clashed with the lieutenant's.
"In the name of the Spanish Empire, woman!" the Imperial lieutenant shouted. "If you hold your life in any value, you surrender now!"
Rosette grabbed one of the loose ropes hanging from the mast and swung her to the other side of the ship.
"I will not follow my father to the gallows! If you want me dead, Lieutenant Santiago, you will have to pierce me with that sword of yours right here!" Rosette yelled back across the raging battle between the pirate crew and the imperial army. The battle was already lost, the ship was on fire and most of the crew was dead. But Rosette had the spirit of a true pirate, a persistent instinct on surviving.
If her plan would succeed, Lieutenant Santiago would come after her, allowing Jeremiah, the oldest and most trustworthy member in the crew to get him from behind.
But luck wasn't on the pirate woman's side, for at that moment the deck split in two. Rosette lost her balance and fell overboard to the embrace of the sea. Just as she hit the waves, she saw a bright light engulfing the sky.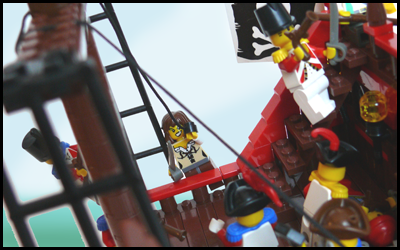 Wild West ~ USA, 1840 AD
12. Bandit Trigger
13. Lakota Princess Cougar Claw
14. Sheriff Northfalk
15. Lakota Chief Dancing Mountain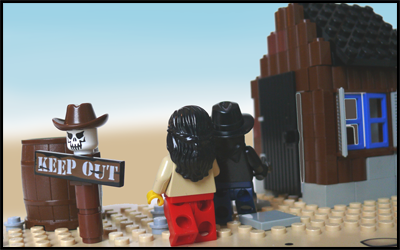 They ran as fast as they could, but the sound of the hooves grew nearer all the time. Hiding in an abandoned shack, they had just enough time to exchange their final words.
"What are we going to do?" cried Cougar Claw, the beautiful girl from the native Lakota tribe that Trigger had fallen for. "They are going to catch us soon, and I will lose you forever.
"Don't you cry, darling! I'll take as many of them with me as I can before they get me. I'm the fastest gunner in the Wild West, after all", Trigger lied. His boasting didn't work on Cougar Claw, and he knew it. But he wanted nothing but to make her feel safe, even in this desperate situation.
"But my father is there! Trigger, you must promise you won't hurt him!" Cougar Claw begged.
"He ain't nothing but trouble for us, sugar! He banded together with that no-good sheriff as soon as he found out about us! You're better off with me", Trigger said.
"With you?! You're a wanted bandit! How the gods must have laughed at me when they made me fall in love with you!"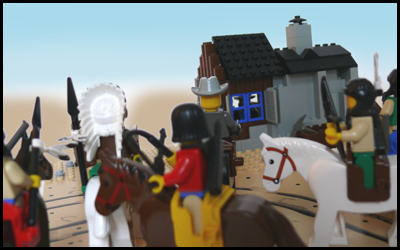 The distressed lovers shared a passionate kiss, but it was interrupted when the riders finally arrived to the shack. Sheriff Northfalk, a self-absorbent man, landed from his saddle and aimed the shack with his rifle. Behind him, Chief Dancing Mountain and twenty of his men peered around with their eagle eyes.
"We gotcha, lovebirds! Trigger, we don't want your woman get hurt, and neither do you! So come out with your arms raised, now!" the sheriff barked.
Trigger gazed deep into the hazel eyes of his lover, and that was the last thing he saw for a good while.
Victorian Era ~ United Kingdom, 1880 AD
16. Lord Ashton
17. Prostitute Eleanor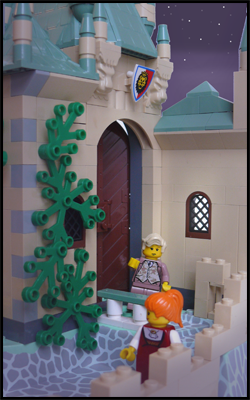 Ashton gripped Eleanor by the arm as she was leaving. "Now you listen to me!"
"Ow, you're hurting me!" Eleanor exclaimed, fury burning in her eyes.
"I can't go on like this anymore! I need you to marry me so I can take you away from this rotten life!" Ashton shouted on the verge of tears.
"Who said I wanted out? This is the only way I can live as a free, independent person, and I won't let any man prevent that!" Eleanor shouted back. Their heated argument echoed around the estate. Ashton knew that the servants would hear it and spread the gossip, but he didn't care.
"But I love you, Eleanor! I want to protect you!" he tried to explain, but the woman was as headstrong as ever.
"I don't need your protection!" Eleanor hissed, released herself from his grip, and marched away.
Tears filled the eyes of the lord of the manor just as a bright flash of light blinded him completely.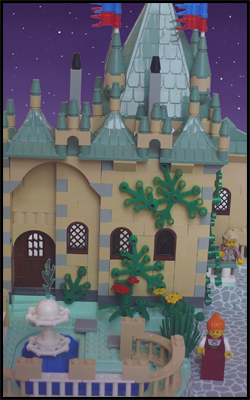 World War II ~ Soviet Union, 1940 AD
18. Commander Sergei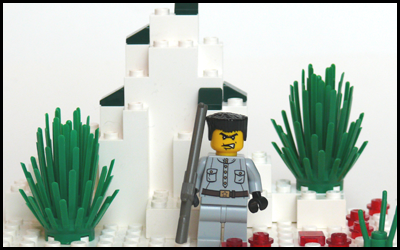 War is hell. Sergei knew it better than most people. He had been fighting for his entire life. For what, he didn't know himself. He had risen in ranks because of his dedication to war. Passion for battle was all he knew, all he ever wanted.
Sergei did not fear death. He feared life. Life had nothing to give to him, it had taken everything away. So Sergei fought, and would fight, until death would finally come for him in the euphoria of the battlefield.
How devastated he was when he was suddenly swept away from there.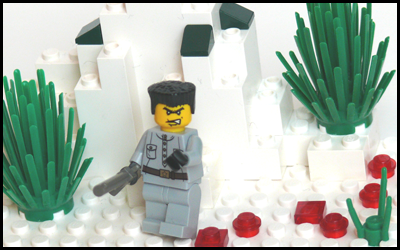 Postmodern Time ~ Australia, 1990 AD
19. Doctor Matthew
20. Paramedic Bob
21. Patient Anne
22. Schoolboy Parker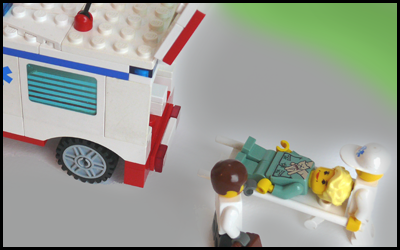 "Oh, doctor! You've always been so kind to me", Anne said with a weak smile as Matthew pushed her stretchers into the ambulance. The middle-aged woman had been a patient of hers for a long time. She had survived from cancer several times, but it had always renewed worse than before. This time Matthew had come personally to bring her to the hospital as the symptoms had gotten intolerable overnight. Anne was still in her pajamas, rambling about her precious pets. "Dangit, I forgot to ask Tara to feed the cats."
"Everything will soon be alright again. I won't let anything happen to you", Matthew assured.
"I take that as a promise, Doctor", Anne said, closing her eyes.
"Let's go, Bob!" Matthew shouted at the ambulance driver and climbed next to the stretchers. He felt a lump in his throat. Anne's condition was getting worse every minute. He did not know if he could keep the promise, but he was sure going to try his damn hardest.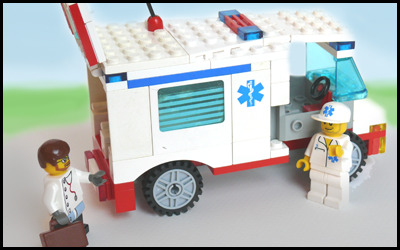 *****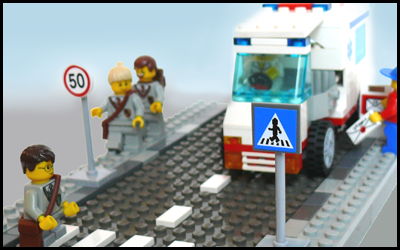 Parker was crossing the road, on his way to home after a school day. His forehead was still hurting from the stone that the bully Fred threw at him. Of course the teachers said nothing about it, Fred was from a wealthier family than Parker, after all. But Parker knew that injustice was one of the main principles of any private school.
Distraught and feeling light-headed, Parker didn't see the ambulance speeding towards him. And then, all was white.
Space Age ~ Earth's Orbit, 2200 AD
23. Captain Dereq
24. Explorer Vanya
25. ???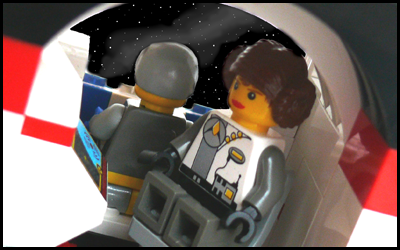 The whole ship was shaking, and Vanya had a hard time finding something to hold on.
"I knew I shouldn't have trusted you and this rusty ship of yours!" she shouted at the elderly man piloting the vessel.
"Oh relax, Miss Vanya! The Starduck and I have been through a lot, she wouldn't let me down!" the man replied nonchalantly, flicking the controls.
"Captain Dereq, may I remind you that your ship is carrying invaluable specimens from alien civilizations. And I did not travel to another galaxy just to crash land on my home planet! You better get us down safely, or I swear I'll…"
Vanya was out of words. She was a famous intergalactic explorer, but much to her dismay, stupidity was an intergalactic phenomenon as well. She couldn't believe that she had accepted this old fart's offer for a cheap shipment to Earth.
If only she would survive this with the fantastic specimen she found intact, she would be rich enough to buy her own, brand new spaceship – and then the universe would be hers to conquer!
Suddenly all the lights in the cabin started flashing red and the alarm went off. Vanya turned around to see a dark figure enter the cabin.
"What the…?" Vanya gasped, but her words were cut as the red lights were overtaken by a brilliant brightness.

*****
That was it for now! I really hope you liked it, so you'll come back for Episode 2, where the characters find themselves in the bizarre Void Island.