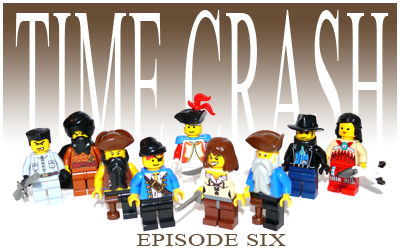 The struggle to survive a collapsion of time and space continues! This episode and the next both concentrate on half of the survivors, to give a better focus on the characters. I think after this episode, you will know all the characters quite well - except maybe the two new characters that join the cast.

This episode features some major time paradoxes that will surely twist your brain. It raises a big question about what has happened to the world and history outside the Void Island?

Two characters from the original cast will depart in this episode, but the others can rest for one episode, because we will return to Sergei and his posse in Episode Eight, where all the remaining survivors finally come together. But two characters will not live to see that gathering. You decide who they are by voting in the poll above.

I hope the other poll questions are to your liking as well! They are quite important in deciding what happens to the characters besides staying alive.

Now, onto the story!
*****

Anne, the Patient (Postmodern Time ~ Australia, 1990 AD)


Bob, the Paramedic (Postmodern Time ~ Australia, 1990 AD)


Cougar Claw, the Lakota Princess (Wild West ~ USA, 1840 AD)


Ferid, the Assassin (Ancient Middle-East ~ Persian Empire, 200 BC)


Jeremiah, the Old Pirate (Pirate Age ~ Caribbean Sea, 1700 AD)


Rosette, the Pirate (Pirate Age ~ Caribbean Sea, 1700 AD)


Santiago, the Lieutenant (Pirate Age ~ Caribbean Sea, 1700 AD)


Sergei, the Commander (World War II ~ Soviet Union, 1940 AD)


Trigger, the Bandit (Wild West ~ USA, 1840 AD)
After burying the ill-fated schoolboy, the nine survivors gathered to eat what little they had found from the remains of the restaurant. They spoke of their lives before all this had happened, cried a little, laughed a little, and generally got to know each other better.
All except the dark-clad man, Ferid, who had no idea what the others were talking about. Anne felt sorry for the man. Ferid had killed the Viking warriors back at the beach, but Anne thought that if he hadn't, they all could've ended up dead instead. So in Anne's eyes, the man was a hero.
"I'm sorry, I must go lie down now. These happenings have been a bit too much for my old, frail heart", Anne said as she excused herself from the company of the others and made her way to the stretchers. As she passed Ferid, she gave him a friendly smile, but the man couldn't even look her in the eyes.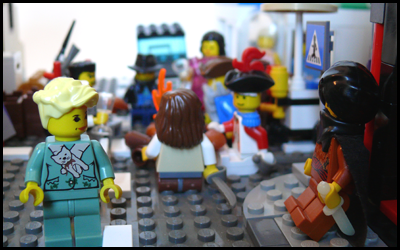 It was sad, really, for Ferid had nothing to be ashamed of, in Anne's mind. She knew well that all life must end someday. In this place, that day came faster than usual. It had happened to Dr. Matthew, it had happened to poor little Parker and to who knows how many else. Now she felt it was her time to go.
Ever since they had left the beach, the pain in her chest had gotten increasingly worse. If she was still in Australia, the surgery would've been over by now and she would've gotten a few more years to live. Her time was up now.
Anne lay herself down on the stretchers, gave a final look over the group of survivors, and prayed them all the luck and guidance she could give. Then she closed her eyes, and breathed in one last time.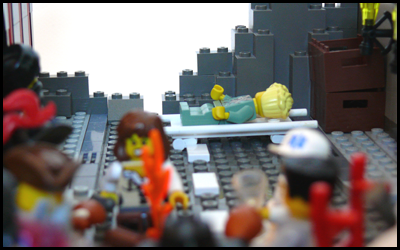 *****
Rosette felt oddly comfortable sitting there, chatting away with this group of strangers. She wasn't even bothered by Lieutenant Santiago anymore. In fact, the presence of her old nemesis was quite soothing. At least she wasn't alone in this nightmare.
Rosette and Santiago had gotten time to talk here, and they had found out that they didn't really hate each other after all. Rosette knew that Santiago was the one who had captured her father and eventually caused his hanging, but she also knew that Santiago wasn't the one calling the shots. He was just doing like he was told, unlike Rosette, who usually did the opposite of what she was told.
During their stay here, Santiago had turned out to be quite a smart, level-headed man, which calmed Rosette's hot temper down. The pirate woman found that she no longer wanted to thrust her cutlass through the man's throat, and that both amused and confused her.
She had lived her whole life as an outlaw, always anticipating the day when her wrong deeds would be punished. She had learned to fear and hate the Imperials from the day she was born. This comfort, even amidst all this chaos, was a whole new experience for Rosette.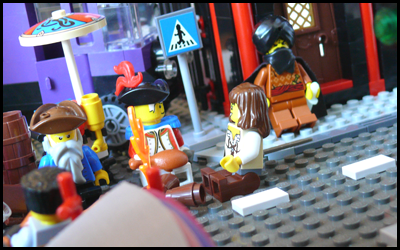 "Rosette, you want another chicken leg? There's still a few left", Santiago asked her suddenly.
"No… thanks", she refused, giving the man a sly smirk. Then she belched and laughed. "I'm full as a barrel of rum!"
Suddenly from the corner of her eye she saw something flash on the roof of one of the surrounding houses. There was someone up there, watching them!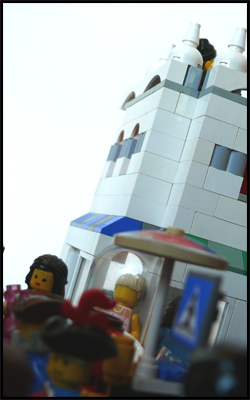 "I've got to go take a dump now", she said exaggeratingly loud as she got up, so not to make the spy suspicious. Then she walked into the building where the spy was hiding in, and drew her cutlass from her belt.
*****

Jasper, the Smuggler Captain (Pirate Age ~ Caribbean Sea, 1670 AD)


Jeremiah, the Smuggler (Pirate Age ~ Caribbean Sea, 1670 AD)

"She's coming here! She must've seen me", the younger smuggler said, crouching down on the roof they were hiding on.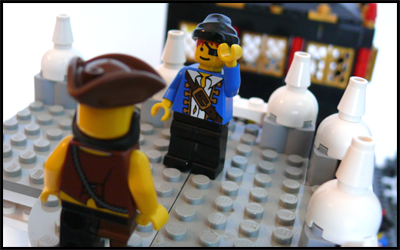 "Which one of 'em?" the older smuggler asked. "There're plenty o' birds down there."
"The one who looks like Isabel, that's who!"
"You're out of your mind, Jasper! Isabel is safe in Havana! There's no way she could've gotten stranded here, not with that stomach!"
"I have to meet that woman, just to be sure. You stay hidden, I'll call you when I need you", the younger smuggler said, and left the rooftop.
He didn't get far when he felt a blade on his throat.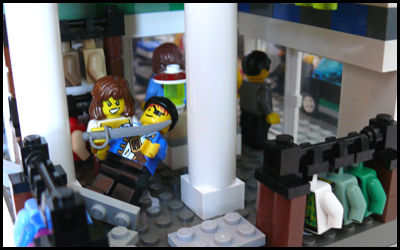 "Don't move, rat! Why were you spying on us?" the woman hissed.
"I wasn't spying, I was observing whether you were friends or not. I saw that Imperial soldier sitting next to you, so I daren't approach you."
"Fair enough. So you come from my time, then?" the woman asked.
"From your time? What do you mean?"
The woman released Jasper from her grip, and he turned to look at her. The resemblance was striking, but he instantly knew the woman in front of her wasn't Isabel. Jasper felt both relieved and disappointed. Would he ever be able to see his wife and their unborn child again?
*****
Santiago wondered why it was taking so long for Rosette to relieve herself. The soldier was puzzled by the feelings he had developed for that ruthless pirate woman. He had always admired her audacity and courage, but now that he had gotten to talk to her properly, he had sensed vulnerability and sadness within her. It made Santiago want to protect Rosette, but he was very aware that the woman would not want any pampering from anyone.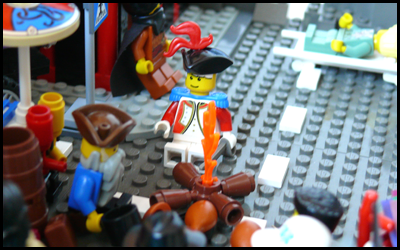 Santiago was torn about what to do. Would he allow himself to grow closer to the woman, perhaps develop some genuine feelings towards her, or would it be wiser to keep distance from her, in case they ever got out of this place. Then they would be enemies again, as Santiago had sworn to serve his country and to rid the Caribbean of pirates.
He was just about to get up and go find Rosette when a huge explosion shook the earth. Several buildings in the crossing crumbled to the ground from the impact, and large cracks appeared in the pavement.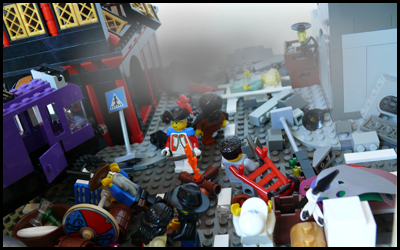 "It came underground!" Sergei shouted. "Ve must leave immediately!"
"Rosette!" Santiago shouted. She was still inside that building. It could collapse any moment! Santiago ran inside.
*****
After the explosion, chaos erupted. Bob watched as the others ran away. Nobody seemed to care about Anne, who was still asleep in her stretchers a short distance away from them.
"Wait, Anne is still there!" he shouted after them. "Oh, screw you!"
Suddenly, Ferid was standing in front of him. The dark-clad man tried to stop him, shaking his head, but Bob just pushed him away and ran to the stretchers.
"Wake up, Anne! We have to go… Oh." She was already dead. He had tried to be the hero for nothing. That was the last thing Bob realized before the ground below him collapsed and swallowed both of them.
*****
The impact had thrown Rosette into the arms of this handsome stranger. She had been in the process of explaining how they all had come to this place, something she herself didn't fully understand. Now it didn't matter, it was time to try to survive again.
"What was that?" the man asked.
"I don't know, but we better get out of here before this whole damn building falls down on us." Rosette took the man's hand, and began pulling him to the door.
"Wait! Let's go, Old Jimmy!" the man shouted over his shoulder, and another man, older than him, appeared. Rosette stopped to stare at the newcomer.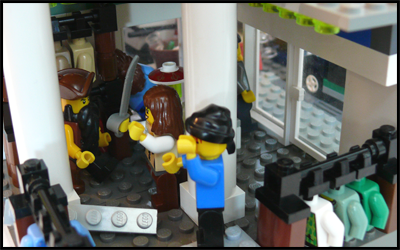 "Jeremiah! When did you get in? And what the devil happened to your beard?" Then she began thinking. This man was definitely the good old Jeremiah that she had known all her life, but he looked much younger. Just like how he had looked when she was a child…
"Do we know each other?" the younger Jeremiah asked, puzzled. "You aren't Isabel, for sure."
"My mother? No, I'm not…" Rosette replied, equally confused.
She saw the younger man go pale out of a sudden. There was something disturbingly familiar in him, as well. Then it dawned to her: she was looking at her father, only an about thirty years younger version of him!
At that moment, Santiago barged in, causing the ceiling come tumbling down on all of them.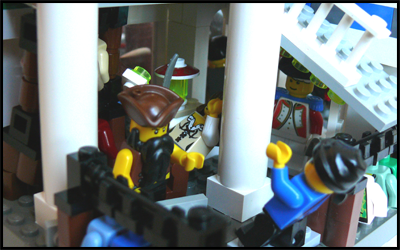 *****
Hope I managed to thrill you with this episode. Tune in next time, when you will find out what exactly caused that explosion.

All comments and feedback is also greatly appreciated!