Here follows are the current confirmed upcoming Lego DC Superheroes themed sets, for late 2015-Mid 2016:
January Wave:
This winter wave is based upon the upcoming 2016 film
Batman v Superman: Dawn of Justice
.
#30446:
(Untitled Polybag)-
Price Unknown
Microscale version of Batman v Superman Batmobile
#76044: Clash of the Heroes
- $14.99
Includes Batsignal build, Kryptonite, Superman and Armored Batman Minifigures


Sources:

just2good
#76045: Kryptonite Interception
- $29.99
Includes Batmobile, LexCorp Forklift, two Henchmen and Batman Minifigures


Partial Set Reveal via SDCC

(Shown Below), Additional images

here
#76046: Heroes of Justice: Sky High Battle
- $69.99
Includes Batwing, LexCorp Helicopter, Batman, Superman, Wonder Woman, Lois Lane, and Lex Luthor Minifigures


Wonder Woman figure Design via SDCC can be seen

here
________________________________________________________________
March Wave:
#76052: Batman Classic TV Series--Batcave
-$269.99 D2C
For Set Discussion, see this

thread




Offical Set Description:
#30603: Batman Classic TV Series-Mr. Freeze
Polybag figure, first distributed at the 2016 New York Toy Fair. Available in April at Shop at Home (price varies, in the US, it's with purchases $75+)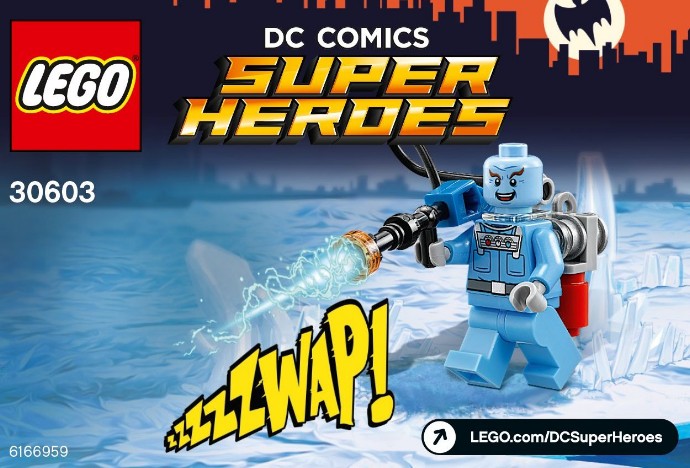 #76053: Gotham City Cycle Chase
- $24.99
Official Set description follows:

#76061: Mighty Micros: Robin vs. Bane
- $9.99
#76062: Mighty Micros: Batman vs. Catwoman
- $9.99
#76063: Mighty Micros: Flash vs. Captain Cold
- $9.99
Summer Wave:
#10724:
Juniors: Batman & Superman vs. Lex Luthor
Includes Batman, Superman, and Lex Luthor minifigures




Build includes section of Batcave, Batmobile, and Lex Luthor tank with arms

#76054: Scarecrow Fearful Harvest
Includes Scarecrow, Gas Mask Batman, generic Farmer, Blue Beetle, and Killer Moth Minifigures

Build includes Bat-Helicopter, Scarecrow's combine harvester, and civilian tractor
#76055: Killer Croc: Havoc in the Sewer
Includes bigfig Killer Croc, Red Hood, Captain Boomerang, Katana, and Batman Minifigures


Build includes Killer Croc's water craft, Bat-Tank, and Red Hood's motorcycle
#76056: Rescue From Ra's Al Ghul
Store Exclusive




Includes Ra's al Ghul, Desert Batman, Talia al Ghul, Robin




Includes desert buggy bat-vehicle, exploding doorway, jail cell for Robin, staircase, and minifigure-launching green pool.
Edited by Captain Nemo, 12 May 2016 - 02:55 PM.
Updating Pictures