Sorry to force another 8095 review on all of you, but I´ll try to make it interesting.
If I break any review-laws, please let me know. And I do not know how to make a poll.

:)
Reviewers: Mordatre & Clone Trooper 1139 (not included in this set)
Theme: Clone Wars Animated Series (Episode 10 Season 1. Lair of Grievous)
Year of Release: 2010 Summer/Autumn
Pieces: 454 (didn´t count myself)
Minifigs: 3 (New General Grievous, Nahdar Vebb, A4-D Droid)
MSRP: 49 USD?/ 49 Euro? (probably 550 SEK in Sweden)
This seems like a set you either love or hate. I think afol´s generally dislike re-releases.
On Bricklink the 1st version of General Grievous Starfighter set 7656 (used) starts at
around 45-50 USD, and a Grievous minifig normally cost around $30 so I say there´s
definately a demand for another set with the infamous Grievous.
Is it just the same set with a new minifig?, or is it really worth the higher price?
On to the review...
I believe Vulture droids attacked the DHLtruck from Amazon.fr because it arrived like this...
1139 gives a damagereport on the actual legoboxes. Only 5% damages. Good.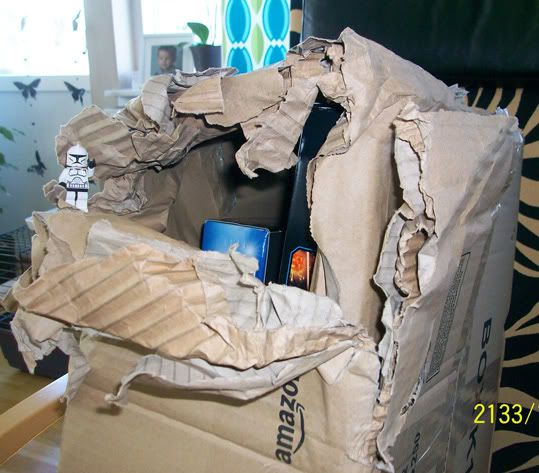 Pictures of front, back and side.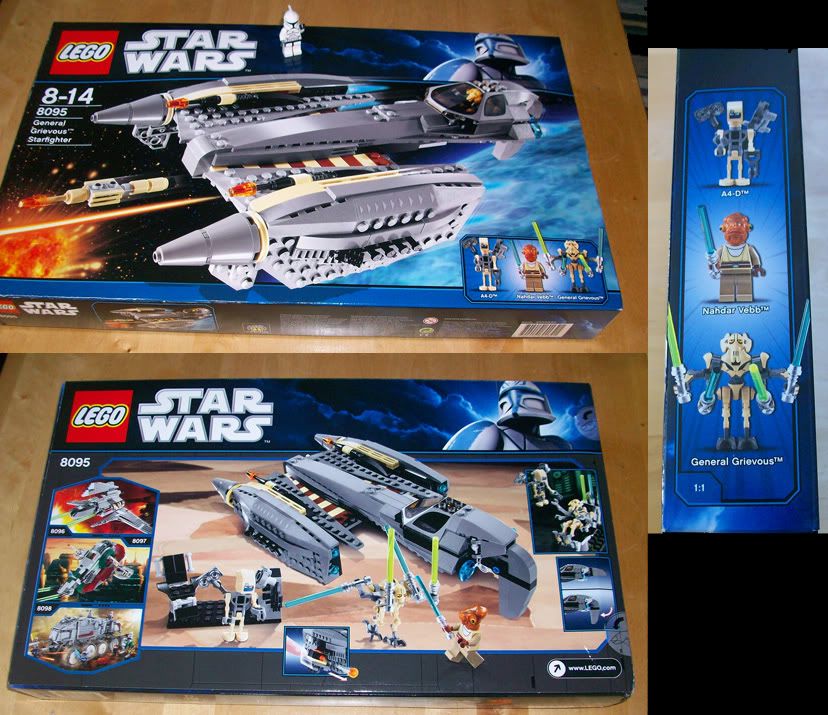 Inside: Instructions, Dreaded sticker sheet and 4 numbered bags.
Instructions and partslist. Each numbered bag holds all pieces for each step in the instructions.
Just like in "8038 Battle of Endor". Very easy to follow and you do not need to rip all bags open
just to get the minifigs out. For me this set contains alot of good parts. Not that many rare items
but a good selection of plates, wedges, tiles, slopes and assorted smallparts in dark bley, black and tan.
Stickersheet. Five stickers, 2 for the cockpit, 2 on the engines and 1 for the droid.
The only one I really dislike is the droids face.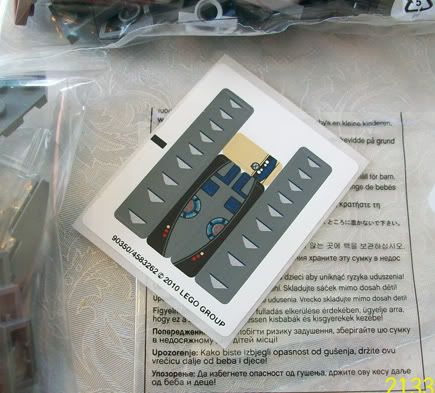 Bag 1. Parts for minifigs, Grievous chair and his weaponrack.
2 green and 3 blue lightsabers with silver handles. Grievous comes in chinabags.
Nahdar Vebb with standard Mon Calamari head. They got the torsoprint spot on compared to how Nahdar
looks in the Clone Wars episode. There´s always room for more Calamari. He´s Kit Fisto´s former Padawan.
EV A4-D repairdroid is a flimsy minifig. Hard to make him stand up with all his "gear" on unless you
place him on a studded baseplate. Except for the wrong colour (should have been dark tan or geonosis red)
I think he´s accurate enough. However his face being a sticker lowers his value alot.
The General disassembled. No extra arms. Feels like the same plastic used on Super Battledroids,
which means they WILL break eventually. Some people think he´s too detailed, I say we finally
get a minifig that looks like Grievous. If you want a yellow classic minifig, buy a City set.
A new minifig is born and 1139 shows he´s more than cannon fodder by giving the General a calming hand.
Some stretching to soften his plastic limbs and he takes his first steps. HE WALKS! We´re all happy!
-So this is my new home... Impressive.
It´s a rough thing being born, and a swedish afternoon temperature of incredibly hot 12 degrees Celsius
is more than he can handle. While Grievous is testing his Separatist comfort-chair 1139 brings vanilla ice-cream.
What a pal! (A4-D looks pissed.)
No, Grievous arms do not look good on battledroids. They´re a little longer and thicker.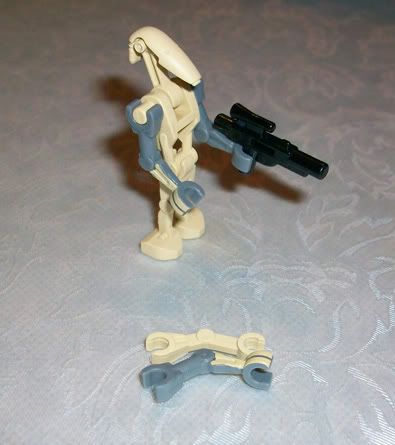 Bag 2. Sorry I didn´t sort the pieces better, my 4,5 year old son who got this set as a present
told me to build the fighter NOW. He was very excited about it.
1139 and Grievous at work. Step 31 I think. Very solid build,
you can use it to whack someone without breaking it.
1139 just finsihed what holds the windscreen in place when closed. Very simple. A rubber technic part
causing friction. Also, slope with cockpit-sticker.
Cockpit finished! The sliding cockpit is a masterpiece. Flawless action and no breaking parts.
A huge improvement from set 7656. The 1x2 dark bley plate stops it from sliding off when opened.
The rubber technic arrangement holds it in place when closed. Great playability!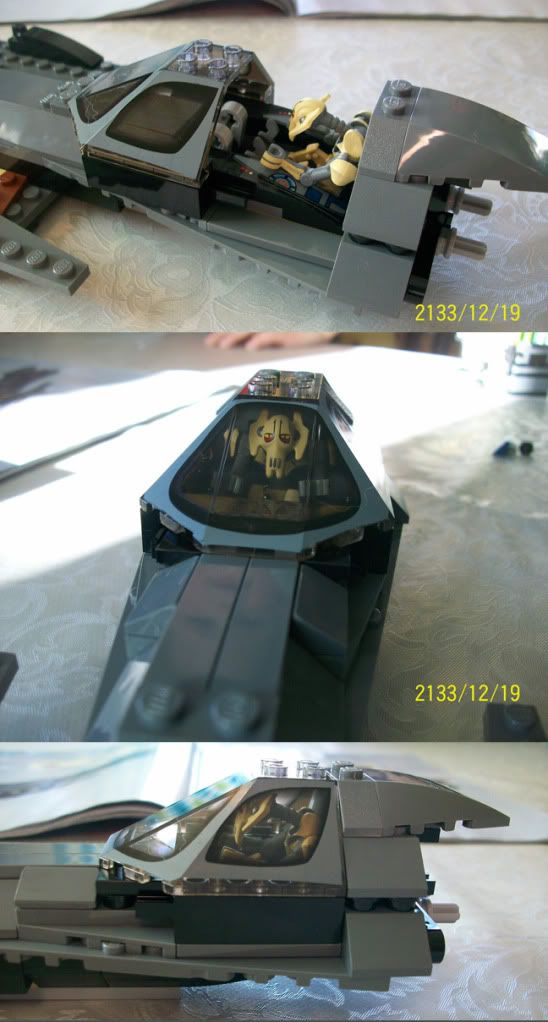 1139 needed to remove his helmet when closing the cockpit. Obi Wan needed to lean back a little
but he did fit which is good if you are re-enacting the death of Grievous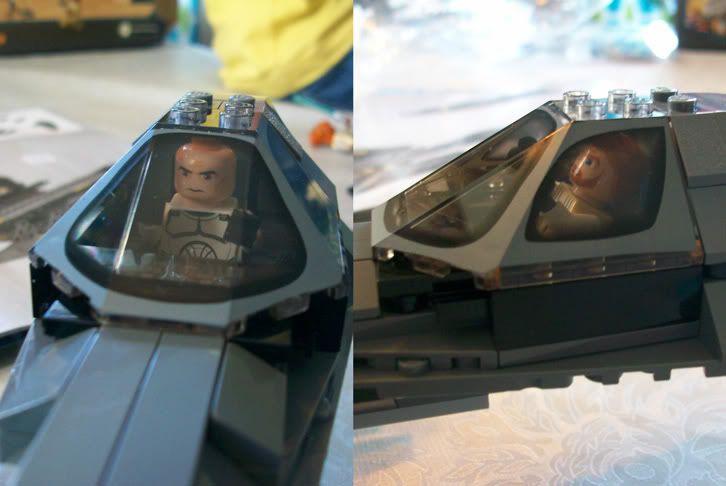 Bag 3.
Great detail on the engines! Hidden missilecompartment is well built and another great thing for playability.
Bag 4. Final pieces. 1139 gets excited!
Lock and load! (Almost like a tank)
Complete set!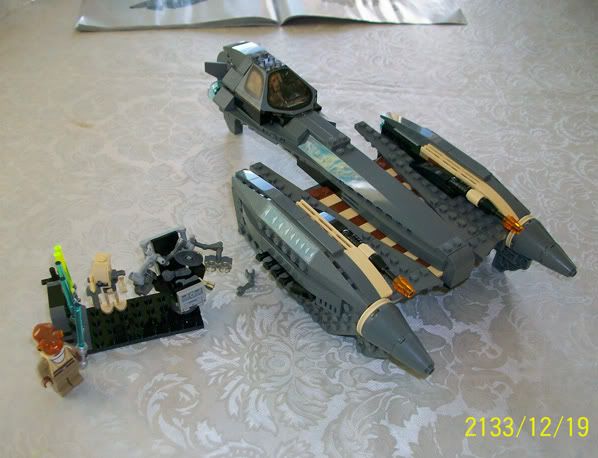 Starfighter.
The ship is supposed to be a legoversion of Grievous modified Belbullab 22 starfighter.
I think they got close enough.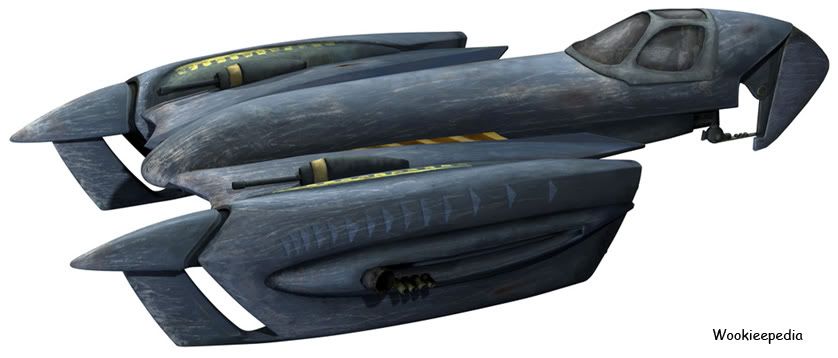 Details. Thrust vectoring fin folded and unfolded. Works as a landing gear, but fighter is so
front heavy it´s only neded when placing minifigs in cockpit.
Close up of one of the triple laser cannons. Can be moved up and down like in set 7656.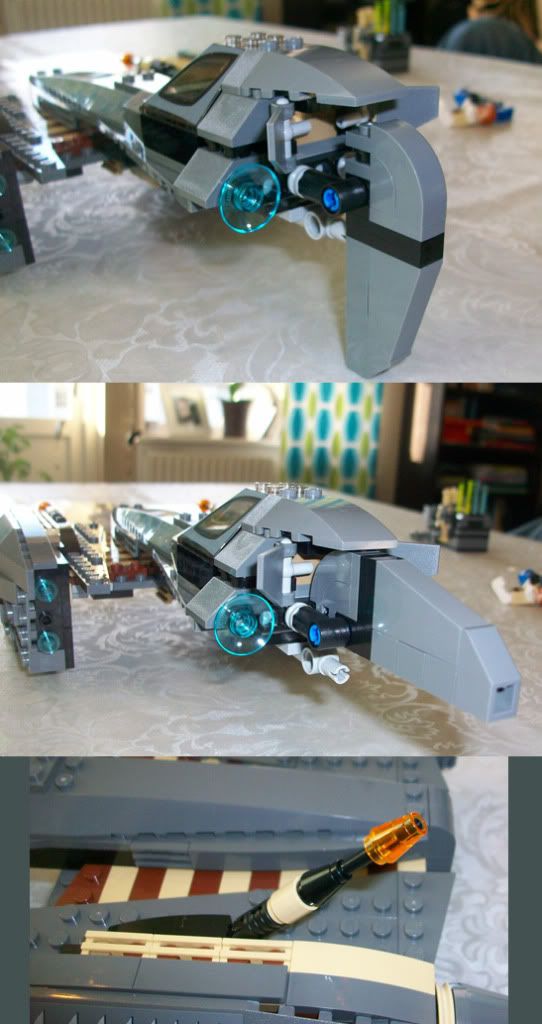 Nothing fancy about it´s belly. Big badaboom is held by 2 studs and is placed on the
long light bley plate.
Hidden missiles in action.
Compared to Anakin´s starfighter.
Flap. These should point in towards vector fin as seen on the boxcover.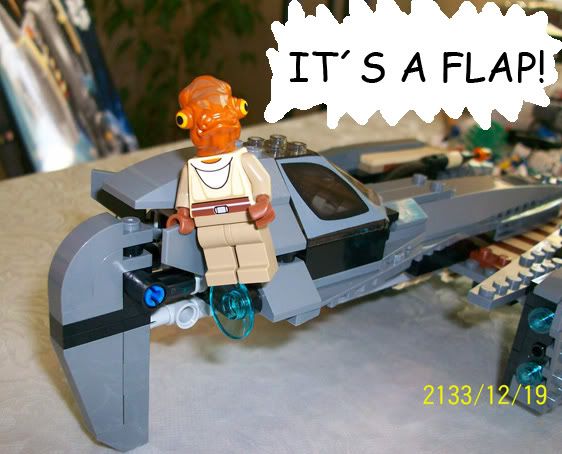 Spares.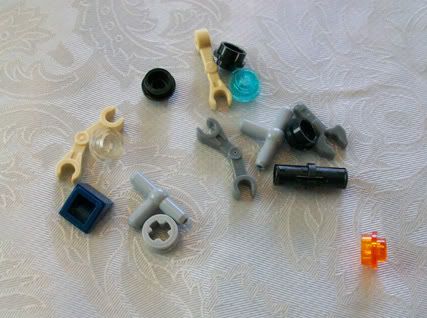 Probably the first kid in Sweden to own this set. Not that he understand the awesomeness
of owning a set before it´s released. He´s just happy to finally get a Grievous minifig.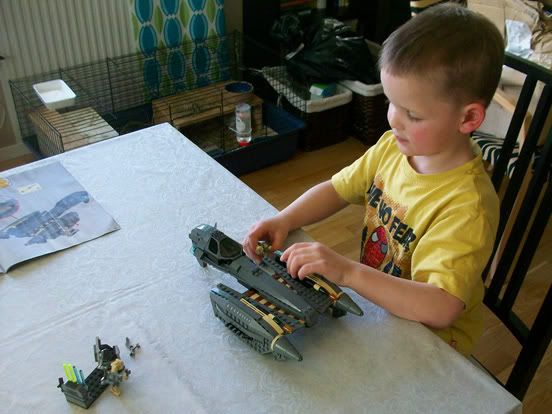 ---------
Conclusion:
I really had fun building this set with my impatient 4,5 year old son. Interesting build
and not that repetetive. The final set turned out great I think. Lot´s of playfeatures
(you DO know it´s a toy for kids right?), details and interesting minifigs. Starfighter is heavy and
very sturdy. Easy enough to hold when swoshing. I have owned 2 7656 (both sold) and this version
is much better I think. More expensive yes, but there are sales, discounts and cheaper stores
to get it from.
I will probably buy this set when it´s available at a lower price, sell Nahdar and droid,
keep Grievous on display and use the parts for MOC´s.
Thank you and goodbye.
Edited by WhiteFang, 20 May 2010 - 01:23 AM.
Indexed