Set#: 7180
Name: B-wing at Rebel Control Center
Theme: Star Wars
Year: 2000
Pieces: 338
Price: RRP USD$30
Peeron
Bricklink
Brickset
Bought this MISB from online auction around 2004, opened this set in 2006, unknown original local retail price.
Onto the review !
Here is the box, old style with cardboard tray inside.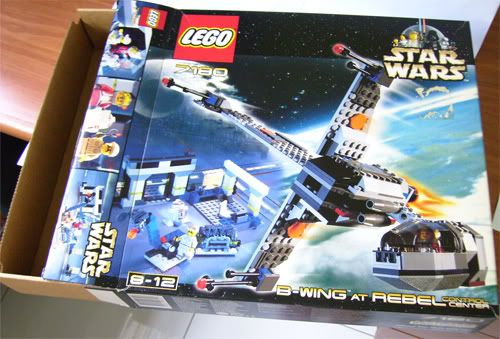 Side of the box, notice the seal is still intact.
Back of the box with alternate models.
Instructions cover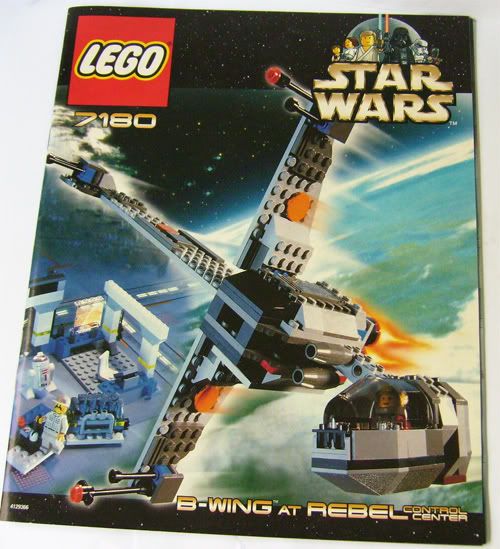 Random instuction page
Notice on the top center of very page, there is a screenshots of the actual ROTJ movie.
It shows the HomeOne going into hyperspace and arriving near the DS2 ambush,Adm Ackbar & Mon-Mothma, B-wings flying and rebel pilots fried in the cockpit and ends abruptly with the DS2 exploding followed by celebration.
A very nice touch from TLG.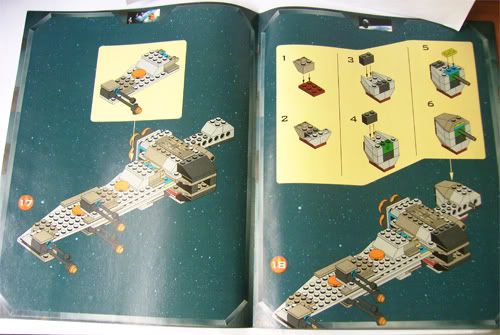 Last in the booklet are 3 pages of comic featuring the alternate builds and their breif instructions in photo form. (I didn't take pictures of that. )
Here are the figures, B-Wing pilot in generic smiley face with rebel technician and R5-D4.
Note that the original cockpit only had a printed tiled control but i doubled it and now it is slightly higher.
Full set with the intact wheel-of-tools.
The B-wing have nowhere to land or dock unlike the newer version.
Comes with a repair vehicle with circular saw mounted on a clicky hinge arm, towing a cargo sled.
The cockpit swivels true to the movie but Im sure everyone of us know that.
This old version is much more slim and skeleton that the newer redesign.
B-wing showing us her balancing skill.
Rear Engines attached with SNOT
Hinged secret compartment !
Fits a full minifig inside.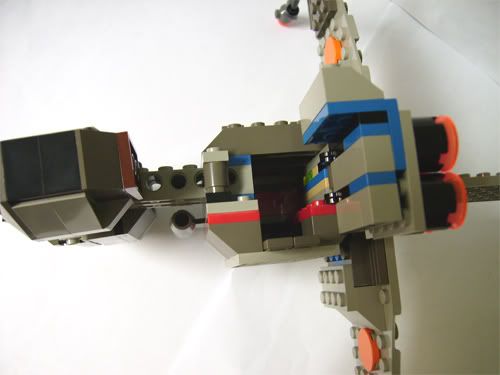 The rebel base is hinged to unflold or compact for easier storage.
A drum of fuel and working blast-doors to protect the interior incase the B-wing blows up in the hangar.
White minifig chair on 2x2 turnable with DeathStar and Endor forest moon sheild projection hologram.
Finally ending with a simple doorway with clips for a walkie-talkie and electrobinoc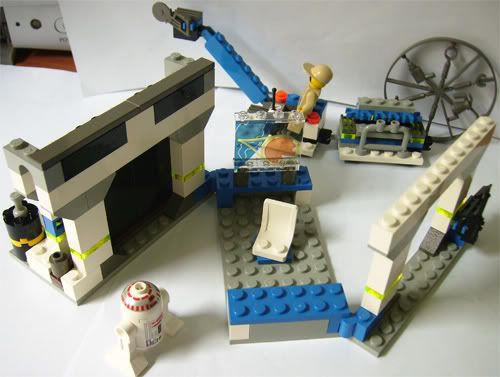 Here is a better view of the front blast-door.
There are 2 control panels to key in the password for access.
Pull the 2 round 1x1 cylinder to open the blast-doors.
The doors run on a rail on top, it runs smoothly but jams when you pull or push too hard or too fast.
Rebel Technician on his vehicle.
The bottom of each section is 4 black 2x2 smooth bottomless boat plates for gliding on surfaces.
Both section connected with towball connection.
Control is just a simple lever and a dial.
Why i call it cargo sled ?
Because R4-D5 can sit ontop !
There are even 2 fence on either side to keep him from falling off.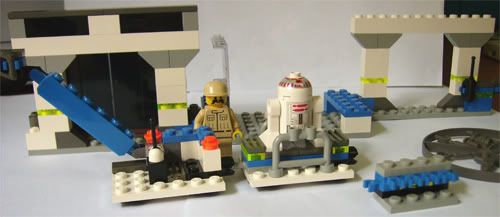 A master and dog relationship and a closer look at the death star hologram.
Knock Knock !
Who's there ?
R5-D4 fits through the door.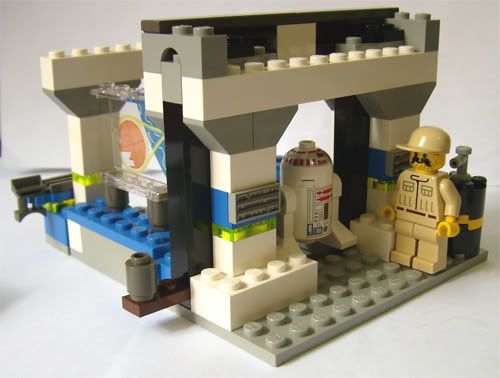 Price: 8/10
- Reasonable price
Parts: 8/10
- Cool windscreen, very stiff old clicky hinges, laser cannon pieces, PRINTED PARTS, deathstar hologram, wheel of tools
Minifigures: 9/10
- Before 2006 this was one of the few sets that had the R5-D4 unlike R2 which is everywhere. rebel pilot with very cool torso and printed helmet, rebel technician is good as we have many pilots who damage their starfighters but not many know how to fix them.
Build: 7/10
- 1 plate wide for the body of the B-wing is too thin, but thats understandable as its only the 2nd year of Lego StarWars.
Playability: 8/10
- light and swooshable, rebel base with moving features, repair cart doubles the fun
Overall: 8/10
- a classic before lego turned to light-blueish-grey, very nice boxart and instruction booklet
Hope You Enjoyed This Review.
Edited by KimT, 21 February 2009 - 10:24 PM.