Content Count

9817

Joined

Last visited
About KielDaMan
Profile Information
Gender
Location
Interests

LEGO, Star Wars, NBA, UFC, Spongebob Squarepants, Heroes, Prison Break
Extra
Country
Special Tags 1

http://www.eurobricks.com/forum/uploads//1320422544/gallery_5203_163_790.png

Special Tags 2

http://www.eurobricks.com/forum/uploads/1262945452/gallery_101_23_3320.jpg

Special Tags 3

http://www.eurobricks.com/forum/uploads//1339254967/gallery_11254_206_6077.png

Special Tags 4

http://www.eurobricks.com/forum/uploads//1329597300/gallery_5203_183_4133.png

Country flag

http://www.eurobricks.com/forum/style_images/flags/philippines.gif
Recent Profile Visitors
The recent visitors block is disabled and is not being shown to other users.
About Me
NEW! Legends of Chima Review: 70008 - Gorzan's Gorilla Striker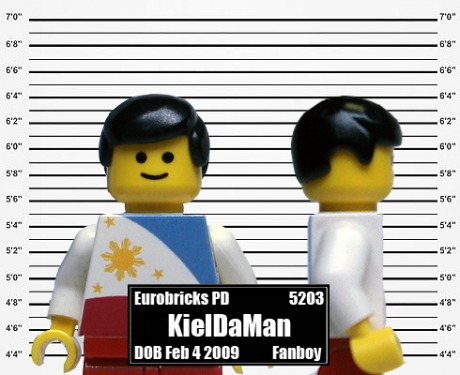 Mabuhay! Fellow Eurobrickers!
I am Ezekiel, a 29-year old professional chemist from the archipelagic nation of The Philippines. My love story with LEGO started way back when I was 7 years young, when I received my first ever LEGO set, the 6521 Emergency Repair Truck. That little truck opened the wonderful world of LEGO to me, and from then on, I've become a life-long fan. But like other fans, I went through my Dark Ages. First, during my high school years. Lego Star Wars brought me back into LEGO on 1999, then I had another Dark Age during my college years. After five long years I finally came out my 2nd (and hopefully final) Dark Age. From that time up to now, I've been slowly collecting LEGO stuff once more. I'm mostly into Lego Star Wars, but I also like the Licensed Themes (non-HP), and Classic Town/CITY. Eurobricks is simply the best AFOL fan site around. I hope to be here for a long time and to meet people who share the same passion with Lego. See you guys around!

---
My Reviews
---
My MOCs/MODs
---
My Contest Entries
Other Interests
Minifig Customization:
Brick-Flicks & Comics:
Tutorials:
LEGO Digital Designer:
---
My EB Games Participation
Currently playing as the Sheriff Kenneth Emanuel in Tamamono's Silver City Mafia
Role Cop in Zepher's Mafia Mafia - (Town - Won)
Li'l KielDaMan in def's Eurobricks Mafia II (Town - Survived/Won)
Lloyd Jr. in badboytje88's Yakuza Family (Yakuza - Killed on Night 1 = shortest stint on EB mafia game history!)
Gordon Bennett in Rufus and Pandora's Curse of IMHOTEP (Innocents/Virgin - Survived/Won)
Baby Doll in The Penguin's & ADHO15's Gotham City Mafia (Criminals - Survived/Won)
Killoopio Daylight, Mars Savatrucha Gang Godfather in Hinckley's Prison Riot! (Scum - Won)
Kelly "K-Girl" Mann in def's Bloodbrick II - Killed as Kevin on the penultimate Night 7 (Town)
Colette LeMans in Sandy's Mafia School: Escape from Isla Paradisa - (Town - Survived/Won)
Slytherin Death-Eater Diana Fabray in ADHO15's/pedro's Harry Potter: Wizard's Duel
Sith Lord Darth Aiklimacz in pedro's Jedi Duel
---
My Avatar History
---
My Other Non-LEGO Interests