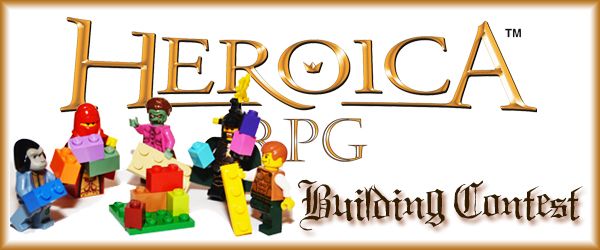 Welcome to the first ever Games Forum building contest, hosted in celebration of the 2 year anniversary of the Heroica RPG! Whether you're an old hand at the game or completely new to this part of Eurobricks, now is your chance to participate in the rich fantasy enviroment that is Heroica, create something unique, and be in with a chance to win some fantastic prizes!
The Entry Thread
This is where you post your entries for the contest. Make sure you
check the rules thoroughly
before submitting your entry, as any entry that does not abide by the rules will be disqualified.
General Rules
One entry per member.

Only official LEGO elements are permitted.

All entries must me made with physical bricks, not digitally rendered. Models must use conventional building techniques; no cutting, gluing, painting or other forms of modification are allowed, including custom decals. Cutting LEGO rope and hose etc is acceptable.

Maximum entry size is 32x32 studs with no structural overhang. Accessory overhang (minifig weapons, dragon tails etc) is permitted.

Entries cannot be a previous posted creations, they must be designed specifically for this contest.

Entries must be submitted to the Entry Thread with a short description and up to 3 deeplinked images no greater than 800x600 pixels in size. Links to larger version of the submitted images are permitted, but not to other images.

Minimal photo editing is permitted, but only to enhance the image; no editing of the creation is allowed.

Entries must not be submitted as a separate topic; only one post in the entry thread please.

Entries must be posted by midnight UTC on Sunday September 8th. Voting will then occur in the week that follows.
Contest ends at Midnight UTC on Sunday September 8th.
Entries posted after the deadline will be disqualified.

Entries that do not meet all the requirements by the deadline will be disqualified.

Whether an entry meets the requirements will be at the discretion of the contest host, but entrants will be notified if their entry does not meet the requirements.

All entries can be altered/changed as many times as each entrant wishes up until the contest deadline, within the single entry post.

Shortly after the contest closes, a voting topic will be made for the qualifying entries.
I look forward to seeing all of your entries, good luck!