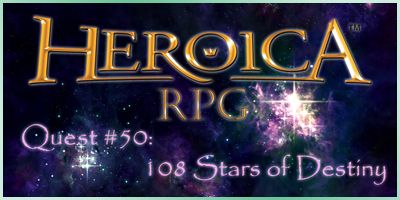 Six heroes enter the Ji Pei Palace. The ambassadorial family from Xu has rarely relied on the champions of Heroica for help, but now a situation has risen where their aid is required.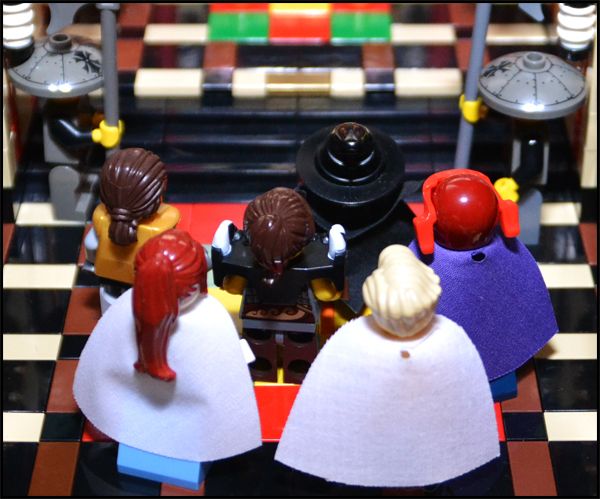 Party:
Sir Christopher Daggerfall (Fred Fred Burger)
27 years old male human Paladin
Level 15 *Immune to Weakened*
Power: 29 (15+11+2+1)
Defense: 9 (5+4)
Health: 35/35 (10+14+11)
Ether: 18/18 (1+15+2)
Gold: 5
Equipment: Sunspear (WP:11, light-elemental, inflicts weakened-effect; halberd), Mockthril Shield (SP:5), Pugilist's Gloves (Power +2, protects from weakened-effect), Paladin's Armor (SP:4, Max. Ether +2)
Inventory: Winged Sandals (Protects from bound- and slowed-effects), 3 Potions, Grand Potion, Remedy, 2 Rums, Smoke Bomb, 2 Fire Bombs, Bedroll, Shovel, Pickaxe

Cinna the Dark (darkdragon)
19 years Female Human Mystic Knight
Level 21 *Immune to Fire*
Power: 38 (21+15+1+1)
Defense: 3 (2+1)
Health: 33/33 (5+20+7+1)
Ether: 27/27 (5+20+1+1)
Gold: 16
Equipment: Mauryl (WP:15, ranged), Aurora Helmet (SP:2, immune to fire), High Heels (Power +1, suitable for women; footwear), Anniversary Medal:Y1 (+1 to all stats per year; accessory)
Inventory: Healing Staff (WP:5), Pointy Hat (Max. Ether +2, suitable for mages and clerics; headwear), Amethyst (Darkness), Topaz (Lightning), Opal (Ice), Ruby (Fire), Scroll of Sleep, 6 Grand Potions, 3 Grand Tonics, 6 Remedies, Elixir, Phoenix Essence, 4 Meads, 3 Smelling Salts, Soma, 2 Deadly Venoms, Fire Bomb, Bedroll, 3 Bones

Hybros (JimButcher) ***Party Leader***
50-year-old male imp Assassin
Level 21 2/3 *Hastened* *Immune to Cursed*
Power: 36 (21+15)
Defense: 0
Health: 33/33 (7+20+5+1)
Gold: 413
Equipment: Zoot's Reaper (WP:15, earth-elemental), Golden Armor (user is permanently hastened and cursed; bodywear), Blessed Amulet (protects from cursed-effect; accessory)
Inventory: Pheles Rod (WP:20; grants permanent Aura, doubling the user's max. health but making all enemy attacks hit the user; staff), Clock Cog (WP: 14, retrievable), Shuriken of Mercutio (WP:5, retrievable), Throwing Knife (WP:8, retrievable), Throwing Knife (WP:8, retrievable), Banana Bladerang (WP:9, damage all, retrievable), Ancient Throwing Dagger (WP: 8, retrievable), Emerald (Wood), Diamond (Light), 15 Potions, 15 Grand Potions, 25 Health Cores, 10 Remedies, 3 Phoenix Essences, 2 Deadly Venoms, 2 Smoke Bombs, 3 Holy Bombs, 15 Nostrums, 2 Meads, Smelling Salts, Bedroll, Shovel, Skeleton Decoy, Bone

Namyrra Uq (Quarryman)
1337 years old female Fenarian Evoker
Level 22 *Immune to Sealing*
Power: 34 (22+12)
Defence: 8 (5+3)
Health: 29/29 (5+21+3)
Ether: 33/33 (5+21+1+1+5)
Gold: 54
Equipment: Staff of the Necromancer (WP:12; damages undead; +1 level to raised undead; staff), Fanged Helm (SP:5, headwear), Robe of the Archmagi (SP:3, Max. Ether +5, immune to Sealing, bodywear)
Inventory: Snake Staff (WP:12), Shiny Dagger (WP:10), Bone Staff (WP:3), Amethyst, Opal, Emerald, Topaz, Garnet, Diamond, Ruby, Sapphire, Scroll of Blindness, Scroll of Sealing, 4 Potions, Tonic, 2 Grand Tonics, 3 Remedies, 2 Phoenix Essence, Phoenix Incense, 4 Meads, 5 Smelling Salts, 3 Nostrums, Venom, 2 Smoke Bombs, Holy Bomb, Flash Bomb, Bedroll
Spirits: Battle Angel (Light), Xut the Daemon (Darkness), Raiju the Raiju (Lightning), Ni the Shrubbery (Wood), Mark the Ice Cube Tray (Ice), Clay Golem (Earth), unknown (Fire), unknown (Wind)

Tarn Valco (Rumble Strike)
22 year old human male Berserker
Level 17 *Immune to Fragile*
Power: 31 (17+13+1)
Defense: 11 (5+5+1)
Health: 33/33 (7+16+10)
Gold: 8
Equipment: Lion's Heart (Sword, WP: 13, Suitable for Barbarians and Knights, Stuns target on successful hits), Shield (SP: 5), Heavy Armour (SP: 5, suitable for Barbarians and Knights, protects from fragile-effect; bodywear), Horned Hat (SP +1, Power +1, suitable for barbarians and beast warriors; headwear)
Inventory: Helbaerend (WP: 10; water-, ice- and lightning-elemental, Hollow Blade; axe), Fauxthril Spear (WP: 6), Sand Worm Hide (SP: 2; bodywear), Scroll of Weakening, Shovel, Pickaxe, Amulet of U'Kin Nobility (Grants Diplomacy to wearer when addressing a U'Kin)

Tesni Hightribe (Peppermint_M)
22 years old female human Berserker
Level 25 2/3 *Immunity to Afraid*
Power: 46 (25+14+3+4?)
Defense: 12 (6+2+4)
Health: 44/44 (8+24+10+2)
Gold: 805
Equipped: Dryw ar Zoot (WP:14, light-elemental; longsword), Sir Roderick's Shield (SP:6, Immunity to Afraid), Bone Claws(WP:3, SP:2; handwear), Dragon Bone Armor (SP:4, Max. Health +2; bodywear)
Inventory: Cysgodion (WP:11, darkness-elemental; greatsword), Mellt (WP:10, ice- and lightning-elemental; hammer), Spiked Club (WP:8), Cryfder (WP:6), Sir Roderick's Shield (SP: 6, immunity to afraid), Emerald (Wood), 2 Potions, Remedy, Phoenix Essence, 5 Venoms, 2 Meads, 4 Smelling Salts, Nostrum, Soma, Smoke Bomb, Holy Bomb, Minimizing Dust
When all six heroes had arrived to the main hall of the palace, Lady Shanxian Ji Pei graced them with her presence, accompanied by her bodyguard Lee Long, as always.

"Thank you for rushing to my aid. I did not know who else to turn to... I don't want to shame my son, but I also want to see him return safely. But it might be the best to start from the beginning... A clan of bandits calling themselves
'108 Stars of Destiny'
are holding the
Hoshin Region
under their grasp. Hoshin is a secluded valley in a distant corner of Xu, far away from the gaze of the capital, but to my son
Jun
it bears a special significance, for he was trained in the Way of Tao there. When he heard about the predicaments of the people of Hoshin, he just had to hop into his private airship and fly there. But he cannot face 108 notorious outlaws on his own, no matter what training he has gotten. I offered some of my guards to him, but he refused, saying they would only get in the way."

"They would. The word is that the bandits have taken over the
Pagoda of Nine Elements
, a towering fortress perched high up on a mountainside. It is almost impossible to approach it without getting noticed."

"Jun obviously wants to prove something to me, so I want you to find and help him, but
under no circumstance reveal that I sent you
. That would ashame him greatly, possibly preventing him from ever returning home. My son is the only family I have left, and I would give anything to ensure his safety. Even..."
Shanxian turns, and walks to the gilded blade placed on a stand in the middle of the room.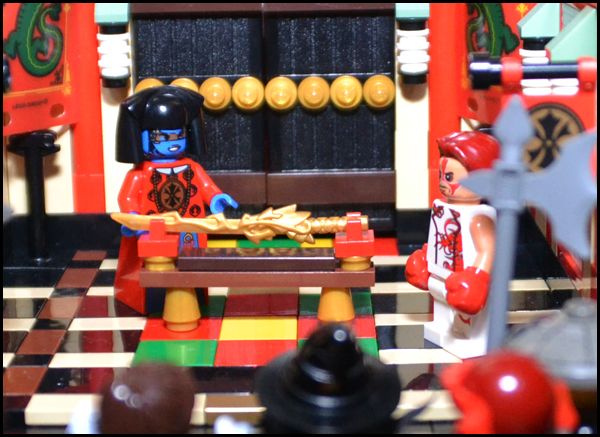 "Yes, even the
Qilin Blade
, the weapon that belonged to my late husband, Jun's father..."

"This is no butterknife. The Qilin Blade is capable of
damaging any type of enemy regardless of distance or defenses
. Anyone can wield it, if it permits."

"The spirits of the Aoi forefathers guide the blade, or so is believed. A worthy reward for bringing my son back, right? But since there is only one blade, may it go to the person
who defeats the largest number of these 'Stars'
. But now you must wonder how you will catch Jun in time. Luckily
Mr. Legonardo
has a solution to that problem."
The blue-skinned ambassador summons her house inventor, Vincent Legonardo, who arrives swiftly with his assistant Monalisa Gioconda.

"The preparations are complete, and the
Destiny's Bounty
is ready to take flight. I hope none of you ladies and gentlemen are afraid of heights, he he."

"Mr. Legonardo's airship is the fastest one ever built. According to my calculations we should reach Hoshin region at the same time as Jun."

"Is there anything you want to ask before departing? Any second thoughts? Considering the voyage you have ahead of you, as well as the amount of enemies you will have to face, I will understand if some of you want to back down."
What will the party respond?
QM Note: Welcome to the quest! Please check your statistics, I tried to find the most current information to all of them.