Indexed by Moderator
`Back in the mists of time the Kaitangata Coal Co decided they needed a more powerful loco for their private railway near Dunedin in the South Island of New Zealand. They ordered from Sharp Stewart & Co an 'F' class locomotive that was similar to the 'F' class locos owned by the government railways, only with various modifications to make it an 'Improved 'F' Class. Only one of these locos was ever made and it has survived into preservation.
As owned and operated by the Kaitangata Coal Co.
Present condition in preservation.
There were quite a few private railways and tramways in New Zealand making for all manner of interesting branchlines at various sites around the country. My own make believe branchline is the Kotanga Tramway, a timber industry tramway that somehow managed to survive long enough to become of interest to both tourists and railway enthusiasts and thereby obtain a measure of financial security for itself at long last.
So yesterday when I wasn't feeling quite so well and needed something to occupy myself with, I decided that there was a a second Improved 'F' built by Sharp Stewart & Co and amazingly enough it was owned by the Kotanga Tramway.
Starting with a 9v r/c motor block and a 24 stud train baseplate I eventually ended up with a very high percentage of all the bricks I own spread out on my bed as I searched for the right bricks, plates and tiles to build myself something that looked like an Improved 'F'. And by and large I think I have been successful.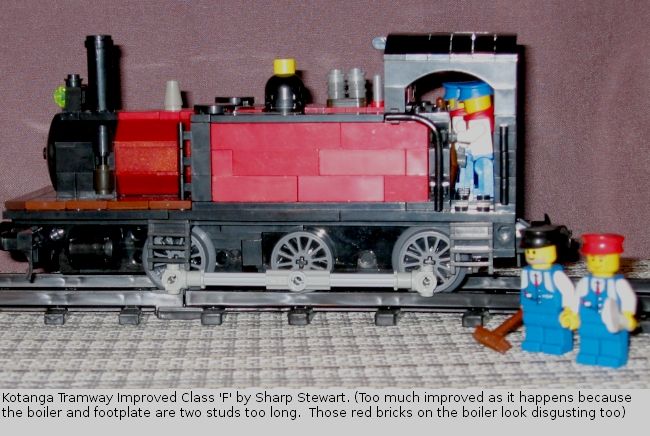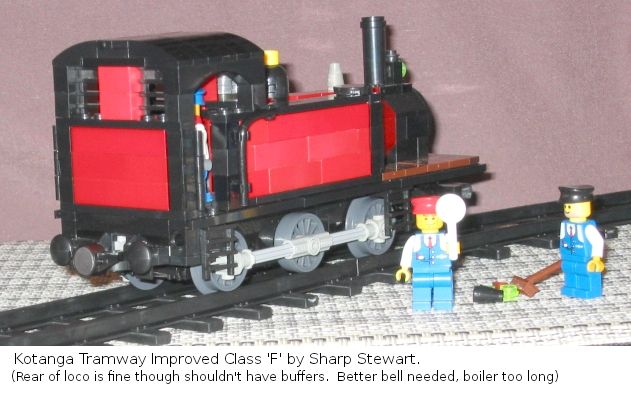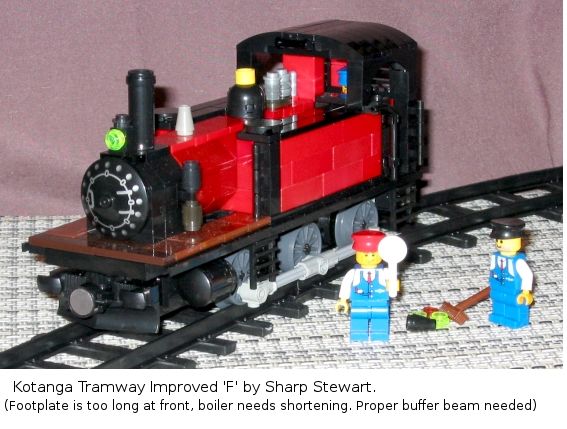 The main problem is that the loco is two studs too long and needs the boiler and the footplate shortening to bring it properly into proportion. At the same time I need to make a proper buffer beam at the front and sort out a cowcatcher for my Improved 'F' as well. I don't like using a small cone brick for a bell, but I don't know what else to do at the moment. One way to solve it would be to fit up the large air brake tank on the boiler instead and do away with the bell entirely. Overall I do like the loco a lot and I'm happy with how it's turned out since it was built in one go over the course of about three hours.
The Technic side rods will be replaced with a set of Zephyr's siderods once I've got the loco running properly. At the same time I'll sort out the connecting rods to the cylinders, but for the moment they can just sit there and be ornaments.
Once I am sure that I don't need to pull the loco apart again I'll make a set of decals to go on the sidetanks with 'Kotanga' done in the same style as Kaitagata was displayed on the original prototype loco.
Work is still continuing on the 'R' Class single Fairlie btw, I'm just waiting on some more bits and bobs to arrive from Bricklink.