A few days ago the Toys'R'Us (US) website briefly had the new 42011 Race Car set for sale, but they seem to have removed it now. I was lucky enough to place an order, and I got this set delivered to me on Friday.
I present my pictorial review of the
42011 Race Car
, including a few pics of the new pieces. These photos were taken in a rush without my normal photo setup, so I apologize if any of them are a bit blurry or a bit dark. All pictures can be clicked on for a larger view, and are viewable in
my
Brickshelf folder
(once moderated).
Set:
42011
Name:
Race Car
Theme:
Technic
Year:
2013
Pieces:
158 (+6 spares)
Price:
US $19.99, CAD 24.99
Links:
Lego Shop@Home (US)
Lego Technic Website
Lego Technic Instructions
Brickset
Bricklink
Rebrickable
Pictures:
Brickshelf
(once moderated)
The Box
A fairly standard looking Technic box, measuring 26cm x 14cm x 4.5cm (10.25" x 5.5" x 1.8"). The back of the box shows you how you can combine this set with set
42010 Off-Road Racer
to create a dragster, while the left side feature the word 'Race Car' translated into French and Spanish.
Front and back:
Top and bottom:
Left and right:
The Contents
One small bag of pieces

One larger bag of pieces

Two x LBG Technic, Liftarm 1 x 15 Thick loose in the box

What looks to be a new pull-back motor (I don't have any previous ones to compare)

One sticker sheet

A supplementary booklet (12 pages)

A single building instruction book (48 pages)
New Pieces
The new smaller panels have two pin holes on the sides, and an axle hole at the end.
The pull-back motor takes about eight turns to wind it up, and with the diameter of the wheels on this model, that equates to about 1 metre (40") of pull-back required.
This appears to be a new
Technic, Gear 8 Tooth
, and it has the marking '4' and '01' on the sides of it's teeth.
Previous 8 Tooth Gears have looked like theses (image from
Sariel's Gears Tutorial
):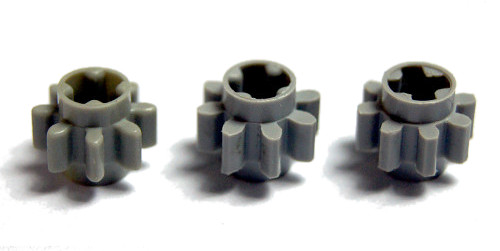 Sticker Sheet
There are 12 stickers on one sheet, and the grey in the pic is actually a shiny silver. The sticker sheet is 10.5cm x 11.4cm (4.1" x 4.5"). I did not apply the stickers to my model.
Supplementary Booklet
The booklet has 12 pages, and shows a few 'play' situations together with
42010 Off-Road Racer
, some pages showing other sets in the 2013 line-up, and the back page shows how the two sets can be combined (similar to the back of the box).
Building Instruction Book
The building instructions are fairly standard, presented with part call-outs and the typical light blue background. We get the new graphics on Page 2 reminding us to sort our pieces, which was was also seen in the new 10233 Horizon Express instructions (
review
), although we still get the GEWINNE! kid on the back page.
Only some pages are shown here (there are 48 pages in total). I'm sure the full instructions will be available on the
technic.lego.com website
soon.
The Race Car
Spare Pieces
There are six spare pieces, but interestingly the only two gears in the set are spare pieces (one
Worm Gear
and the new 8 Tooth Gear). They are shown in
the last step of the instructions
, and I can only imagine that they are used when combining this set with
42010 Off-Road Racer
. The rest of the spares are fairly standard pieces.
Conclusions
This is only a small Technic set with 158 pieces, but I can imagine this appealing to kids that want to race their friends (as shown in the supplementary booklet). I don't have any previous pull-back motor sets, so I can't compare the performance of this model vs others, but on low-pile carpet this model would go an average of 7.85m (25.75'), and on smooth tiles it would go 8.55m (28.05'). Upon releasing the car on tiles, the rear wheels seem to spin a tiny bit, so the model could do with a little bit more weight over the rear wheel for better traction, or it could just be that my wheels were getting a bit dusty/fluffy after running on carpet. Aesthetically the race car looks quite nice, which wouldn't have been possible without the new smaller panels, and it's good to see little details added such as the drivers seat and steering wheel, the engine details, and the rear light at the back. Apart from the pull-back motor, there aren't any other functions in this model (no steering, suspension, etc). I'm interested to see how this set combines with
42010 Off-Road Racer
(it looks like it uses both pull-back motors), and how the new 8 Tooth Gears perform.
Update:
The 'Dragster Combi Model' only uses one pull-back motor.
Update:
My
42010 Off-road Racer Pictorial Review
is now available.
Update:
My
42010 + 42011 Dragster Combi Model Pictorial Review
is now available.
Hopefully I have covered most angles, but if you want any more photos, just let me know.
Edited by Splat, 10 April 2013 - 01:43 AM.