Having just condemned Wary the Black, the remaining warriors pondered what to do next.
Ragnar grew impatient.
"Who are we going to execute today?" he asked, craving more blood.
Loki was galloping closer and closer. Sensing that the einherjar were weak enough, he now planned to make his move on Valhalla.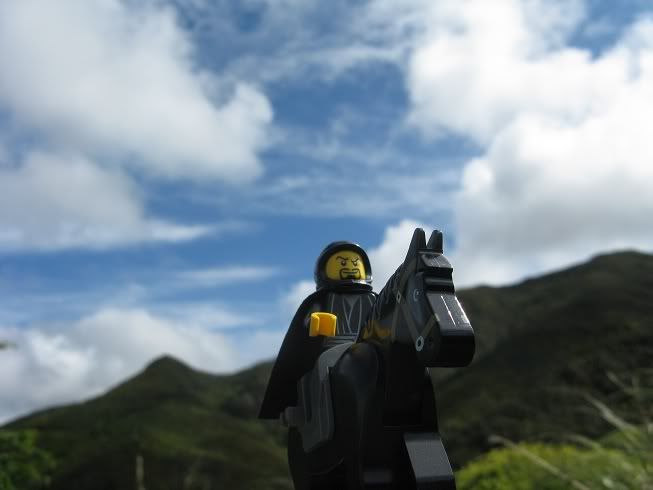 It wasn't long before he had reached the gates of Valhalla. He was surprised to find the heads of so many of his servants decorating the walls, but was unfazed nonetheless.
Odin and Thor were on the move too.
"Hurry, Thor, I must inform the einherjar who the traitors are! We must get to Valhalla before Loki!" urged Odin.
"Why didn't you drop this bit of exposition for me before?" Thor asked, "I didn't know we were supposed to be hurrying."
Thor ordered his goats to travel faster through the mist.
But they were already too late. Loki had entered Valhalla.
"You fools!" Loki laughed, "did you really expect to defeat my minions and I so easily? No one outsmarts me! Little did you know, I enlisted two factions of traitors, one going by the name 'The Servants of Loki', the other, 'The Minions of Loki'. You have failed, and now it is time for you all to die. Rise, my servants, rise! Kill these remaining loyalists."
But none of the warriors stood up. They all looked around at each other in puzzlement.
"Oh, that's right," Loki remembered, "I only recruited one faction. I
knew
I'd forgotten to do something... It's not easy scheming while there's a snake spitting on your head..."
"No matter," said Loki, "using Sæhrímnir, I have revived the rest of my servants. Prepare to die, you loyal fools!"
Ragnar had gathered the remaining einherjar, who were ready for battle.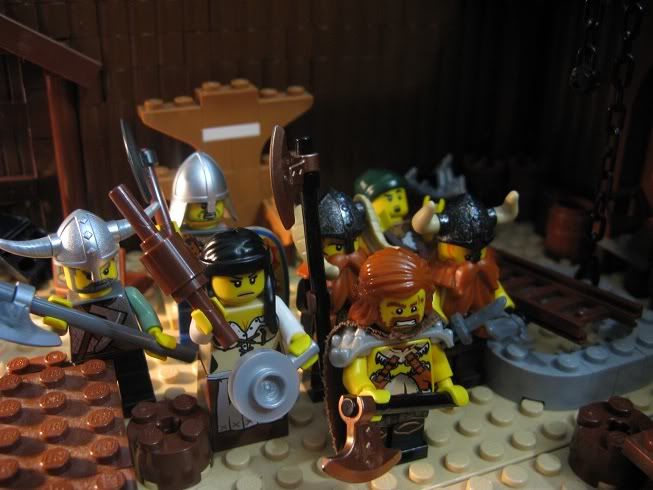 Between the tables of Valhalla, the two sides faced each other down...
... Before abandoning all discipline and jumping into battle!
Patrekr the Red (Palathadric)
surveyed the battlefield, looking for an enemy. While he wasn't looking, the scummy Sigmund sneaked up behind him...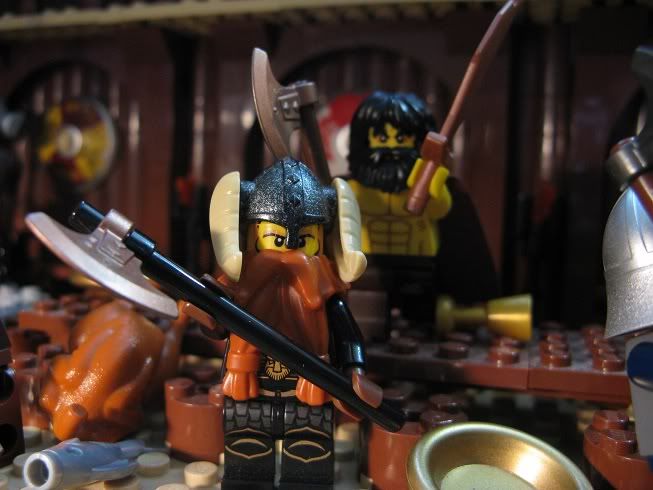 But using the lightning-fast reflexes that only a paranoid axe owner has, Patrekr swiftly cut Sigmund down in mid-air.
Ragnar managed to make it up to the balcony and eyed his target below...
He made a perfect landing, cutting the jestful Jormund in half.
Wilhalm Bloodaxe (WhiteFang)
sized up his opponent. Calm and composed, he stayed still as a statue, waiting for an opening...
Hervi Puddinghead was baffled as Wilhalm remained inactive...
But Wilhalm's patience payed off. Hervi had been standing directly under an old rusting chandelier, which fell from the ceiling and crushed him to death.
Meanwhile,
Snotra Carrotface (Scubacarrot)
overpowered Gerrid and threw her against the table.
Disarmed, Gerrid could only look up in horror. Snotra produced her rolling pin and proceeded to flatten Gerrid's face into mush
Before engaging in battle,
Sveinn the Uninspired (Scouty)
decided to make some small talk with his enemy.
"Nice weather we're having, isn't it?" Sveinn asked.
"It is," Dagrun replied.
"... I hear salmon costs two hacks of silver these days. Can you believe that?"
"... I can."
Having exhausted his repertoire of small talk, Sveinn looked around the room, trying to think of another topic to bring up.
"... Table legs... Uhhh... walls..."
Unfortunately, he couldn't think of anything else. He raised his axe and killed Dagrun in a very uninspired way.
Carl Poem-Piece (Capt. Redblade)
had been backed into the corner by Beorn Ale-Lover. Carl, realising that his death was nigh, lamented his fate and began to sing a eulogy for himself...
"
Carl likes it when it's warm,
Carl likes it when it's icy.
Carl likes his mead in a horn,
Carl likes his chicken spicy...
"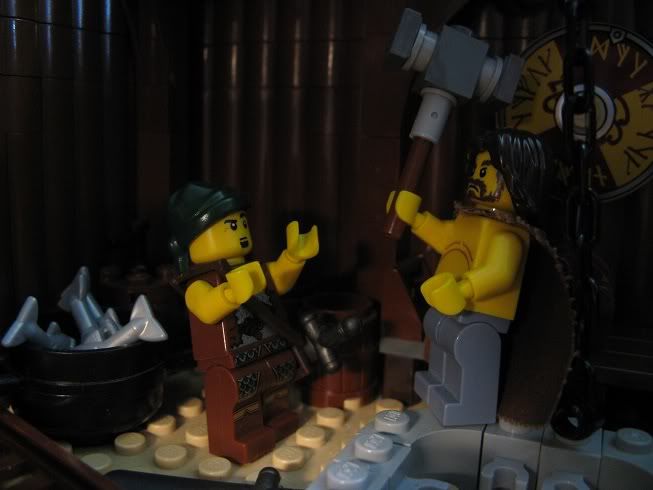 Carl continued to sing his long-winded poem, driving a frustrated Beorn to turn to the drink.
Beorn glugged down a keg of ale and died of alcohol poisoning.
Finally, an oblivious
Dragmall (Dragonator)
was being stalked by a dark figure...
Using the element of surprise, the figure knocked Dragmall to the ground. He then bent over Dragmall and raised his sword to kill.
"You fool!" The hooded figure whispered, "no man can kill me!"
"I am no man!" Dragmall shouted, throwing off her fake beard.
"Well, everyone knew that," the figure tried to explain, "I was just using a figure of speech. It's not true anyway, a man probably could kill me. Actually, men
have
killed me, on several occasions in fact..."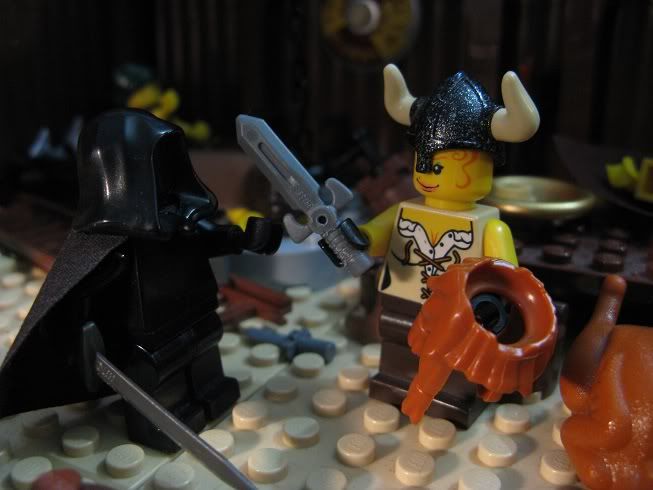 Sensing that the figure's guard was down, Dragmall lunged at her assailant, plunging her sword into his hood.
Dragmall pulled her sword out, shocked to find the mangled face of Wary the Black, the final
Servant of Loki
!
The einherjar, having defeated the Servants of Loki in battle, looked around at the carnage that had been created.
... But it wasn't over yet. Loki's maimed minions stumbled back to their master, who had the meat of Sæhrímnir ready for them again.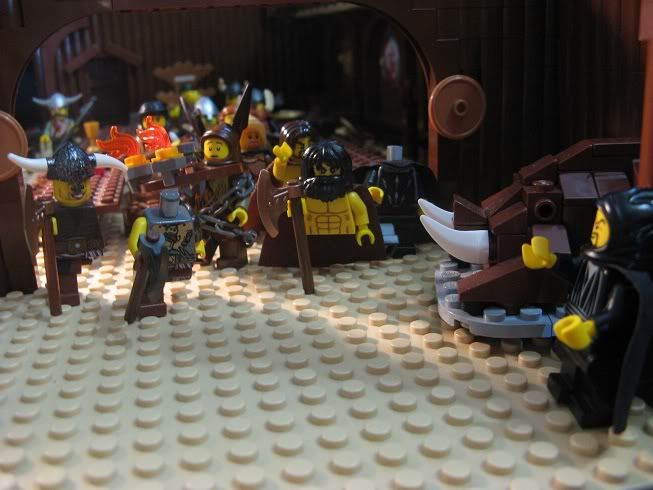 Soon, they were all good as new.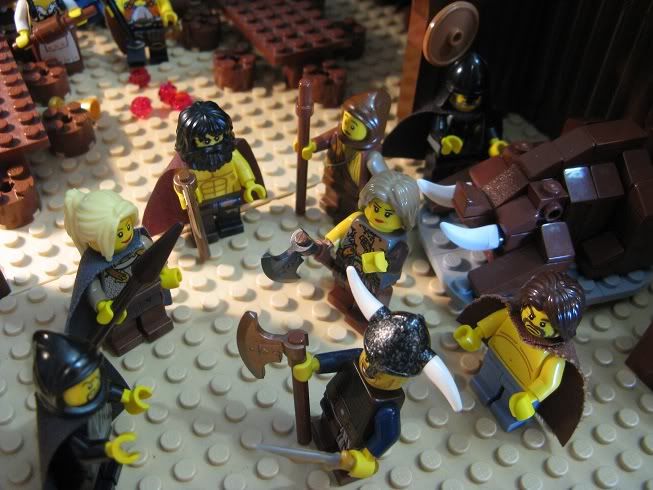 "We can do this all day if you'd like," Loki smiled.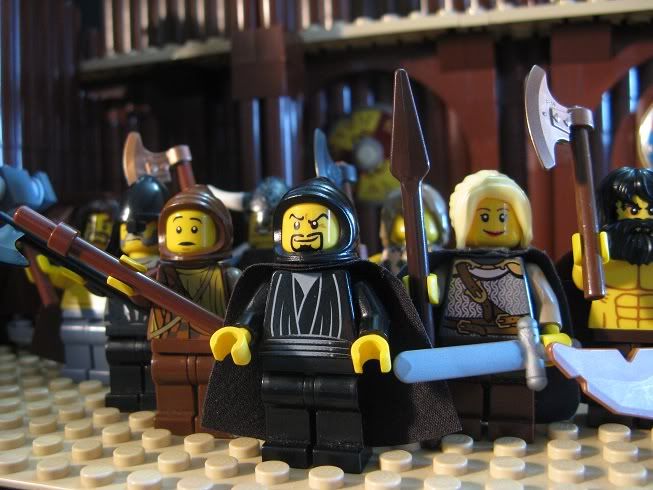 Fortunately, they didn't do this all day. This conclusion is long enough. Just then, Thor's chariot came crashing into the hall, trampling Loki and his servants.
In the face of Odin and Thor, the traitors fled in terror from the all-mighty gods.
Wary, realising that he'd made a horrible mistake by joining in with Loki's plot, decided to make amends with the gods he had betrayed.
With a single swing of the axe, Wary beheaded two vile Servants of Loki.
However, treason could never be forgiven, as Odin demonstrated when he impaled Wary on the spot.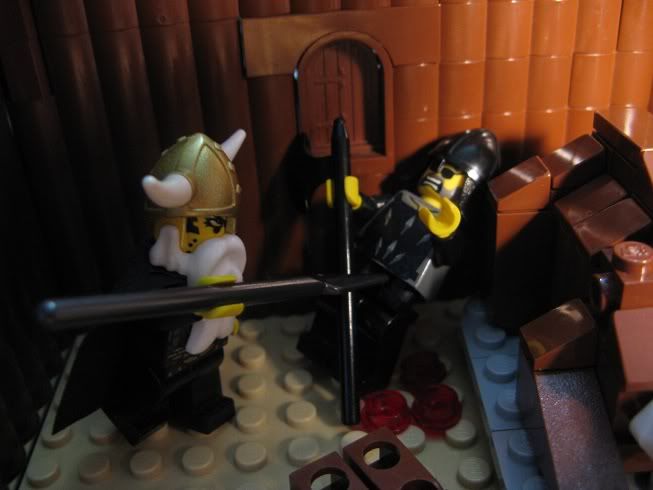 Loki looked for an escape route, but instead came face-to-face with Thor.
"Come on, Thor. It was all just a joke. In the end, we all had some fun, right?"
Thor answered Loki's pleas with a swift hammer to the head.
Finally, Loki and his servants were well and truly defeated.
"So, who do we execute next?" Ragnar asked, excited.
Odin turned to Ragnar.
"It's over, Ragnar. Our enemies are defeated. We're all going to live in peace now. I don't want to see any more blood shed in these halls."
"But... but... we'll have another one these things soon, right?" Ragnar stammered.
"It's over," Odin replied.
As Ragnar sulked off, the rest of the einherjar set about restoring Valhalla to it's former glory.
Luckily, they had kept a pile of their dead friends close by, who could now be brought back to life with the power of boar meat...
Lo and behold, the great warriors of Valhalla were alive - Erling the Unlucky, Lefsi Red-Shirt, Holti, Bolobus the Robust and Smior Dead-Man-Walking!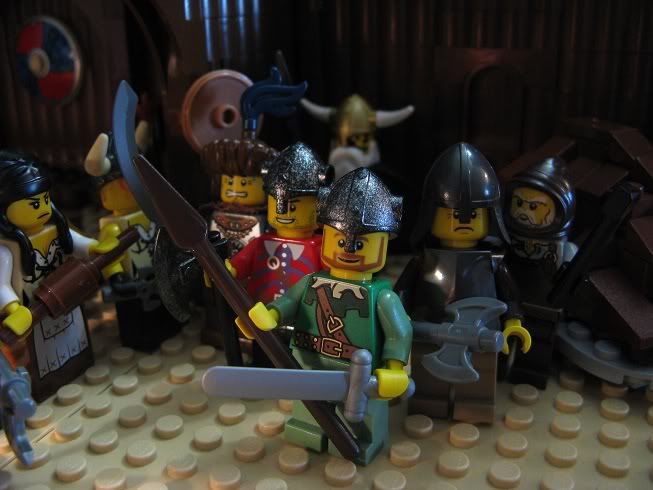 Oh, and some other randoms were revived too...
With the hall, tidied up, the einherjar were ready for another night of feasting and boozing.
Now that the traitors had been put to death, the hall was slightly emptier than it had been at it's height. However, there were also a couple of notable loyal einherjar who were missing from the feast...
Ragnar had retired to his quarters, bemoaning the fact that he would never experience such a bloodbath again. Having been relieved of his command of Valhalla by Odin, he no longer had any duties left to occupy his mind. His thoughts turned back to the horrible deeds he had committed. The ghosts of his past returned to haunt him.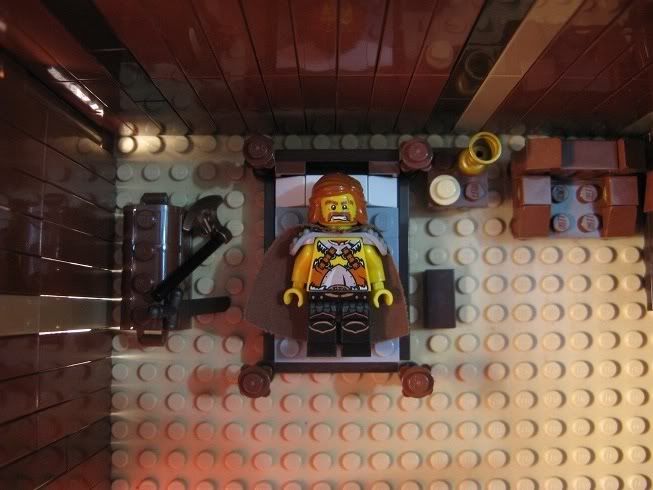 Harald awoke from his slumber in the dark cellar beneath Valhalla.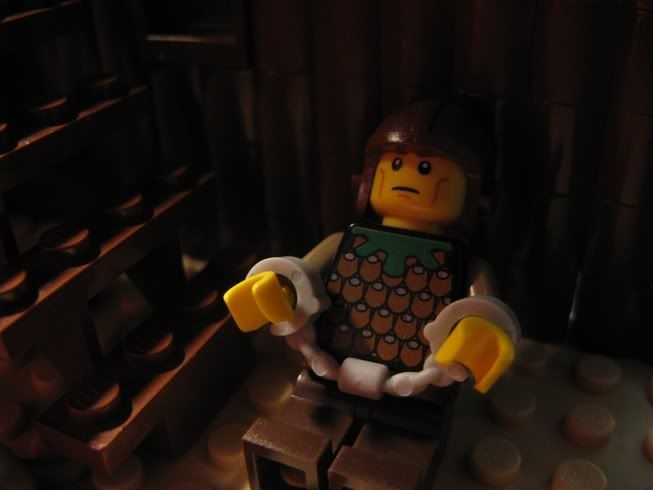 Harald became aware of a bright light, and looked up to find the door to his prison unlocked.
In the main hall, the einherjar were just about ready for their main course - the magnificent Sæhrímnir!
Harald now stumbled through the hallways, looking for Ragnar's room.
Harald opened the door...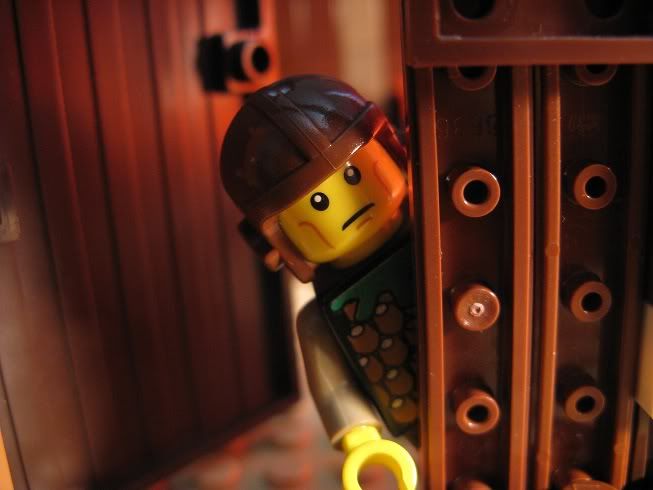 ... Ragnar standing there, back turned to Harald...
... some of the einherjar prepared to cut up Sæhrímnir for the rest of the guests...
Harald crept behind Ragnar, axe raised. Ragnar was waiting for him...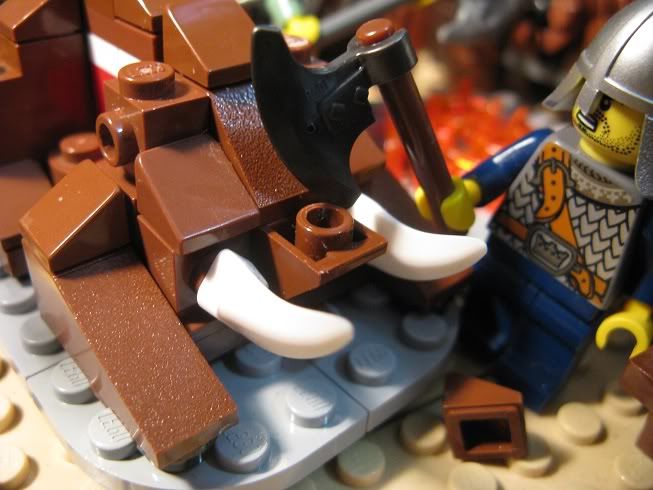 Harald looked down in shock at what he had done.
Ragnar lay on the floor amongst his blood.
"The horror..." he whispered...
---
Congratulations

Einherjar

, winners of Ragnarok Nöw!
Survivors:

Dragmall (Dragonator) -

Einherjar





Sveinn the Uninspired (Scouty)
-
Einherjar
Patrekr the Red (Palathadric)
-
Einherjar
Wilhalm Bloodaxe (WhiteFang)
-
Einherjar
Snotra Carrotface (Scubacarrot)
-
Einherjar

Carl Poem-Piece (Capt. Redblade)
-
Einherjar
The Dead (again):

Magnus (Masked Builder)
-
Einherjar
-
mod-killed, Day One
Danr the Dragon-Slayer (Dannylonglegs)
-
Einherjar
- convicted
, Day One
Steinvoir Meat-Shield (Shadows)
-
Einherjar
-
murdered, Night One
Jormund (JimButcher)
-
Servant of Loki
-
murdered, Night One
Gerrid (Captain Genaro)
-
Servant of Loki
-
convicted, Day Two
Gofraid the Foog (Fugazi)
-
Einherjar
-
murdered, Night Two
Chief Mursi (CorneliusMurdock)
-
Einherjar
-
murdered, Night Two
Hervi Pudding-Head (Hinckley)
-
Servant of Loki
-
convicted, Day Three
Bergulf (badboytje88)
-
Einherjar
-
murdered, Night Three
Sigmund (Sisco)
-
Servant of Loki
-
murdered, Night Three
Stemid the Pale (Sandy)
-
Einherjar
- convicted
, Day Four
Finn the Squinter (fhomess)
-
Einherjar
-
murdered, Night Four

Erik the Boneless (Etzel)
-
Einherjar
-
murdered, Night Four
Beorn Ale-Lover (Bob)
-
Servant of Loki
-
convicted, Day Five
Dagrun (Darkdragon)
-
Servant of Loki
-
murdered, Night Five

Petrus Fire-Starter (Pandora)
-
Einherjar
- convicted
, Day Six
Rurik the Bastard (Rick)
-
Einherjar
-
murdered, Night Six
Canute Grey-Bush (CallMePie)
-
Einherjar
-
murdered, Night Six
Cranebeinn (Chromeknight)
-
Einherjar
-
murdered, Night Six
Wary the Black (Waterbrick Down)
-
Servant of Loki
-
convicted, Day Seven
---
Roles:
Night Actions
Dead Writeboard:
http://123.writeboar...ry0l2riet6rsjzb
Password: hoddmimisholt