A figure wielding a spear came running down the hallway.
"Hey! That's mine!" yelled
Gofraid the Foog (Fugazi)
. The figure kept running. Gofraid wouldn't get his spear back back tonight. It was probably going to be tossed into a pond somewhere.
"Now how am I going to kill my target?" Gofraid wondered to himself, "I suppose I could use my normal weapons, but then the lovely people at home would know who the killer was..."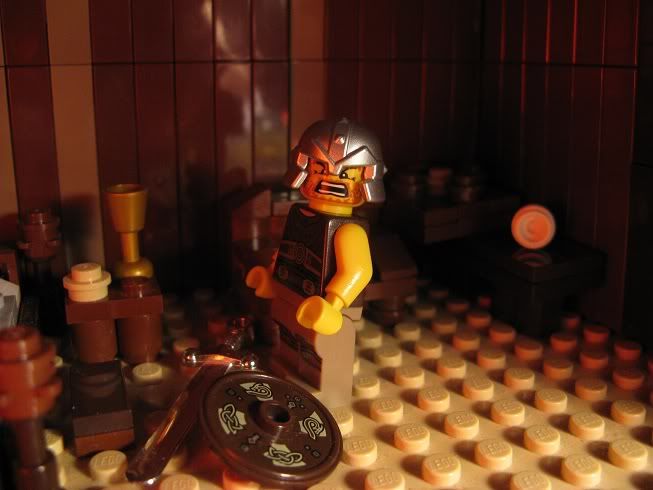 Gofraid collapsed back onto his chair, frustrated at this turn of events. He shivered away in his cold little room, puzzled that not even Valhalla could provide him with some warm clothing.
It wasn't long before a visitor arrived however. This shadowy figure opened Gofraid's door...
Knowing what was coming, Gofraid lunged himself towards his weapon...
... But the figure was too quick, and stabbed poor Gofraid in the throat.
The figure made a quick getaway, leaving Gofraid to bleed out on his chair. Eventually he fell still, shivering no longer. Gofraid was a
Loyal Einherjar
.
Outside Valhalla,
Chief Mursi (Cornelius Murdock)
prepared to go to bed. He preferred to sleep in a different sort of longhouse. He had never truly re-adapted to the Norse way of life. As much as he had pined to return to his place of birth, Mursi had realised that he belonged with his tribe.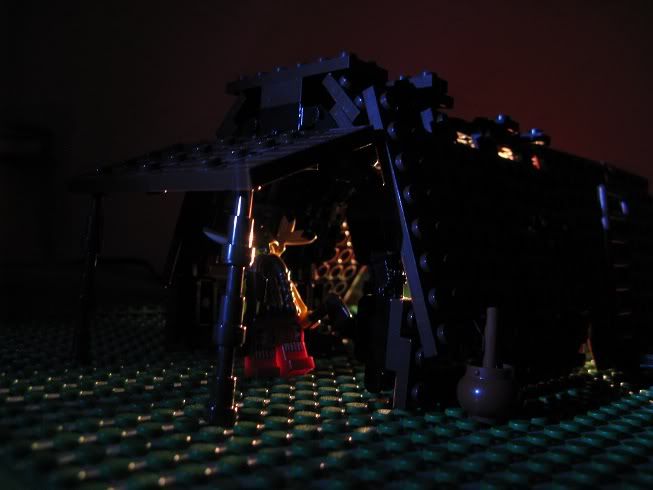 Chief Mursi went outside to get another barrel of tobacco, but instead stumbled upon another warrior.
"Hey buddy, I'm walkin' here!" Mursi shouted, before noticing the sword the figure was carrying, "Relax, dude. Chill out. Just put the sword down and we'll all be hunky-dory."
Unfortunately the sword-wielding figure could not understand a word of this strange American dialect, and decided to cut Mursi down in cold blood instead.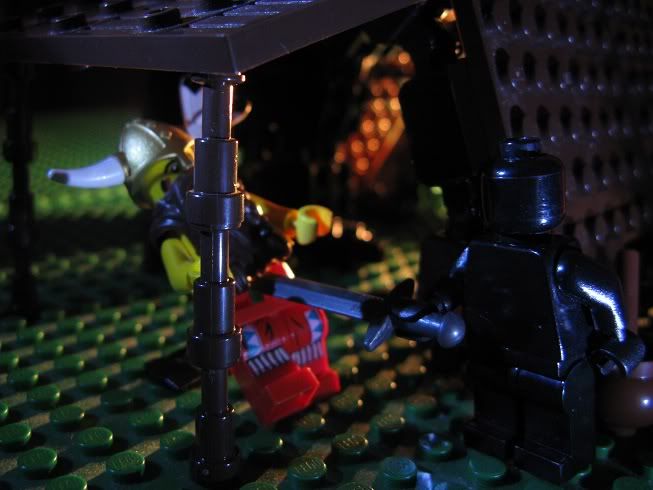 "No Mursi." the sword-wielding figure said, who was pretty pleased with itself for having coming up with it's first action hero one-liner.
Chief Mursi was a
Loyal Einherjar
.
The sun came up again, and Harald found himself alone in the banquet hall.
He was reading another recent letter.
"What's that?" asked Ragnar.
"The raven has delivered another message from Odin," Harald answered, "he says he's heard about the executions you've been performing and wants you to stop."
"And you believe that?" Ragnar asked, "It's a trick. Of Loki's doing. He wants us to stop. He's getting worried because we're close to winning this thing."
In one swift swoop of his axe, Ragnar cut off the raven's head.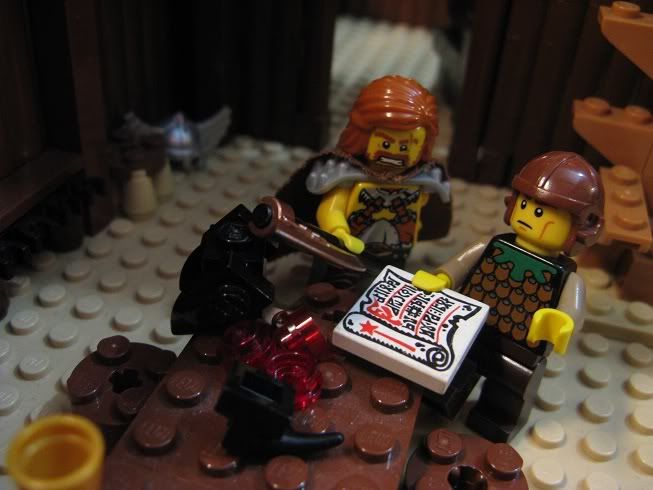 Before Harald could respond to this random act of violence, the rest of the einherjar began to pour into the hall.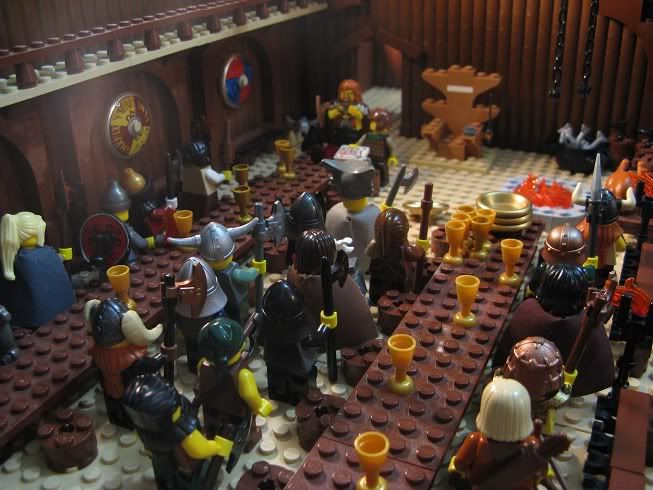 "Good morning, my brothers. We are truly blessed. I am happy to report that you made the right choice yesterday -
Gerrid (Captain Genaro)
was a vile
Servant of Loki
!"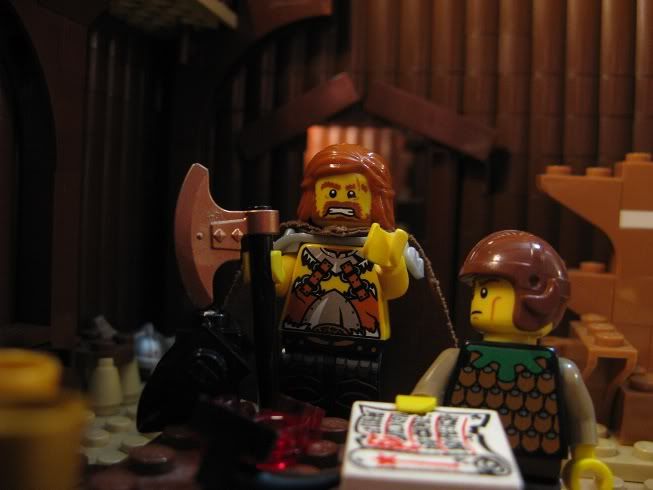 ---
Non-Playable Characters

Ragnar the Great
Harald
Living Players (19):

Bergulf (badboytje88)
Beorn Ale-Lover (Bob)
Dragmall (Dragonator)
Finn the Squinter (fhomess)
Stemid the Pale (Sandy)

Sveinn the Uninspired (Scouty)
Petrus Fire-Starter (Pandora)
Sigmund (Sisco)
Erik the Boneless (Etzel)
Hervi Pudding-Head (Hinckley)
Canute Grey-Bush (CallMePie)
Wary the Black (Waterbrick Down)
Patrekr the Red (Palathadric)
Cranebeinn (Chromeknight)
Wilhalm Bloodaxe (WhiteFang)

Dagrun (Darkdragon)
Rurik the Bastard (Rick)
Snotra Carrotface (Scubacarrot)

Carl Poem-Piece (Capt. Redblade)
The Dead (again):

Magnus (Masked Builder)
-
Einherjar
-
mod-killed, Day One
Danr the Dragon-Slayer (Dannylonglegs)
-
Einherjar
- convicted
, Day One
Steinvoir Meat-Shield (Shadows)
-
Einherjar
-
murdered, Night One
Jormund (JimButcher)
-
Servant of Loki
-
murdered, Night One
Gerrid (Captain Genaro)
-
Servant of Loki
-
convicted, Day Two
Gofraid the Foog (Fugazi)
-
Einherjar
-
murdered, Night Two
Chief Mursi (CorneliusMurdock)
-
Einherjar
-
murdered, Night Two
Rules
1. Each player will be given a character to play, who will be aligned with either the
Einherjar (Town)
or the
Servants of Loki
. To win the game, the Einherjar must kill off all the Servants of Loki, while the Servants of Loki must outnumber the Einherjar.
Neutral
characters have their own win conditions as outlined in their roles.
2. Each day you will be able to vote to lynch a player. Voting should be done in the following format;
Vote: Character (Player)
. Similarly, unvoting is to be done in the format;
Unvote: Character (Player)
. No other format will be accepted. A majority vote is required to lynch a player.
3. A game day will last for 72 hours. You may not vote in the first 24 hours. After the day has concluded, a night stage will commence, which will last a maximum of 72 hours. Night actions must be sent to the host in the first 48 hours of the night stage.
4. The alignment of lynched players, as well as those that died during the night, will be revealed at the beginning of the next day.
5. You may not quote or pretend to quote anything sent to or from you in PM with the game host. This includes all the details of your character and role, as well as any night action results. Role claims and reporting of night action results are acceptable, but in your own words only. Do not attempt to use the structure of your role PM to your advantage.
6. Do not play the game outside the thread. Similarly, do not post out of character inside the thread; you must always play the role given to you. Game tactics and roles may only be discussed in the game thread or via PM with other players. Private discussion is done at your own risk and should be treated as part of the game.
7. If you are dead, you may not post in thread or discuss the game with any of the players. Any information you had becomes void, and may not be passed on.
8. You may not edit your posts. Editing your post on three separate occasions will result in a mod-kill.
9. You must post in every day thread. Failure to do so will result in a mod-kill.
10. If you encounter a problem or have a question, please contact the hos
t via PM.