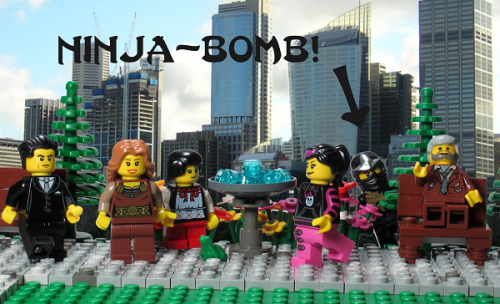 Ninja Bomb
It happens to us all, working hard on a masterwork. The magnum opus of our building, an excess of time and parts spent. Then a contest comes along and we're all built out!
Never fear! You can join in the fun too! Ninjas are masters of concealment, sneaking in and hiding carefully. Hide a ninja (or even ninjas) in your build somewhere and challenge us to find it!
Rules
Hide a ninja or ninjas within a completed MOC.

Take a close-up image of the hiding ninja as a clue to its location. Be reasonable, we do need to find it to judge.

Post the close-up image and a link to the MOC in this thread.
Now for the super important entry rules:
New and complete MOCs only! No WIPs or previously posted MOCs

There is no limit to which theme, what kind of MOC or size of MOC you post. Everyone can join the fun of Ninja Month.

No official Ninjago figures are required but are preferred.

No clone brands or custom parts including decals, stickers, cut outs unless it's official TLG stickers.

Custom parts includes BricksArms, BrickForge, etc.

One entry per person. An entry must include a picture (no larger than 800x600) showing the ninja's hiding place.

No LDD entries.

Upload your images onto those dedicated image hosting websites such as Brickshelf, Flickr, etc. Do not use Eurobricks attachment to upload your images.

No webcam or cellphone camera images can be used for the submitted entry. It must be taken in a clean and decent background with enough brightness to show the beauty of your entry.

The contest begins now and will end on the (30th October 10:00pm) (GMT). Voting will begin immediately after that and will last 7 days.

Please note that cheating or rallying your friends, co-workers, and whoever that is not active in Eurobricks but owns an Eurobricks account but wants to vote for the sake of voting in terms will be frowned and may or will be subjected to further inquiry.

In the event of a tie, the Staff will vote to decide the winner(s) and all Staff decisions are final.

Any violation of the rules will be subject to disqualification.
Prizes: A choice of our fantastic selection of Tags and maybe a little somethign extra