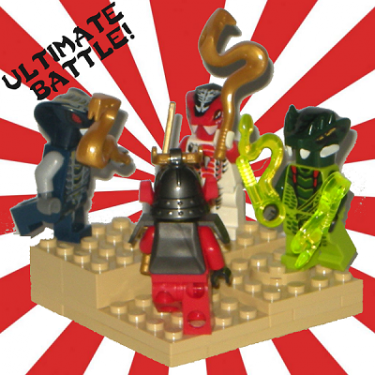 Ultimate Battle

Ninjas do battle on a daily basis against many threatening foes with their elemental powers and mighty weapons. Show us their greatest challenge, their most amazing victory, their scariest fight. Just be sure it's action packed!
Build in two categories of vignettes
8x8
16x16
Rules
Build a vignette that measures 8 studs by 8 studs, 16 studs by 16 studs (No height limit.).

You can enter both categories of vignettes.

A reasonable overhang is allowed to accommodate tree limbs or minifigures accessories, but may not exceed more than 2 studs outside the base.

This is a building contest. Be creative. Any location, enemy or type of combat is allowed as long as it is super action packed and exciting. A battle for the ages!

Full Rules



No official Ninjago figures are required but are preferred.

No clone brands or custom parts including decals, stickers, cut outs unless it's official TLG stickers.

Custom parts includes BricksArms, BrickForge, etc.

There is no parts limit as long as it all fits within the vignette.

Entries are to be posted in this topic.

One entry per person. An entry must include a picture (no larger than 800x600) showing the vignette. You may include up to 2 more images following the same rules. If you choose to take additional pictures, you may link to an outside gallery.

Digital backgrounds are allowed.

No LDD entries.

Upload your images onto those dedicated image hosting websites such as Brickshelf, Flickr, etc. Do not use Eurobricks attachment to upload your images.

No webcam or cellphone camera images can be used for the submitted entry. It must be taken in a clean and decent background with enough brightness to show the beauty of your entry.

The contest begins now and will end on the (30th October. 10:00pm) (GMT). Voting will begin after that and will last 7 days.

Please note that cheating or rally your friends, co-workers, and whoever that is not active in Eurobricks but owns an Eurobricks account but wants to vote for the sake of voting in terms will be frowned and may or will be subjected to further inquiry.

In the event of a tie, the Staff will vote to decide the winner(s) and all Staff decisions are final.

Any violation of the rules will be subject to disqualification.
Prizes:
16x16
1st: Feng-Suei Spinner, Set 9567. Car Set 30087. Jumping Snakes Set 30085
2nd: Car Set 30087. Jumping Snakes Set 30085
8x8
1st: Car Set 30087. Jumping Snakes Set 30085
2nd: Ninja Training set 30082. Ninja Glider set 30080
And a special tag for all winners. So get building!