The Dragonlord calmed down, but still looked somewhat dismayed.
"Harrumphf! While I cannot exactly congratulate for a job well done, I have to say I'm pleased to hear you fought back the demons. We must not let the forces from the Void seep into this city, it's in deep enough trouble as it is without demonic influence. I will bring your news to the other Veterans, although I suspect the
Sand Queen
already knows about this. She's always one step ahead of the rest of us, that wily woman... Anyway, the heroes who fell did not die in vain. Their names shall be carved on the wall of Heroica Hall to be remembered forever. And if that kid wants to live in my dusty old basement, so be it. It's not like I stay over at the house very often, anyway."
"Indeed. I too am proud to see that you helped this innocent girl in her humble quest, even though the cost was heavy. It shows that this city still has hope with Heroica taking care of it. Always remember to defend the oppressed, and the world will slowly become a better place for all of us."
"Alright, cut the philosophical crap, Kukulkan! Let's hit Scheherazade's Saloon, I'm in dire need of a strong drink!"
"Yes, my friend. We have a spider-catching trip to plan. I have just the thing you need to fell another Murkwood Mother..."
The dragoon and the orc walk off side by side.

"Oh, we must hurry back to our house!"
Indeed, in front of the house of the Nôrns, the party see Sküld's mother arguing with Åsa Nifelheimr.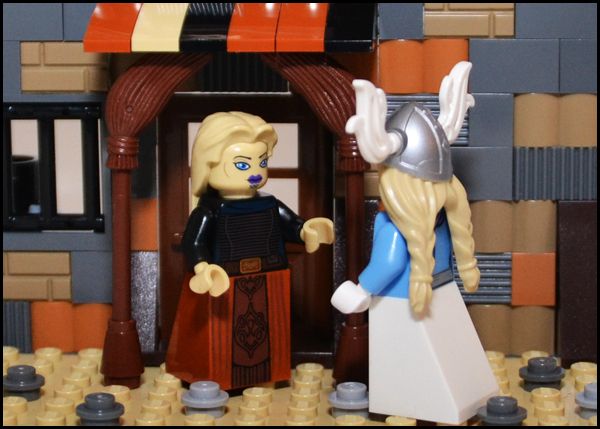 "Trust me, Ürd. They will be back soon. I consulted the Oracle, and..."
"May the Goddess take you swiftly if something has happened to my daughter, Åsa! This is absolutely the last time..."
Then she spots the girl approaching with the group of heroes.
"Sküld! Oh my Goddess, are you alright?"

"Mother, I'm fine! And Shaun is too, it just took a while to find him. I'm so sorry for worrying you!"
"I've heard enough of this Shaun! He is nothing but trouble to you, I swear! I stayed up all night wishing you come through that door, can you understand how that felt?"

"I said I'm sorry, mother..."

"Don't be so hard on her, Ürd. She did what was the right thing to do, and now she is back with us. You can always trust champions of Heroica, like I told you."
Ürd just glares at the Nôrn leader as she hugs Sküld tightly. Does the party wish to ask something from the Nôrns?