Hi, everyone! Some of you may remember my little prank from April 1st where I posted a
fake review of this set
. Well, I'd like to make it up to you by making a real review of it, and what better time to do so than for the 4th anniversary of the Reviewers Academy and the 50th anniversary of the Spider-Man comics!

So let's get started!
Set Number:
6873
Name:
Spider-Man's Doc Ock Ambush
Theme:
Super Heroes
Subtheme:
Marvel Universe
Year of Release:
2012
Pieces:
285
Minifigs:
3
Price:
$29.99 USD
Shop @ Home description:
Quote
Rescue Iron Fist from Doctor Octopus' laboratory!

Scheming Doctor Octopus has captured Iron Fist and is conducting experiments on him, trying to steal his superpowers. Help Spider-Man sneak in through the air vent and swoop down on Doc Ock to release Iron Fist! Then stop the wicked doctor from fleeing on his missile-firing car! Includes 3 minifigures: Spider-Man, Iron Fist and Doctor Octopus.
Brickset
Bricklink
S@H
The Box
The box has the same red box design as the other Marvel sets, except it has an illustration of Spider-Man in the top right corner instead of the Avengers or Wolverine, and the Ultimate Spiderman logo in the lower right. From the box art and the S@H description we can already tell that this is only loosely based on the Ultimate Spider-Man TV show. There was so far only one episode where Spider-Man was in Doc Ock's Lab, "Me Time", and it wasn't Iron Fist who was captured by the doctor in order to steal his powers, it was Spidey. Plus Doc Ock's lab was in an octopus-shaped underwater base, not in a cave. I guess TLG didn't want to make Spider-Man look weak, so they included one of his team members for him to rescue and made up their own story loosely based around that episode.
The back shows off the play features of the set and has a small picture of Spider-Man in the corner. The red and blue background fits the whole Spider-Man theme more than any other Marvel set.
The Contents
Inside the box you will find an instructions booklet, a comic, a sticker sheet, two loose tubes, and 3 numbered bags.
The instructions are the same as other Super Heroes instructions. They have part call-outs and light images of the three minifigs included in the set on the corner of some pages.
On the last page there is a Lego Club ad with a cute image of Spidey and a captured Doc Ock hanging down from the 7498 Police Station. Notice anything different about Spidey? That's right, he has awesome leg and arm printing in this picture! Why do you tease us so, Lego!?

The comic is basically just a visual representation of the set description where Doc Ock brings Iron Fist into his lab and straps him on the examination table (note that Iron Fist's head goes where his feet are supposed to go; probably an accident by the artist), then Spider-Man comes to rescue him and they fight Doc Ock, after which the villain escapes on his getaway car. Not the greatest story, but one of the better Super Heroes comics. One thing I noticed is that the cylinders on the big tower seem to be translucent in this comic, and one of them even seems to have a skeleton inside. Perhaps this is how the preliminary design of the set was?
There are a few notable pieces in this set. First of all, there are several parts in medium blue, some of which are exclusive to this set, such as the half-cylinder and 3x3 wedge plate. There are also some old pieces making a return, like the big wedge plate with grill in dark grey and the cross plate with dome, both of which were last seen in 2010. The neck bracket with Technic pin in black is also new in this color. There's another rare piece which I forgot to include in this picture, and that's the unprinted TIE Fighter windscreen which was only included in two other sets so far.
The Minifigs
There are 3 minifigs included in this set, Spider-Man (obviously), Doc Ock, and Iron Fist, all of which are based on their designs from the Ultimate Spider-Man cartoon. Iron Fist is the only exclusive character here however, since we already got several minifig versions of Spidey and Octavius based on the first two Spider-Man films. Spider-Man has blue hips and a blue torso this time around. Even though the blue hips are more accurate, I think this makes him look too blue, especially around the shoulders and feet. He would look so much better if they would have given him the leg and arm printing that he has in that Lego Club ad, but oh well. Having missed out on the first Spidey sets, I'm just glad to finally get a Spidey. I'm not even bothered by his cartoonishly big white eyes.
Doc Ock looks a lot different from the movie version. He has long, black hair and a grey suit. I guess the creators of the cartoon were going for a creepy stalker look. It's interesting, but definitely not my favorite depiction of the character. That said, the minifig does look pretty cool. I like all the details on his torso. There is only one other licensed set that comes with his hair in this color, on Professor Snape in
4842 Hogwarts Castle
.
Iron Fist looks pretty good. He is probably one of my favorite characters from the show, so I'm glad they decided to include him even though he hardly had an appearance in the episode this set is based on. His eyes aren't as big as Spidey's, so he doesn't look cartoony, and he's overal pretty accurate. One thing that bugs me a little about him, though, is his confident smile. He is usually very focused in the show and doesn't smile much (which is one of the reasons why I like him so much) and in this set he got captured by Doc Ock. Shouldn't he have a concerned or angry look on his face? Or does he know that Spidey is coming to rescue him? Seriously, why do all Lego superheroes have to have a cocky smile or grin?
Also, the upcoming Nova seems to come with translucent studs on his hands to represent his superpower, just like Iron Man, so why not Iron Fist? It's not a big deal, but it's those kind of details that can make a minifig great.
Spidey looks especially wrong when looking at him from the side. Being different colors, his costume and mask look completely separated whereas they look like they're one piece on the "real" Spider-Man. Also, the web pattern on his mask is interrupted on the sides. They were able to print the sides of
Lobot
's head just fine, so why not Spidey's?
Doc Ock's tentacles are constructed the same way as before, although this time the middle segments are black as they are in the cartoon.
All the minifigs have back printing too. I have removed Doc Ock's hair and tentacles so that you can see his back prints. He comes with a second face that looks not quite as pissed off and has the red lenses of his glasses flipped up. I don't remember his glasses ever doing that in the show, but it's interesting alternate face nevertheless.
Iron Fist doesn't have printing on the back of his head, which is a shame. Where is his hair? Where are the long ends of his bandana? If I didn't know what he looks like from the front, I would think he had a regular yellow minifig head.
Here are some reference images from the
Ultimate Spider-Man website
. All the characters look pretty spot-on, from the dragon silhouette on Iron Fist's chest to the details on Doc Ock's suit.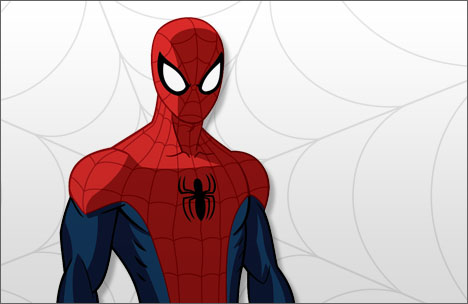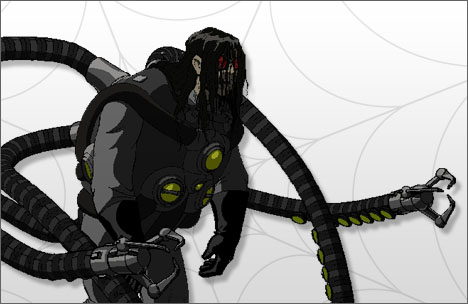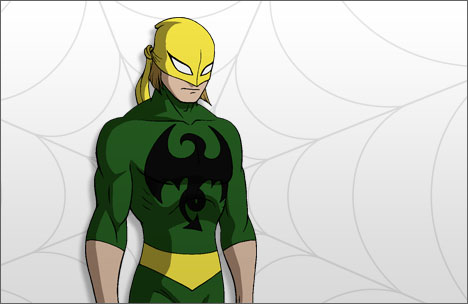 The Build
Bag 1 contains Spider-Man, Doc Ock, and the parts for Octopus' vehicle.
Once you have built Doc Ock's tentacles, you build his little car. I like to call it the
Octomobile!

Doc never had a vehicle like this in the show, or ever as far as I know, but it certainly looks interesting and keeps nicely with the color scheme of Doc Ock and his lab. I also don't remember him ever having his own logo, so I don't know where TLG got that design on the hood of the vehicle from. This build is pretty simple and quick.
There is no steering wheel or seat for the driver which is pretty odd. Maybe Doc Ock controls it with his mind, just like he does with his tentacles?
You might be wondering what the ball-socket joint is for. Apparently you're supposed to take off Doc Ock's tentacles and attach them there while he's driving.

I don't know what the point of that is, and if Doc Ock is even able to take off his tentacles in the show. After all, it is said that he can't move or breath without them.
The flick-fire missiles can be aimed up and down as much as you like. Also, the driver's seat rotates 360 degrees. I also fail to see the point of this play feature. It would have made sense if the flick-fire launchers would move with the seat, but they don't, so all this feature does is make the Doctor dizzy.
Here are the contents of bag 2 which make up the main section of the lab. As you can see, this is also the bag that contains Iron Fist.
This is what you get about 2/3 through the build. Aside from the stickers and the lamp, this part is symmetrical, so it's not too hard to build. There are several textured bricks used in the walls which give it an interesting texture.
Once you add the examination table, you're done with the first segment. The other modules are later added via the Technic pins on the sides.
These are the contents of bag 3. As you can see, there are many trans-light-blue cylinders inside the small bag here.
First you build the ventilation shaft. Here's an in-build shot.
Since it uses a lot of large pieces and the first two stories are almost the same, it's finished pretty quickly.
Next, you build the containment cell. Most of it is comprised of the TIE Fighter window and the big wall piece behind it, so there are no interesting in-build shots to show.
Lastly, you connect the two modules to each side of the main part of the lab. This is what the complete assembly looks like:
Pretty good, eh? It doesn't look bad from the back either, although the strangely shaped holes in the ventilation shaft are kinda odd.
The Finished Set
Here's Doc Ock's lab in its full glory. Well, sort of. It only represents a quarter of Doc Ock's round lab. It looks good for what it is though.
Now let's take a look at the play features. One thing you can do is open up the containment cell and put a prisoner inside. It's nice and easy to open, unlike the one in the Batcave which tends to break when trying to open it (I hope it's OK for me to mention a DC set in a Marvel review

).
Here's Iron Fist trapped inside, still smiling confidently. Not sure what the 54 on the display below is supposed to indicate. Maybe the temperature inside the cell.
The main section features a lamp that can be lowered and an examination table that spins and has four mechanical arms that hold the "patient" of the doctor down. How fitting for Doc Ock. Unfortunately, the table doesn't tilt up like it did in the show. A simple hinge would fix that though. I like how they made the headrest out of cheese slopes. I might have to steal that design for pillows in a MOC.
The futuristic displays in the back are surprisingly accurate when compared to this reference image, except the big screen is exchanged for a weird black piece with Doc Ock's logo on it in the set. See that orange graph to the left? It's the same as the one to the right of the examination table in the set.
Even though the ventilation shaft is the tallest part of the set, it doesn't have a lot of playability. You can have Spidey crawl in from under the fan as suggested on the box, but that's pretty much it. It seems that it was included simply to give Spidey something to swing on his web from.
Spare Parts
There are a few small parts left over. The only noteworthy pieces here are the three (yes, 3!) medium blue cheese slopes and the silver tube.
Ratings
Design: 5/5
- It may not be completely accurate to Doc Ock's lab in the show, but it certainly captures the look of it. The whole thing has a great mad scientist vibe to it, even more so than the Frankenstein lab from the Monster Fighters theme. The color scheme is pretty cool and consistent and suits Doc Ock.
Build: 4/5
- There is a vehicle, a lab, a tower, and a containment cell, so there's plenty of variety, making for a pretty satisfying building experience. It could have had just a few less junior-ized pieces which speed up the build though.
Minifigs: 4/5
- I think we all would have preferred it if the minifigs in this set would have been based on their comic book versions rather than those from the generally despised Ultimate Spider-Man cartoon, but they're pretty good for what they are. Doc Ock is pretty spot-on and cool looking; Spidey could have been done better, but could have been worse as well; and Iron Fist is a welcome addition to the Marvel heroes line-up, even if a somewhat obscure one, and although he could have used some printing on the back of his head.
Playability: 4/5
- There are quite a few play features in this set. The Octomobile alone has three, aside from being a car! However, I can't help but feel that they could have done more with this set, mainly with the big ventilation shaft.
Parts: 4/5
- There are lots of medium blue pieces, along with other rare parts, almost all of which are very versatile, so this is a pretty good parts pack.
Price: 4/5
- I think $30 is a pretty fair price for a licensed set with 285 pieces, especially considering that
6863 Batwing Battle Over Gotham
has less pieces than this, but costs $5 more! (Oops, I mentioned DC again...)
Overall: 4/5
- It's not the greatest Spider-Man set (it's based on The Ultimate Spider-Man after all), but it's still pretty good. For a fair and affordable price, you get Spider-Man and two other characters which are exclusive to this set (at least for now) along with a neat lab and a little car, so unless you really hate The Ultimate Spider-Man or mad scientist labs, I recommend getting it (if you can find it in stock anywhere). If you just want a Spidey minifig, I would probably skip this one though, because rumor has it that he will be available in an even cheaper set next year with two much more desirable characters, Venom and Nick Fury.
I hope you enjoyed this late 4th anniversary Reviewers Academy review and forgive me for that lame April Fools joke now.

Remember what I said about Doc Ock's hair?
To the Octomobile!