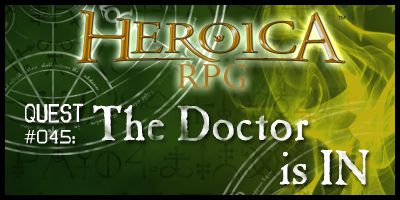 The chosen party of three followed the strange creature to the Southern entrance of the Invision Guildhouse. It was late in the afternoon and high above the Eubric rooftops the sun was already setting.
---
The party!
L'Oréal Diablo (played by Adam) *** Party Leader ***
Level 3 Rogue
Power: 6
Health: 9/9
Gold: 41
Equipment: Scimitar (Longsword, WP: 3), Cowl
Inventory: Bedroll, Potion (x2), Tonic
Siercon
(Siercon and Coral)
*** Party Leader ***
Level 3 Mage
Power:
11
Defense:
1
Health:
7/7
Ether:
6/6
Gold:
0 (Owes Namyrra (Quarryman) 60gp, Arthur (Flipz) 9gp)
Equipment:
Lullaby Wand (WP:8, sleep effect), Sylvania's Cowl
(Artifact, Head Wear, Animal Talk)
Robe of the Magi (SP:1)
Inventory:
Potion x3, Diamond, Bedroll, Scroll of Sleep.
Zark
(Pharos721)
Level 1 Barbarian
Power:
4
Health:
8/8
Gold:
10
Equipment:
Iron Great Axe (WP3)
Inventory:
Potion, Bottle of Mead
NOW ALSO STARRING:
Lycan Dean
(TheBoyWonder)
Level 6 Rogue
*Immune to weakened*
Power:
17
Health:
12/12
Gold:
0
(95 gold owed to Thormanil and 30 to Loreal)
Equipment:
Sword of the Croise (WP: 9), Pugillist Gloves (power +2, protects from weakened), Sylvania's Cowl (grants Animal Talk to Wearer)
Inventory:
Bedroll, Staff of The Frog Paladin (WP:6, 1/6 chance of Amphibianocs Blessing (protects from damage),
Throwing Dagger WP6 (loaned to Loreal)
---
The weird machination knocked on the heavy wooden gate, that prevented the heroes from entering the Guildhouse. With a hoarse and ghastly voice it started to speak.
"Master... master! Your guestsss ... have ... arrived ..."
Slowly, one of the doors opened and out came a female figure.
"Hey there y'all! So I guess you're the Heroes No-1 here picked out, huh? Well, he sure picked out the weirdest bunch, I have to say." The female shrugged and put on a pouting face, but then she started to giggle. "Nah, I'm just playin' with you. My name is Mialesande. I work as an assistant-herbalist here. Well, I guess you've already met No-1 here. I'm just really glad you guys showed up so fast, we're really at a loss here, we don't know what to do. We just don't know where to start!"
QM Note: You have around 24 hours to check in and ensure that all of your stats are okay before we move along. Thanks for playing on my first quest

!

Also, Adam, does that Cowl in your inventory have the same effects like the one Siercon has?