Hello guildsmen from all Guilds! As the voting and judging of entrees from challenge 4 is under way, and the prelude for challenge 5 is still a ways away, I am announcing a brand new mini challenge open to all Guild members.

Introducing:
Design a 5th Guild Challenge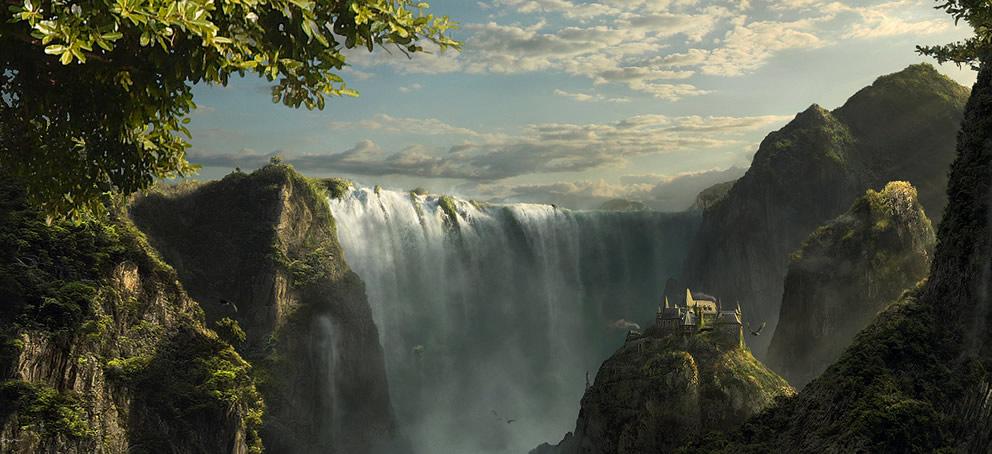 *Image created by Bobby Myers, USA
Have you ever wondered about what lies beyond the borders of Historica?
Historica is a truly diverse land with a multitude of cultures, and yet beyond it a whole world awaits, inhabited by people and all manners of races and species. Have you ever wanted to build in the world outside of the four great Guilds? Well this is your chance to do so! This challenge is about designing a 5th Guild; one that lies outside of Historica, and is entirely up to you to make! Perhaps you wish there was a jungle-dwelling guild, or a guild made up entirely of savage beasts? The call is yours; be as creative as you can , but make it feel like a guild that may easily fit into the world of Historica.
What exactly are you to do?
Post the following in this order, within a single post:
1)
Invent a brand new Guild, write a brief description. (or a full story if you feel up for it) about how it fits into the world of GoH. The Guild can reference other fantasy worlds (ie Drow, Orcs etc) but it should not be a copyrighted material. (ie, Rohan, Gondor, other fantasy franchise groups) Post the information about it in the following format.
Guild name:
Guild Location: (relative to Historica)
Capital and Ruler:
Unique characteristics: (For example, Mitgardians would be known as extremely resilient in the cold, and great hunters just as Kaliphlin citizens would be resilient in drouth, good at trading etc.
2)
Design a color scheme (flag made up of 2 colors, just like other Guild flags) and post a few pictures of your citizens/soldiers.
3)
Name and build the leader of the 5th Guild. Post a picture. (You may wish to include a story, or not)
4)
Lastly, build a small vignette (16X16 minimum, 20X20 maximum) that shows off the unique flavor of your Guild. For example, if your unique guild is based in the jungle, you may want to show off a lush jungle scene, or perhaps a jungle temple, or even a high fantasy location that defies convention. It's all up to you! Make sure to include the new heores you create, be they leaders, adventurers or mere citizens.
All in all you need a minimum of 3 pictures (Color scheme, leader, vignette) and story/info.
How will this challenge be scored?
The Guild leaders will score the challenge entrees on the following criteria.
1) Originality ------------------------------------------------------------------------------ 10 points
2) How well the guild/story/ideas fit into the world of GoH --------------- 10 points
3) Build quality/figure originality/photography --------------------------------- 20 points
4) Having all the required pictures/ information ------------------------------- 10 points
The entree that gets the highest score will be declared a winner! (In the event of t tie, the tied entrees will be put to a public vote, in which GoH members will decide the winner.)

What is the prize for the winner?
There are two major incentives to build in this challenge.
1) The winning entree will be incorporated into the story of Historica and play a part in challenges 5 and 6, including all leaders and character introduced within the winning Guild. This is your chance to steer the story of Historica, and see your builds have direct consequences into the main story. Your newly created guild leader will also be controlled by you as a character within the world of Historica, and you will be consulted directly to write his/her dialogue in challenge preludes and introductions. The winner will also be granted the title of "Legendary Storyteller."
2) The Lego prize will be a brand new Uruk-Hai army set, from the LOTR line. Collectors and MOC'ers rejoice, as this set has plenty to offer to both!
So what are you waiting for? Indulge your imagination and create a brand new guild to flesh out the world of Historica!
The deadline for the building submission is
Friday, September 21, 2012
. Entrees
MUST
be submitted before deadline, and in this thread in order to count. One post submissions please. (Do not post description/vignettes/characters as separate posts, or the thread will turn into a madhouse. Thank you!)
Got any questions?
Please ask below.

Good luck, and looking forward to seeing your builds!
UPDATE:
The deadline has been reached and the judging process is beginning. Here is a list of all the excellent entrees we've gotten over the last month! (in order of submission)
1)
Morgali
by Legonardo
2)
Atlantis
by TheBoyWonder
3)
The Realm of the Fae
by Medic!!
4)
Varlyrio
by MikeyB
5)
Eaurios
by Ecclesiastes
6)
Gomoria
by Captain Nemo
7)
Solia
by blue banana
8)
Gascar
by Hersbruckler
9)
Belley
by Rast
10)
Down Under
by hellboy
11)
Soflos
by Kai NRG
12)
Silmeria
by Soccerkid6
13)
Skislandor
by Mikel Kalores
14)
Fahrettin
by Torgar
15)
Drakrydar
by DaMaximus
16)
Pennamore
by SkaForHire
17)
Arcanos
by Hexx
18)
Tolimar
by Jason Cicchini
19)
Togensu
by rogue_Li
20)
Nievagros
by Garmadon
21)
Wyndgardiam
by Erynlasgalen
22)
Kelasituan
by NiceMarmot
23)
Temukan
by Gabe
24)
The Rimlands
by robuko
25)
Campus
by Styrbjorn
26)
Gadaelon
by Jacob Nion
27)
Amafriends
by lego_legis_legere