The new wave of sets are only just hitting stores around here, and since I haven't gotten any HF at all lately with the exception of Toxic Reapa, I figured I'd give this guy a shot.
Note- I'm aware that the lighting on the pics isn't as good as it could be. My current light box isn't in good condition, so I'm waiting to make a new one
I don't plan on going into all the individual parts. It's pretty unnecessary, seeing as every piece is visible on the finished model. But he does come with a miniature torso piece that is quite nifty. It has all of the connection points necessary for the limbs to attach, as well as one in the center.
And here are the spares- whoever gets that code first can have it. It's nice that he comes with a pair of Barraki eyes, even though he only uses one.
The completed figure is certainly crazy looking. I can't argue with anyone who thinks it looks like a mess, but that's part of why I like this guy. It looks like some mad scientist's operating table came to life.
And in case anyone wants to see what it looks like without the wires attached-
A shot from the back-
The head sculpt is very unique. It's very thin, which goes well with the rest of the body. His eye looks like it's on some kind of gear. I like to think that it rotates around to focus on different things. The teeth add a good amount of personality to it.
As for his weapons, he comes with a large saw blade. It spins for endless amounts of fun. One minor nitpick is that the wire leading from his stomach to the saw sometimes gets in the way of the blade being able to spin.
He also comes with two claws/nails from last year's jungle themed sets. I like that they opted to make them asymmetrical, putting one on the top right and the other on the bottom left.
His final weapon is certainly the most noteworthy. It's primarily made out of system pieces. Two claw bits attach to the handles on the sides, but they don't actually line up. The translucent antenna becoming a laser seems a bit dated, but it works.
As for articulation, he has plenty. The only things one could complain about in my eyes is that the wires tend to clash with his head, and due to the way his feet are attached, his ankle tilt is rather limited.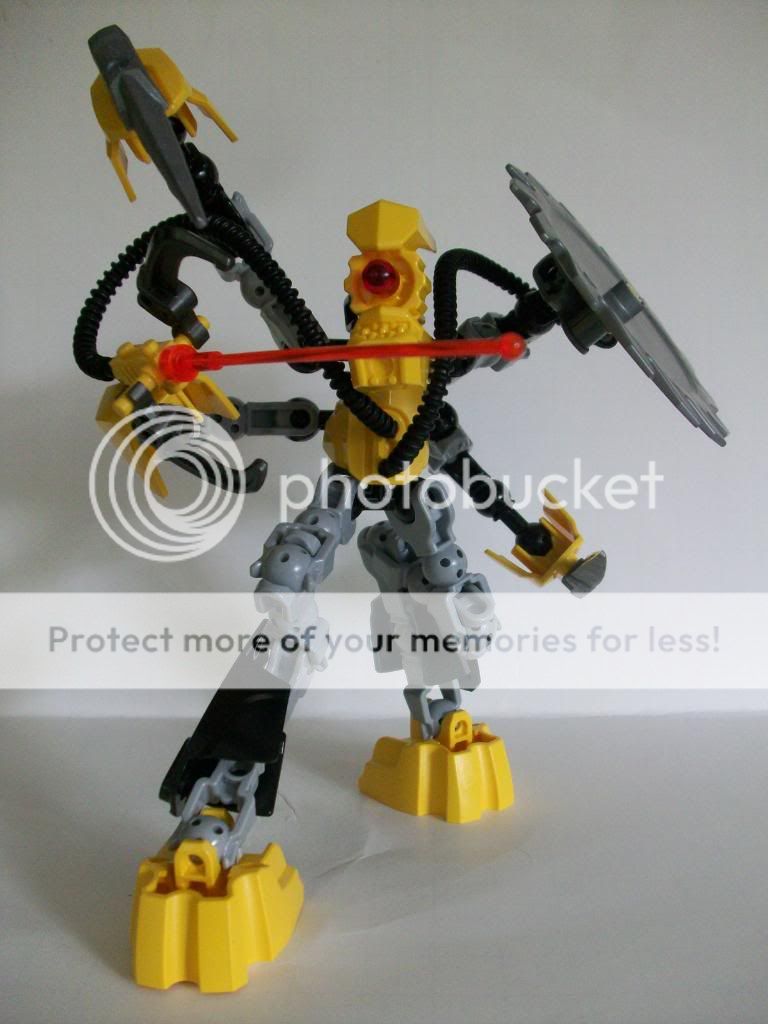 Overall, I really like XT4. But I can see why many would not end up liking this figure specifically. If you're into MOCing though, he makes a great parts pack.