Four strong men with diverse skills were chosen by the tragic young Bellanotte Shadeaux to protect her twin brother. The four making their way up the Crescent Hill towards the Chateau de Shadeaux were:
Party:

Sylph Solanum (Dannylonglegs)
unknown age, unknown race Druid ***Party Leader***
Level 15
Power: 22 (15+7)
Defense: 0
Health: 30/30 (9+14+7)
Ether: 20/20 (5+14+1)
Gold: 50
Equipment: Mockthril Rod (WP:7)
Inventory: Scroll of Frailty, 2 Potions, 1 Grand Potion, 2 Tonics, Grand Tonic, Remedy, 2 Smelling Salts, 2 Venoms, Smoke Bomb, 2 Fire Bombs, 2 Ice Bombs, 3 Water Bombs, 2 Lightning Bombs, Floral Bomb, Bedroll, Shovel, Pickaxe, Magnifying Glass, 8 Bones, Signet Ring, Saber Teeth


Johon (Bricksandparts)
25 years old male human Raider
Level 17 *Natural Respite*
Power: 25 (17+8)
Defense: 0
Health: 32/32 (8+16+1+7)
Ether: 0/0
Gold: 186
Equipment: Sword of Decay (WP:8; once the target is inflicted with damage they lose a quarter of the power of the strike each following turn for three turns; the effect cannot be compounded with more strikes; suitable to Mages, Knights and Barbarians), Helmet (+1 max health), Dog Statuette (SP: 1, once named (Rover), speaking the name summons a dog almost certainly to tag along on madcap adventures and make snippy comments.)
Inventory: Greatsword (WP:3), Meteor Blade (WP:8, Light elemental), Healing Staff (WP:5, Healing effect; lent to Arthur G Regulus- usable by mages and clerics), Focal Staff (WP:5; focus fire: roll a 3 for 5 ether; suitable for clerics and mages), Aquamarine, Scroll of Sleep, Scroll of Blindness, 2 Scrolls of Sealing, Scroll of Confusion, Scroll of Luck, 3 Potions, 2 Venoms, Ice Bomb, Phoenix Essence, Mead, Shovel, 2 Pick-axes, Magnifying Glass, Magic Compass

En Sabah Nur (Jebediahs)
30 year old male human Battle Mage
Level 18 *Lucky* *Natural Respite* *Immune to Fragile, Sealed and Blinded*
Power: 30 (18+12)
Defense: 5
Health: 27/27 (5+17+5)
Ether: 23/23 (5+17+1)
Gold: 288
Equipment: Stealth Dagger (WP: 12), Sealed Heavy Armour of Brilliance (SP:5,Immune: fragile, blinded, sealed effects), Loaded Die (Lucky effect),
Inventory: En & Sabah & Nur (Shurikens 3/3, WP: 5), Sangriste Dagger (WP: 5), Helmet (+1 HP), Traveler's Cloak (SP: 1), Garnet (Earth), Aquamarine (Water), Scroll of Confusion, 3 Potions, 2 Grand Tonics, 3 Phoenix Essences, Remedy, 4 Meads, 2 Smelling Salts, Venom, 2 Deadly Venom, Smoke Bomb, 2 Fire Bombs, 2 Ice Bombs, 2 Lightning Bombs, 2 Water Bombs, 2 Floral Bombs, 2 Holy Bombs, Bedroll, Magnifying Glass, Garnet Lamp of Summoning

Dak Shadeaux (Darth Nihilus)
35 years old half-elven, half-Mopag Black Knight
Level 15 *Immune to Badly Poisoned and Fragile*
Power: 25 (15+10) (20 for ranged attacks (15+5))
Defense: 12 (7+5)
Health: 30/30 (7+14+9)
Ether: 0/0
Gold: 3
Equipment: Black Sword (WP:10, lightning-elemental), Fauxthril Shield (SP:7), Trendy Handbag (protects wearer from whatever bad effect was last inflicted to someone else in a battle), Heavy Armor (SP:5, protects from fragile-effect)
Inventory: Throwing Knife (WP:5), Twin Longswords (WP:3), 5 Potions, 2 Grand Potions, Grand Tonic, Elixir, Remedy, Phoenix Essence, 3 Meads, 2 Venoms, Nostrum, Mythril Shard, Bedroll, Shovel, Aquamarine
They had been requested to arrive to the house of the merchant family after the sunset. At the door they were greeted by a stoic guard who opened it for them without a word.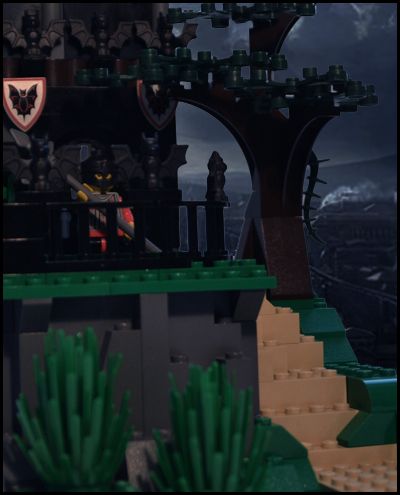 A servant escorted them to a lounge with an eery lighting. A slender woman was standing in front of a fireplace where a ghastly green fire was burning. It gave light, but did not warm the room. The heroes could see their breaths steaming. There were carvings and emblems of bats everywhere - this truly was the house of a family that was proud of their heritage.
"Please, come forward"
, said the young woman in a thin voice, still staring at the fire.
"I apologize for the chilliness, but real fire is too much for my eyes. Me and my father share the same condition -
Le Malheur
, he calls it. It is why I have never seen the sun... Oh, please forgive my somber ramblings. I am
Bellanotte
, and I am grateful you heeded by call."
The girl turned to face the heroes, revealing her pale complexion and deep sad eyes.
"My father and my elder sister are working late at the harbour, and my brother is already asleep upstairs, so we can talk freely about the situation. It came to my attention that my twin brother
Nuitan
has been spending all of his time at the academy with the younger of the Hinckwell boys,
Lyren
. I myself am homeschooled because of
Le Malheur
, so I wasn't aware of that until recently, but if I had been, I would have put an end to it. Now it seems too late; Nuitan is already enthralled by that Hinckwell rascal. He's always going on about how 'Ly did this' and 'Ly did that'. If father would find out that this Ly was actually Lyren Hinckwell, he would take Nuitan out of the academy and have him homeschooled with me."
"But I don't want Nuitan to suffer like I have. He is just so gullible... In fact, a few days ago I borrowed one of his school books, and a note fell out. Lyren had invited Nuitan to
go hiking
with him. Tonight Nuitan went to bed very early, and I heard he had visited the kitchens asking for a ham baguette, so I suspect the hiking trip is
scheduled for tomorrow
. This is where you four come in: I need you to follow the boys wherever they are heading. I don't know what devilish plans the Hinckwells have for my dear brother, but you must make sure my brother does not fall for them. However, remember that Nuitan thinks the world of Lyren, so if you try to separate them by force, you will most likely just scare them off. So please
follow them, but don't let them see you
until you are absolutely sure Nuitan is about to walk into a Hinckwell trap."
"Do you have any more
questions
about the situation, perhaps?"
QM Note: I fixed your stats to meet the new format, and corrected some wrong calculations. Please check I got everything right, nevertheless. Here we go!