The heroes leave the Hall and ask for directions to Guffington Manor. To their surprise, most everyone they meet on the way knows where it is.
"Just head to the North, you can't miss it!"

"Dis is ridic-u-lous. You muzt know where it iz. 'Oo does not know where de Great Guffington Manor iz?"
"What, ya not going to buy anything?!"
"Oh, I wish I'd be invited to go places sometimes. Tell him Ratabor says hi... not that he knows me. Oh, I wish I was invited places."
As the heroes approach the Manor, they are pulled aside by a U'Kin.
"Follow me,"
he commands
. "My name is U'Ordiussum and you must follow me. We are not going to the Manor."
The heroes follow the U'Kin down to the docks instead. The U'Kin steps inside a building, and ushers the heroes in.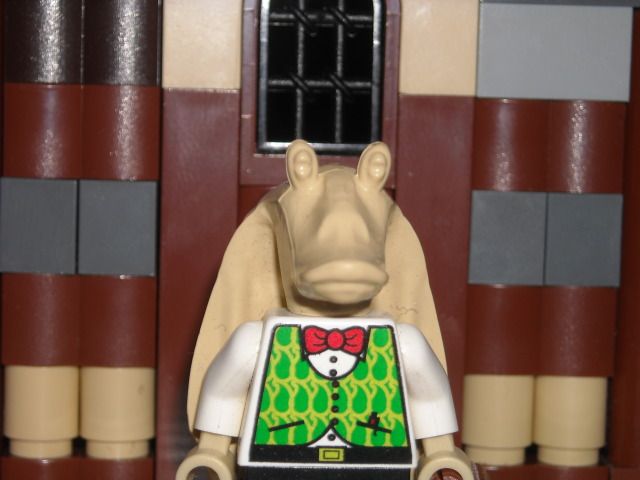 "Hello, heroes. I am U'Ordiussum, Master of the Guffington Estate. I am a U'Kin. I do not know if you have met U'Kin before I do not know. There are only ten to fifteen U'Kin in the city. U'Kins does not usually leave Dastan. Perhaps you have run into one or two of us. Madame Butterfly is our most esteemed member on the island, no doubt. I hear she recently hired heroes. At Guffington Manor, Guffington Manor watches everything and listens to everything at Guffington Manor. Knowledge is power. I apologize, I have mostly lost my accent, but sometimes I relapse."
"Enough idle chit-chat. You must have many questions, which I will gladly answer before taking you to the Doc. I assume that you all know Gerald Guffington and his great doings? He is the richest singular man in Eubric. He does not, like the houses, squabble for power like the houses, however. Guffington does, and always has, labelled himself as an 'explorer'. I do not know what that means, exactly. He is always leaving the Manor, going to new lands, inviting over esteemed guests, going to new lands, so on and so forth. He is a truly incredible man."
"Sadly, this has made Guffington a number of enemies, men who are jealous of him and his experiences. Recently, his nemesis, Lord Hughes, sent Guffington a box with a note on it. Doc and I read the note. 'Bet you've never seen this before.' It was a perfect trap. Guffington opened the box, and fell into a deep sleep. Doc and I could not wake him, so Doc and I sent for you. Doc will explain all the science of it will be explained by Doc. You will need
to go into Guffington's mind, and retrieve him
."
"We have moved him to this warehouse, his only warehouse, so that he will be out of the public's eye in his only warehouse. Doc and I are the only servants who know what has befallen Guffington. We do not want his position weakened. We are afraid, if people know that Guffington is unable to act, they will riot, and his reputation will be lost. We expect your discretion in this."
Guts Holla
, Level 18 Raider
*Party Leader*
Power: 30(26)
Health: 31/31
Gold: 425
Inventory: Lifestealer(WP:12, Ice, attacks restore 3 health), Throwing Knife(WP: 8 Light, Retrievable), Beholder's Eye, Bedroll, Shovel, Mythril Shard, 6x Mead, 6x Nostrum, 6x Smelling Salts, 10x Grand Potion, Grand Tonic, Elixir, 5x Remedy, 3x Phoenix Essence.
Hybros
, Level 18 Assassin
Power: 30 (26 for throwing weapons, except 23 for Shuriken of Mercutio)
Health: 32/32
Gold: 708
Inventory: Zoot's Reaper (WP:12, Earth), Shuriken of Mercutio (WP:5, retrievable), 2 Throwing Knives (WP:8, retrievable), Banana Bladerang (WP:8, damage all, retrievable), Ancient Throwing Dagger (WP: 8, retrievable), Helmet (Max HP +1), Cat Statuette (Max HP +1), 10 Grand Potions, 10 Potions, 5 Remedies, 2 Phoenix Essences, 2 Smoke Bombs, 3 Holy Bombs, 6 Nostrums, Mead, Smelling Salts, Deadly Venom, Bone, Bedroll, Skeleton Decoy, Shovel, Emerald
Bartholomew Docken
, Level 21.67 Warden
*Scary*
*Immune to Enamored*
Power: 30
Health: 40/40
Defense: 15
Gold: 381 (50 Gold loaned to Arthur Justus Regulus VII [Flipz])
Inventory: Briar Bow (WP: 9; Wood Elemental), Mockthril Longbow (WP: 5), Mythril Shield (SP: 15), Dread Hat (enemies lower than half of wearer's Level won't attack directly), White Marksman's Hat (⅙ chance of Assassination vs. Flying monsters), Lover's Locket (immune to the Enamored effect), Bedroll, Mead, Venom, Smoke Bomb, Soma, Grand Potion, Potions (5)
Edited by Zepher, 26 July 2012 - 09:49 AM.