What has driven me to insanity. What have given me the thought, rhyme, or reason to create this. WHAT IN GOD'S NAME HAVE I DONE!
Men, I present to you
THE
lowest point in my entire time here on Eurobricks.
I give you...
The Friend's Friendship Express Train Set...
oh god...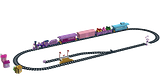 Now if you're saying to yourself, "Hmm, those rail cars and that locomotive look very familiar..." You are correct. I
stole
borrowed
Disneyland's original 1955 Engine No.1 (C.K. Holliday), three of their original freight cars, and one of their original passenger cars.
I gave them all a new coat of paint. I just hope the paint isn't permanent. I have to return these things before the roundhouse manager sees that their most prized possessions are missing, or worse, they find their most prized possessions are covered in
non-removable permanent paint!
Let's have a closer look at the train, shall we?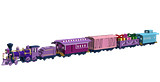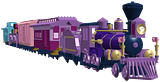 What have I done to the original C.K. Holliday... I'll tell you what I've done...I've earned a one-way ticket to the fires of damnation! What I have committed is a sin in the Disneyland Fan's eyes!
The Friendship Express' locomotive! you'll notice there is no coal or wood in the tender. That's because our train runs on the magical powers of LOVE, TOLERANCE, FRIENDSHIP, and day old spam. Because nothing says magic like spam. All aboard! Choo Choo!
A look at the combination car. Now let me get this straight. This is not only the original 1955 combine car that ran on the Disneyland Railroad, but it was the ONLY combine car in the entire park. And I just coated it with a paint that I am not even sure comes off or not.
This is the Princess Promenade, our combination car. It's called combination car because it's a combination between a mail car and a passenger car. Aren't we clever!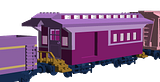 Painted that boring old brown floorboards a nice colorful gold. How lovely.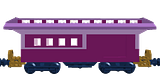 The mail section seems to be delivering a cargo of sugar, spice, and everything nice. Just don't couple the car with the tank car carrying Chemical X. Things could get pretty ugly.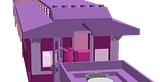 Cattle Car...nothing more to day here...
This is our Milk and Cookies car. It may look like a regular old cattle car painted in an eye soring beautiful pink. Where do cookies from from? Milk! Where does milk come from? Cows! And where are cows stored? In the Cattle Car! That's why we named it the Milk and Cookies Car! Come in for fresh baked cookies and a tall warm glass of milk! Just mind the extra chocolate on the floor. Our chefs are a bit messy with their supplies.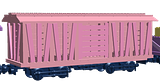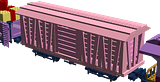 The gondola car. Might I ask who buys gifts THAT big that it requires an open gondola to transport them? In fact, what's even inside it!? I hope mine's a football!
PRESENTS! PRESENTS! PRESENTS! PRESENTS! PRESENTS! PRESENTS! PRESENTS! PRESENTS! PRESENTS! PRESENTS! PRESENTS! PRESENTS! PRESENTS! PRESENTS! PRESENTS! PRESENTS! PRESENTS! PRESENTS! PRESENTS! PRESENTS! PRESENTS! PRESENTS! PRESENTS! PRESENTS! PRESENTS! PRESENTS! PRESENTS! PRESENTS! That was very informative of us, wasn't it? I hope my PRESENT! is a football!
(Kudos to you if you understand the reference!)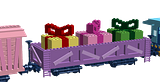 Over here we have the caboose coated in a baby blue blue. Out of all the colors, I find baby blue the better color of them all. Why? Because my room's colors is baby blue (Long story. Don't ask. You really don't want to know)
Over here we have our Dreary Dreamy Dreams Caboose! You can take a nice long nap in here and not have anything to worry about! Throw your cares out the window and sleep away!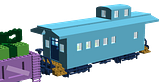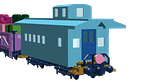 Moving onto the station. It's a very simple station. Gold colored platform, candy cane lights, white picket fence. Nothing much offered here (Just like LEGO's rail stations that come in the sets with the loop and locomotive!)
Here's the Candy Mountain Rail Station! Coming here is like an adventure! An adventure! It's full sweets and joy a...and...joyness.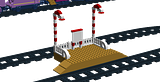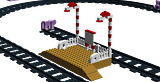 Here's the railroad crossing using the classic wig-wag colored to an appropriate color.
This here's called a wig-wag, because it does a wig wag! The wig-wag's got a very long and interestingly important history in the railroad...but NO ONE wants to hear that! So let's skip ahead onto more mind numbing goodness!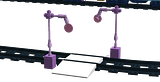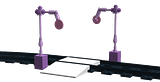 Here's the local village...or at least I think it's a village. That's what it says here in the manual. I don't see how a group of three cottages, no, three SHACKS can be a society, alibi a small one. I thought societies were based on autonomous collective or an anarcho-syndicalist commune, where they take it in turns to act as a sort of executive officer for the week. In fact, where's the law? Where's the order? Does one person just rule against them all?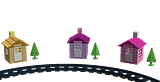 And here we have our Friendship Villiage, an entirely Capitalist Society, free of crime or horror o-
No you're not. I did a quick research trip on the internet. You have one ruler that rules over everyone else!
I object that you automatically treat me like an inferior! I am king!
Oh king, eh, very nice. And how d'you get that, eh? By exploiting the workers! By 'anging on to outdated imperialist dogma which perpetuates the economic and social differences in our society. If there's ever going to be any progress with the-
Supreme executive power derives from a mandate from the masses, not from some farcical cyberspace ceremony.
Shut up!
Ah, now we see the violence inherent in the system.
Shut up, will you! Shut up!
Oh! Come and see the violence inherent in the system! Help, help! I'm being repressed!
Bloody manual that comes with the set!
Oh, what a give-away. Did you hear that? Did you hear that, eh? That's what I'm on about. Did you see him repressing me? You saw it, didn't you?
Good, that should shut that bloody manual up for a while. Sorry for that interruption. Manuals, you know them. Always getting in the way and all...
I based the entire set off that very classic 'My First Train Set' design (Fig. 1) Toy. You know, the one with a simple loop, some buildings, and a train? And if you know your toy train history very well, you may of noticed I based the train's color design off of Lionel's pink girl's train (Fig. 2). What an odd choice for a train color scheme indeed, Lionel. Very strange indeed.
Fig. 1
Fig. 2
Now if you'll excuse me, I got a lot of scrubbing to do. Have to get the paint off before they know...IF the paint CAN come off that is

PS: Rockin' avatar, isn't it? Made it for that
'Friendsify' your avatar contest.
Edited by Brickstarrunner, 28 June 2012 - 07:00 AM.