Official image from LEGO
Description from LEGO:
The diver has come by a treasure chest, lying on the sea bottom. Inside it he can see diamonds gold coins and a skull. But he has to move in with caution … 2 deadly venomous snakes are living in the chest!
Name:
Deep Sea Treasure Hunter
Set Number:
7770
Theme:
Aqua Raiders
Number of Pieces:
75
Minifigs:
1
Year Released:
2007
MSRP:
$4.99 USD
References:
Bricklink
-
Brickset
-
Peeron
The Box: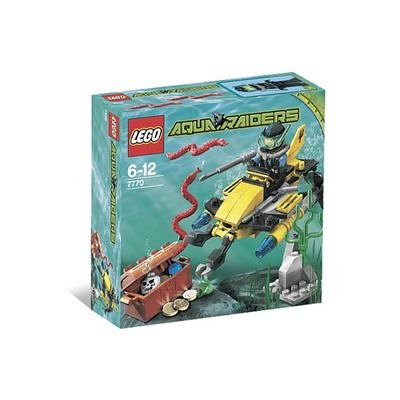 I do not own the box anymore (yes, I threw it away, don't stone me, please!

), I have borrowed a photo of the box from
Brickipedia
. The box sports the Aqua Raiders logo at top, and because the box is small the rest of the front contains a picture of the set itself.
The Instructions:
The image on the instructions sheet is similar to the one on the box. The only difference is that this image is a bit more spread out than the box's image. But pretty much your average instructions sheet that you see everytime you open a set

Here is a random page from the instructions. It has a pleasing water image at the top and then blends into a blue-green color. Hm, nice.

As there are so few pieces in the set, there is no major problem with the black/bley color issues, although sometimes dark bley and black can look very similar.
The Pieces:
Here are the pieces in the set. For a $5 set, it has a nice selection of pieces, especially in yellow and black. A lot of the pieces are pretty basic, and some I would never use when building a MOC. But still, it seems that there are a lot more pieces in a $5 set from only 5 years ago than you do now... is that just me, or is it really that way?
The Figures:
(there's only one!

)
Front view... notice his chiseled face and look at that scuba diving gear! It must've cost a fortune!

No, but to be honest this guy is probably one of the worst from this series, I never liked the Aquaraiders figures much.

Yes, he does have back printing! I'll show it in the next picture. Don't believe me? Go look:
So he DOES have back printing! Nice!

The printing isn't bad, but I can't imagine that anybody would have such a big symbol on their outfit... usually diving suits are more plain, at least that is what I thought... right?
It is obvious that this figure is a diver, he has a nice scuba mask and printing on both the front and back of his torso. His face is not one of my favorites, but its not bad. The printing on the torso and face aren't up to today's standards, obviously, since TLG has been pushing up their minifig standards by a lot (especially since the start of the CM series)
The Build:
First we put on a few dark bley pieces... not too hard for you to follow, I hope?
Be careful not to get confused, now we put on two more pieces, a slope and a seaweed plant. What do you mean, you're confused by this complicated piece!? Not too simple, I admit, but try to understand

So this is the first build, a simple little area with a rock formation and a plant. The treasure goes here.

I find this part a little too simple, to be honest, I think they could've made it a lot better with just using a few more pieces (to make the rocks a little more interesting) and colors (tan or dark tan).
OK, now we're starting the main part of the set.
We're building the engine thingies that make the speeder thingie move. At least thats what they're supposed to do, I think. What are those trans-blue cones supposed to be? Rockets? Missile launchers? Decoration? Lights? I don't know, honestly...
Now you just need to throw a couple more random pieces on...
And a few more random pieces, including a place to hang your flippers and harpoon-guns when you don't want to use them, and a couple fins which must help add to the cool-factor of the speeder thing.
And now a couple grabby arm thingies, to finish our collection of thingies and random pieces that together build a speeder scooter thingie-ma-bobber!
So yeah, this is the second & main part of the set: the little underwater scooter thing. The build isn't complicated but it fun to build it. It also looks pretty decent if you ask me, although it looks a bit blocky in some areas...
The Set!
It didn't take so long to finish the set... so here it is!

I really liked this set when I got it, and I still think it is a pretty good little set. There is a redux of this set in the Atlantis theme:
7976 Ocean Speeder
. Here is an image of the set provided by Brickset.
The two sets are fairly simple, but the main differences are such that:
- The rocky treasure area in the Atlantis set is inferior to the Aquaraiders one, even more pathetic.
- The little speeder thing in the Atlantis set looks better and is a better build, but incorporates less pieces and is smaller.
- Overall, 20 less pieces in the Atlantis set than the Aquaraiders one.
So, it all depends on your color preference. If you like yellow I would get the Aquaraiders set, but red then definitely the Atlantis one!

Or maybe just get a different set altogether...

Ratings:
Playability:
8/10 - The set is playable because of the treasure and the speeders grubby little arms, but I don't think that even a little child would want to play with this for more than half an hour

Design:
7/10 - The design is not bad, but it is definitely flawed and looks a bit chunky. The rock/treasure area definitely could be improved.
Price:
8/10 - For $5 the piece count definitely is pretty good! I just wish that included some better pieces, and maybe another minifigure.
Minifigures:
6/10 - This minifigure isn't bad, but his printing definitely isn't the best and it would be nice to have another minifigure in this set...
Parts:
7/10 - The parts selection is pretty good, but some of the pieces are pretty basic and could be better. A lot of the pieces I would never use in a MOC.
Overall:
36/50, 7/10, or 72% (depending on how you want to look at it

) - Its a nice set, but you probably wouldn't buy it unless you wanted the minifigure, most of the pieces, or are trying to finish your Aquaraiders collection.
Conclusion:
As I just said, this is a nice set but it definitely isn't one that everyone is going after. After all, the minifigure isn't the most attractive and the piece selection is good, but not great. Of course it isn't that expensive, either, you can find a new one for $4.50 on Bricklink. Personally, I like having this set in my collection because of the two snakes, the bunches of gold and jewels

(not that many bunches actually

), and of course that treasure chest.
Thanks for reading my review!
And of course we need something funny to brighten up your day...


~Flare
Edited by Flare, 16 June 2012 - 06:07 PM.