Hello,
In april 2012 I released a first version of my webapp called mecabricks. Since then I improved it quite a lot and I am now using the first post of this topic to introduce it a bit more. I'll try to maintain it in the future to talk about the new features, modifications, tutorials coming up and so on.
What is mecabricks?
Mecabricks
is a free webapp that you can use to build LEGO 3D models and if you wish you have the possibility to publish them so that they are accessible to anybody. You actually don't need to install any software or plugin in your browser. The only requirement is to have a browser and a graphic card supporting WebGL. If I can't do anything if your GC doesn't support it, here are information about the browsers:
Firefox - WebGL has been enabled by default since version 4.0

Chrome - WebGL has been enabled by defalut since version 9.0 as well

Opera - WebGL is supported since version 11 but is disabled by default.

Safari - WebGL is supported since version 5.1 however it has to be enabled. For that, select Preferences in the Safari menu. Click on the Advanced tab. Check the Show Develop menu in menu bar checkbox. To finish, open the Develop menu in the menu bar and select Enable WebGL.

Since version 8.0 it is enabled by default

.

Internet Explorer - Supported from IE 11.0
Language
Currently Mecabricks is fully translated in
French
(my mother tongue),
English
(my second language),
Russian
,
Italian
and
German
.
Part library
Because it is a webapp, new parts are added without the need to update anything.
The library currently includes 4000+ parts and I add new ones almost everyday. On a more technical side, they are made with Blender and exported as json files. If you wish to help me to model new parts, design new textures for minifigs don't hesitate to get in touch with me and I'll be more than happy to help.
You can also request missing parts in the mecabricks forum if you wish.
A new flex part module has been added and you can now correctly model parts like Flex Rods, Hoses, Strings, Flex Tubes, etc.
How to start building a model?
Like any other software, you will have to play with the
workshop
for a little while to fully understand how it works. However, to speed up the learning curve you will find more information about the tools and shortcuts in the
help
menu of the
workshop
or in the
forum
.
Workshop functions
- Perspective / Orthographic view
- Undo/Redo
- Part edges
- Group management
- Snap
- Pivot point
- Flexible parts
- Show / Hide
- screenshot
- export to other 3D formats
- LDD file import
- a lot more...
What kind of result I can expect?
Again it depends on your graphic card and browser. Mecabricks is using the antialiasing technic to smooth the edges however it might not be supported by your browser or GC and it will be more pixelated. Here is a model that I built a while ago. I used the printscreen function included in mecabricks to extract the image of the 3D model and I simply added the drawing in the background later without any other modifications. You can also have a look in
gallery
for an overview of what can be done with mecabricks.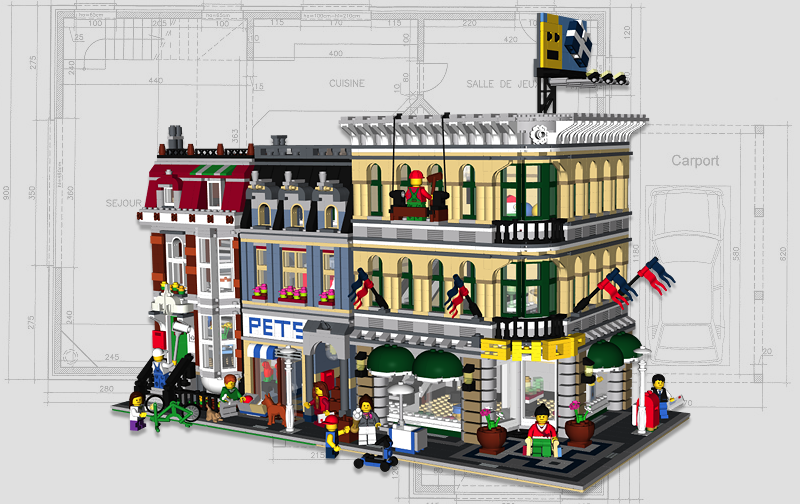 Export Functions
If you register to mecabricks, you will have access to functions to export models as STL, OBJ and Collada files. It can be useful to render them in other software. Besides to increase the realism, you can choose to export the LEGO logo on studs.
The following image has been generated with Blender which is a free open source software.
Cryocell malfunction by Sunder_59, on Flickr
LDD Import Function
Mecabricks is capable of converting LDD models to Mecabricks. Pieces not available yet in the software are ignored.
Embed Player
If you wish to display a public model on your website, you can use the following code and replace [ID] by the mecabricks Id of the model:

<iframe frameborder="0" allowFullScreen webkitallowfullscreen="true" mozallowfullscreen="true" src="http://www.mecabricks.com/embed/[ID]?autostart=0&animation=1&transparent=0&white=0&antialias=1"></iframe>

Model List
Two CSV files listing the official sets and minifigures available on mecabricks can be retrieved at the following addresses:
Edited by Scrubs, 13 February 2016 - 08:44 AM.