Hello,
I decided to inventory my husband's old lego sets. I thought he had only the Exxon Station and 733 Universal Building Set. I was quite delighted when I found 5 small town sets (fully built) stored in his 733 box.

Three of these sets included instructions in excellent condition. Thought I would try a review of my favorite one: Motorcycle Transport.
....Steve used to take his motorcycle everywhere. He would zoom around the living room wild & free(but safe - he always wore his helmet)Then in the late 80's he found a nice storage spot in a 733 box. He hung out in the dark with a construction worker, some race car dirvers, and a tow truck driver. But now after nearly a quarter century, he is finally seeing the light of day...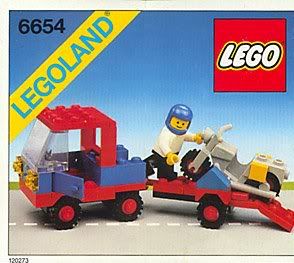 Number:
6654
Name:
Motorcycle Transport
Theme:
Classic Town
Year:
1983
Minifigures:
1
Pieces:
50
Price:
???
I don't have the box to this set but I do have the instructions. They have spent most of the last quarter century in their original fold, so they were pretty hard to flatten out. They are just one long strip. Here is the front:
Note the 3 alternate builds.

And "Steve" wears his helmet for everything - so safety conscious

"Steve" isn't a very exciting guy to look at. But hey, he does have a motorcycle...so he is pretty cool.
We have to flip the paper over to begin building: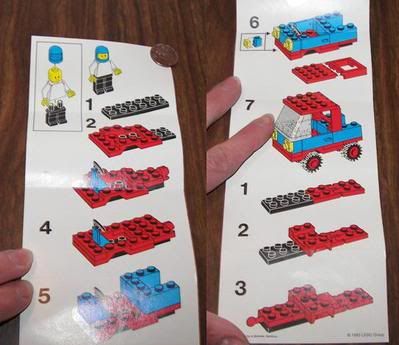 Not quite as simple as the directions now-a-days. Guess us kids from the 80's had a rough life.

But still an easy build.
We have to flip the instructions again to finish the trailer.
The build is certainly not difficult but fun for a small "impulse size" set. I actually had to unbuild the set. It came apart easily, and the pieces are still in good shape. Here are the pieces: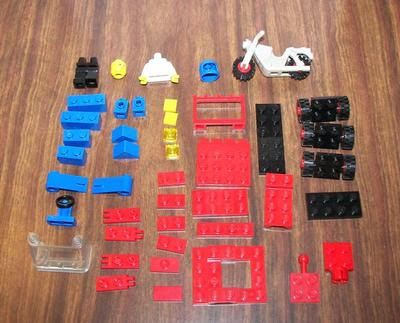 The motorcycle is one piece according to bricklink. However, I was able to remove the wheels without difficulty. You just add the 1x1 yellow tiles to "build" it. Still, I think it is pretty cool. Also there are several nice hinges, including the hinged roof for the truck. I also think the blue triangle slope pieces are a nice touch.
So here it is, as built by my husband in the 80's: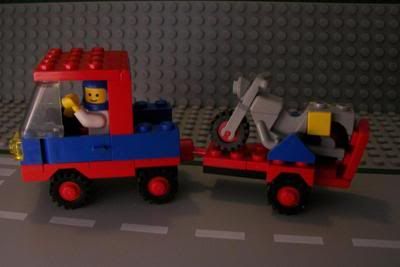 (I did play with it a little, I posed Steve, and I just noticed I forgot to pop that blue slope back down fully, oops

)
And here is Steve on his motorcycle:
It is hard to rate this set. It is such a lovely nostalgic little thing. It definitely gets a 5 for playability. My girls have been zooming the motorcycle around our house. Good swoosh factor

It is a nice simple design with some nice touches. I am delighted to have found it.
Hope it brings back some nice memories for y'all.
Thanks for reading,
Debbie (daisy)
Edited by Rick, 24 April 2012 - 06:19 PM.