Once, the lands of Dastan made up two nations: the Kingdom of the Lion, and the Empire of the Dragon. The Empire was the larger of the two, and its people were famed breeders of dragons. The Kingdom, in stark contrast, was composed of peasants, experts in agriculture, but not in the art of war. Through a series of border skirmishes, the dragon riders of the Empire had driven the Lions back to the arid mountains of Northern Dastan.
Magical talent was rare in the Kingdom of the Lion, so most of the peasants dismissed the work of mages as folly. But when one of the mages, striving to transform readily available Mopag Torturous Fruit into a suitable replacement for applesauce and sausages, accidentally created a beast of myth - a chimera - word got around quickly.
Raising an army, the Lion's King marched on the Empire, overcoming all resistance and finally camping his army in the plains. With the mage at his side and the chimera in the mountains, he prepared to invade the Empire's capital.
With little other choice, the Dragon's Emperor deployed the Dragon Knights - an organized force of professional soldiers - in numbers such as Imperial Dastan has never seen before or since. While dragons kept the chimera busy, the Dragon Knights punched a hole in the Lion's front lines.
As his men split the Kingdom's forces in two, the commander of the Dragon Knights, after a short duel, killed the Lion's King. Without their commander, the Lions panicked, and what was a battle turned into a slaughter.
The mage fell to a Dragon's spear and the chimera, without the support of its creator, was overcome by the flames of the dragons. The remnants of the Lion Army were rounded up and, together with the peasants who had stayed behind in the Kingdom, were exiled from Dastan. The Empire absorbed what was left of the Kingdom, and began to reorganize itself into the Empire of Dastan, ruled by a triumvirate of emperors.
From generation to generation, the three crowns were passed down. The land, although physically poor, prospered with the three emperors ruling in unison for many years. However, evil is now at its peak, threatening to destroy what has been built up over time. A large enemy force, whose masterminds remain hidden in shadow, attempts to overthrow the empire. Dastan and its people are in peril, and the three emperors call for the aid of Heroica....
The heroes land in Dastan, and are greeted with a familiar face.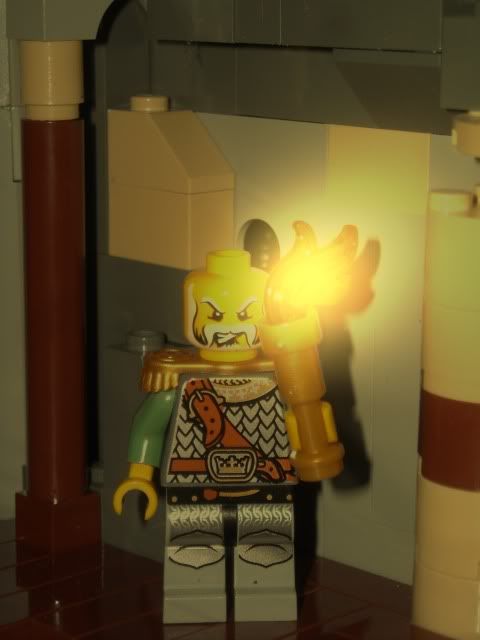 "Hello heroes, it's good to see you again Thothwick."
Thothwick recognizes the man from the Arena Quest. 'Phil' seems to have made it home to his country.
"You'll forgive me if I explain quickly. My name is Victor Phyllius. I apologize for my shady behavior when we were entrapped in that Arena by Draco. I was an ambassador of Dastan, I have since been promoted to head adviser to one of the three Emperors. Emperor Severus Septrine. If Wren had known who I was, she would have put up a bigger fight, I have no doubt. I could have been ransomed. I had to maintain secrecy. Enough of that."
"I have advised Severus to hire you, heroes. Our nation has plummeted into turmoil. A rogue group of Lion Knights, I don't know if any of you have encountered them in Uland, have landed on our shores, and have started a campaign to retake their ancient homeland. Our Emperors have matured over the years. If the Lion Knights had been peaceful, perhaps something could have been worked out... but that is not what happened and not why you are here."
"Emperor Septrine has sent all of his troops off to join with the man force, spear-headed by Generals of the other Emperors. Rumor has it that the other Emperors may be commanding certain units. This is again not why you are here. Trouble abroad has nourished trouble at home. A group of assassins has made it's intentions clear - it wants power, and it plans to take Emperor Septrine's spot. These assassins have allied themselves with the rogue Lion Knights, and together, they plan to crush our empire. All of our troops are in the field.
We require you to protect the Emperor's most trusted allies and political personnel. You will be given 100 gold for your time, and an additional 50 gold will be offered to you for each person saved. You must save at least three of the advisers, or you will fail
. I have ensured the Emperor that you will save all five declared targets. I doubt you will disappoint me."
"Now, pay close attention to this. These are your five charges."
Phil hands the heroes five slips of paper.
Quote
- U'Stus - Political Leader of the U'Kin, a minority in the Empire lobbying for change. His death would cause riots.
Quote
- Nikolai - A leading General who has stayed behind to build morale. Will be shipped off to the front lines shortly.
Quote

- Constance - Remaining Dragon Knight Commander in the area. The Dragon Knights are an ancient and powerful organization. She will refuse protection. You
must
protect her. Will be shipped off to the front lines shortly.
Quote

- Mallelio - Head Cleric of the Emperor. Teacher to Ella Septrine, who had visions as a child until Mallelio taught her to control herself. She is incredibly talented magically. Some say she is a prophet. The death of Mallelio would devastate her. It is doubly important that he is protected.
Quote
- Victor Phyllius - Head Adviser to the Emperor.
"And your enemies."
Four more pieces of paper are handed to the heroes.
Quote
- U'Vires - Leader of the assassins. A radical U'Kin who claims change is not coming, and his people have been oppressed for too long.
Quote
- XX - An expert in magical explosives. Very dangerous. Works for the highest bidder, but once bought, cannot be bought out until the job is done.
Quote

- Sphinx - The head of a cult focused on reviving the the Chimera.
Quote

- Lady Wren. You are aware of what she can do. She has recently surfaced and declared her alliance with the assassins. Her motives are unclear.
"I will answer any questions, and then we will continue to the Palace."
The heroes prepare to head off. Those who have heard of Wren before wait to hear her needling voice, picking on their flaws, provoking them, etc. They hear nothing.
The Party


Thothwick, Level 14½ Rouge *Party Leader*
Power: 22 (19 Ranged)
Health: 25
Gold: 538
Inventory - Sabre (WP 8), Whip Chain (WP 6), Shuriken (WP 5), 2 Venoms, 2 Deadly Venoms, 1 Floral Bomb, 1 Bedroll, 1 Telescope



Atramor Gibbin, Level 16.5 Witch
Power: 26
Health: 34/34
Defense: 2
Ether: 14/14
Gold: 31
Inventory: Ratsbane, WP: 10, Sand Worm Hide, Witch's Talisman, Black Katana, WP: 8, Staff of the Elven Warlock, WP: 5, Scroll of Sealing, Bone x2



Nyx, Level 17 Battle Mage
Power: 30
Health: 27/27
Defense: 2
Ether: 22/22
Gold: 5
Inventory: Book of a Thousand Creatures (WP:13, each roll has a 1/6 chance to summon a creature to aid the hero), Dawnstar II (WP: 9), Healing Staff (WP: 5), Shiny Helmet (+1 max health), Ruby (Fire), Amethyst (Darkness), Topaz (Lightning), Sapphire (Wind), Emerald (Wood), Garnet (Earth), Sandman's Parasol, Potion, Remedy, 2 Tonics, 2 Grand Tonics, Holy Bomb, Bedroll, 5 Bones, Wooden Shield (SP:2)



Tarn Valco, Level 13 Barbarian
Power: 23
Health: 20/20
Gold: 0
Inventory: Helbaerend (WP: 10, Water, Ice and Lightning Elemental, Hollow Blade (Mead equipped)), Fauxthril Spear (WP: 6), Mead, Phoenix Essence, Grand Potion, Potion, Remedy, Holy Bomb, Shovel, Pickaxe, Smelling Salts



William Harkenshire, Level 11.5 Ranger
Power: 16
Health: 16/16
Gold: 10
Inventory: Hand Cannon (WP: 5; Lightning, Wood) Repeating Crossbow (WP: 5 May not be upgraded; Fire; Hastened), Potion (3),Remedy, Smoke Bomb, Bedroll, Mead, Smelling Salts, Pickaxe, Horse, Skeleton Decoy, Shovel, Magnifying Glass, Venom, Elven Bomb
OoC: You all owe Amtrak WiFi a thank you. Check your stats and stuff. Guess which of the three hosts did the beautiful pictures at the beginning. Panick, what exactly do horses do again?