"The time has come," the Walrus said,
"To vote of many things:
Of rigs--and ships--and sea-planes--
Of sharks --and many-a-boat--
And why the sea is made of pins--
And whether LEGO can float."
It's voting time for
TSTTS
! First off, here are the ones picked by the voting panel;
1.
Falkirk Wheel
jojoguy10
2.
The Harbour Tug
efferman
3.
Water Jeep
Rodeown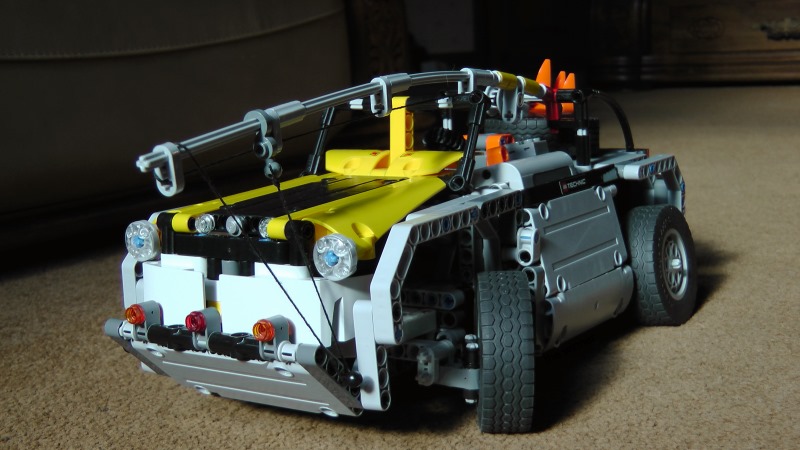 4.
Semi-submersible
Zaiocrit
5.
Speedboat
dfs473
6.
Motor Boat & water skiing
Tomik
7.
6x6 Amphibious watercraft
Zblj
8.
Steampunk shark submersible
legobodgers
9.
Lifeguard's Personal Watercraft
Lipko
10.
Leviathan
Omikron
11.
Oil Rig
Crtlego
12.
SEA PLANE
rumpletump
13.
Water Strider
Splat
14.
Piper Super Cub Float Plane
dhc6twinotter
15.
Micro Port
Luc2000
Congrats to all who survived the Technic sea and made it past the playful Orca... and sorry to those that did not. To be honest I liked all the entries, even
Blue Pin Tuna
.

But the 15 above were deemed by the panel (which did include me) as the more appropriate ones. (Find all the entries in the
Contest Index
.)
Voting Rules:
You have a total of 7 points to allocate to your favourite entries.

You can give a maximum of 4 points to any one entry.

Clearly mention the entry number and the amount of points per entry that you vote on. (NB: We'll use the entry number to count the votes so make sure to mention it!)

You may NOT vote if you joined Eurobricks on or after the 10th of April 2012. This is to prevent people registering just to vote, and applies even if you entered the contest.

You may NOT vote for your own entry.

This voting thread will remain open for approximately one week.

In the event of a tie for any place the Eurobricks staff and/or the Technic Meisters will decide which entry wins. Their decision is final.
Please use this thread only for voting. You may explain why you made your choice, but any general discussion should take place in the
To sail the Technic sea main topic.
.
Example of how to vote:
Quote

4) 3 votes
11) 2 votes
14) 1 vote
24) 1 vote

So what's up for grabs? Well assuming we can keep the Orca at bay...
The Prizes
1st prize: Unimog purchased by EB from
LEGO Shop@Home
.
2nd prize: Backhoe purchased by EB from
LEGO Shop@Home
.
3rd, 4th, 5th and 6th prize:
Misc Unimog parts, provided by CopMike.

Hub piece (4610378) =
x4
Portal Axle housing (4610377) =
x4
94.3 x 38R tires (4610381) =
x4
C-shaped pivot frame (4610379) =
x2
Cup to fit on above pivot (4610380) =
x2

x2

x2
Picture for reference only.
So there you go... stop lying around and get voting!