I'm surprised to see she isn't listed; I was fairly certain she was, but USS Constellation isn't here. Built in 1854 to replace the previous frigate of the same name, much of the wood from the earlier Constellation is believed to have been used in this later ship. The last all sail vessel commissioned by the USN she is built very much in the manner of the earlier part of that century. Though, due to treaty restrictions with England, she was classed as a Sloop of War, she is very much a frigate when compared to the standards of the Napoleonic era. In fact, she is even more powerful than any frigate of that era as she mounts parrot rifles and Dahlgren guns launching exploding shells. Though distinctly American with her smooth lined and flush deck, Constellation is entirely comparable to any 6
th
rate, the likes of Surprise or Trincomalee.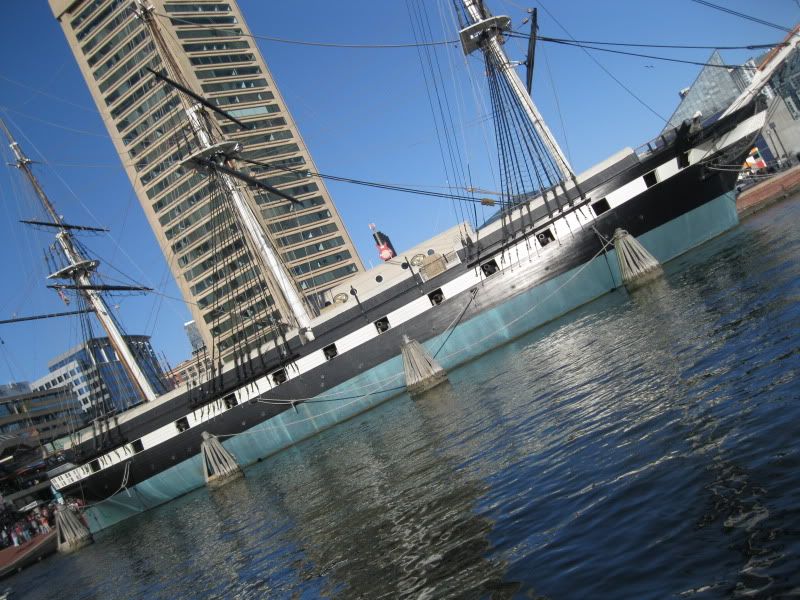 In the last decade, Constellation underwent a historically accurate restoration, where in, a great deal of structural damage was repaired. Most of her structure is original while that which was replaced was done so with strict adherence to historic standards and methods. As a museum ship, she remains a fine example of seafaring and sea warfare in the age of sail.
I recently took a trip to Baltimore, where Constellation is berthed but at the time, didn't realize the void in this index. Had I known she was not yet included I would have been sure to get plenty of photos without random strangers, my lovely girlfriend of worst yet my goofy face, in the way. All the same, however, I do have a few images I grabbed on my trip,
here
. There is also plenty of pics on the internet. If I make it down that way again soon, I'll be sure to grab some more and better images.
I'd like to suggest that this fine ship be added to the historic ship's register.
I'm also planning a trip later this month down to Wilmington to visit Kalmar Nickel, a replica of a 17
th
century pinnace which carried settlers to the new world. She's a replica, but as I understand it, a historically accurate, well built replica, which actually sails. I'll make a point of providing some images of Kalmar Nickel and her finer points.
I'd also like to suggest that Kalmar Nickel be added to the replica ship's register.
Edited by kurigan, 10 April 2012 - 07:28 PM.