Hey guys, it's me again, here with some things and stuff I'd like to share.

Everybody's made their own HF heroes, be it in the old designer on the HF site, or in the Recon Designer, or in the new Breakout customizer.. I've seen MoCs and drawings and even read a decent fanfic or two. So, I'd decided that I'd post up some Heroes of my own for all to see, be it in the form of plastic or pen on paper, and perhaps some of the villains and other things I've built with the HF system. So.. yeah, awesome.

Here's my first, a Hero I codenamed 'Striker':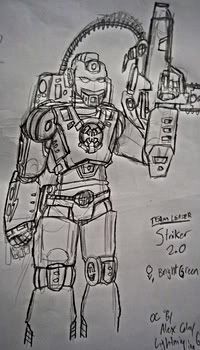 He's meant to be the team-leader of this little group I have. The last of the 1.0 heroes built before receiving the Upgrade, he prefers to work with older ways, believing them to be more effective than the 'new fangled nonsense' the Factory's been churning out lately, be it tactics or tools. He's not against upgrades or anything, Striker's always happy with something to improve his lazer-targeting stun-shock rifle, like a camera or a new barrel, but he does want to remember the old ways, and use those to prevent the same things happening again (you know the saying.). Striker's skilled in stealth, and is very agile. Striker may seem like a hard-butt to some of the younger Heroes, but they know he's just trying to do what's best for the team. His recent loss of a teammate makes him even moreso determined to do what's right- catch and cuff the villains who did it.

Striker reuses Stringer's 1.0 helmet design, but recolored bright green(not lime). He carries around his lazer-precision-targeting rifle and Hero Cuffs of the most recent design. His armor is bright green and gunmetal, with yellow-orange highlights, and a purple Hero core/head. He prefers 'classic' music, although he's not above a little techno every now and again. A little, very tiny amount. Really.

Will post more soon, watch this space!
EDIT: sorry if the image is too small, I'll be posting up a larger version later.
Edited by VBBN, 04 February 2015 - 01:21 AM.
"art" topic tag added