Set Index:
Sydney Opera House
Theme:
Architecture (Architect Series)
Parts:
270 (Reported, not counted.)
Quote
21012 Sydney Opera House

Create the world-renowned Sydney Opera Hose in LEGO form. The building has become a true symbol of late modern architecture and is one of the most iconic buildings of the 20th century. This replica model was designed by American architect Adam Reed Tucker.

39.99 USD 49.99 CAD
Note: This is the prelim official blurb.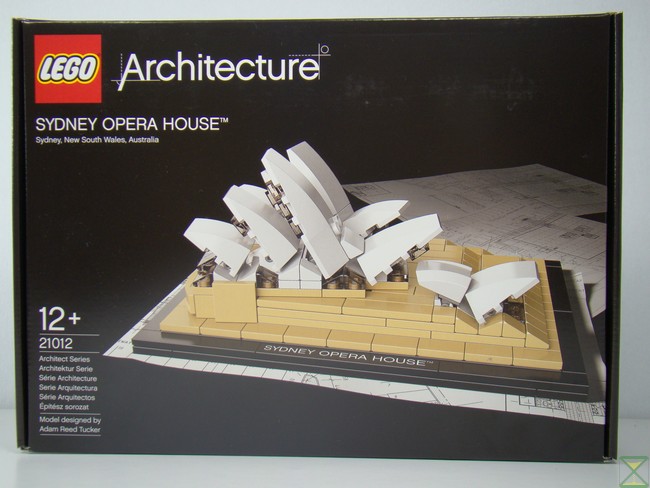 Ask the average Joe ( Josef or Josephine) for a man-made construction from France and it'd be a good chance that they pick the
Eiffel Tower
. Ask the same Joe about Australia and I think they'd pick the
Sydney Opera House
. I'm no different. When I first visited Sydney it was one of my primary visiting goals. To me it's one of those things that seem too fantastical to actually exist, especially since it's a practical construction. I'm not saying that it's not excessive, but for a building for artistic performances it makes almost logical sense for it to be unusual.
But anyway, back to LEGO, if there was a LEGO Eiffel Tower shouldn't there be a LEGO Sydney Opera House? I sure think so, and at last TLG agree. Will Adam Reed Tucker's creation satisfy? Thanks to TLG providing us with this early copy of the set, it's time to find out! Before we move on, do note the age recommendation; 12+. It is interesting how these sets are rated higher than their difficulty would suggest. For example the Empire State Building is 10+ when some Technic sets are 8+. My best guess is that they are aiming for people who don't normally buy LEGO.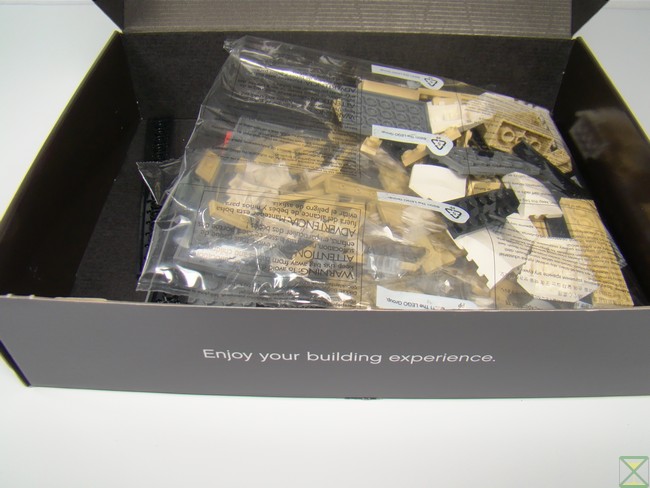 This is what greets you when you open the seal. More empty space than one would prefer, but at least it's not Star-Wars-box empty.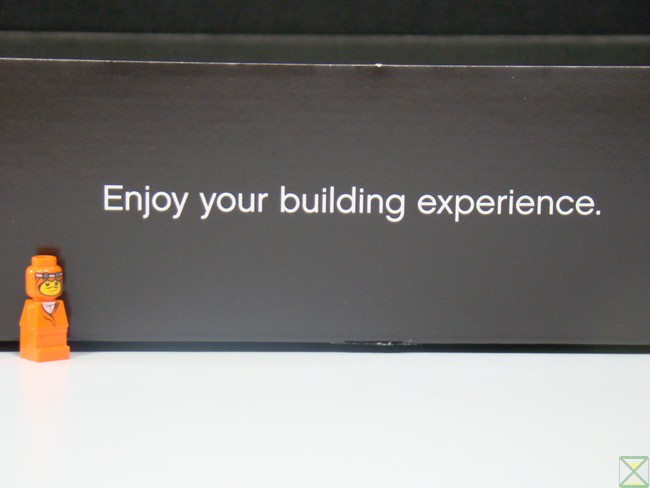 Thank you, I will try to!

Seriously though, it's little touches like this that make things seem more special.
As you can see the bigger parts weren't bagged. I've never liked this much. I understand with things like big rubber tires, but otherwise I think it just looks like a cost saving measure... which takes away from those special feelings!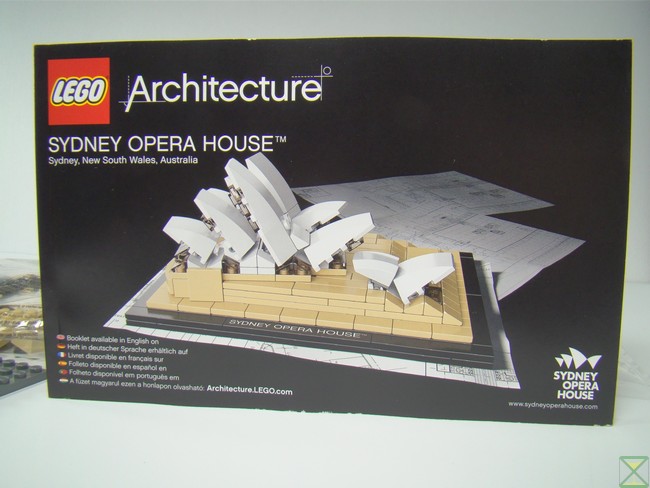 The manual/guide is wonderful. It's
very
nicely bound... I wish all sets were done this well!

Note the absence of a set number on the booklet.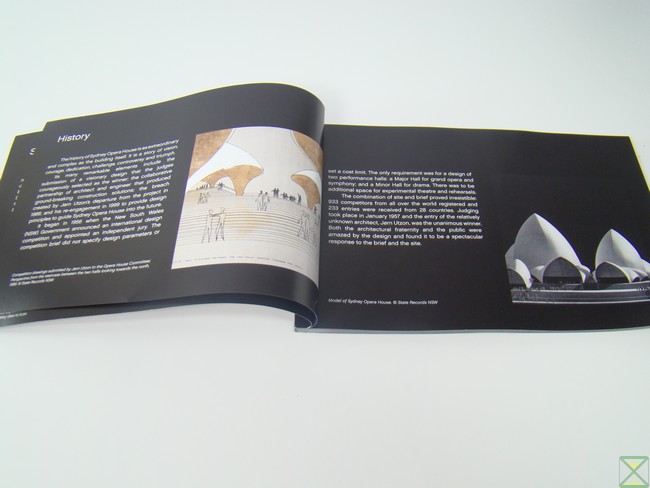 Inside are 14 pages covering the development, design, construction, stats and history of the architect. (For those aware of the many controversies of the Opera House, I think it's written from a very neutral point of view. For those who aren't aware look it up!

)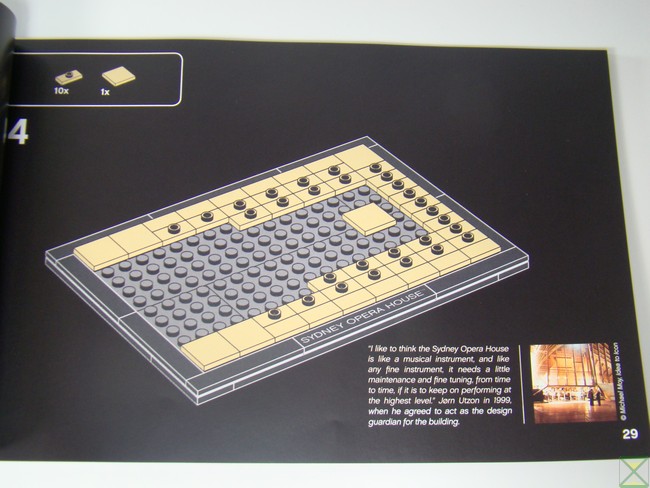 The instructions themselves are very nice too, and I especially like the little photos and quotes that are on about 25% of the pages. The part edging is emphasised, which I'm not sure if I like or not, but in the context of a set that could be sold in gift shops it's probably smart.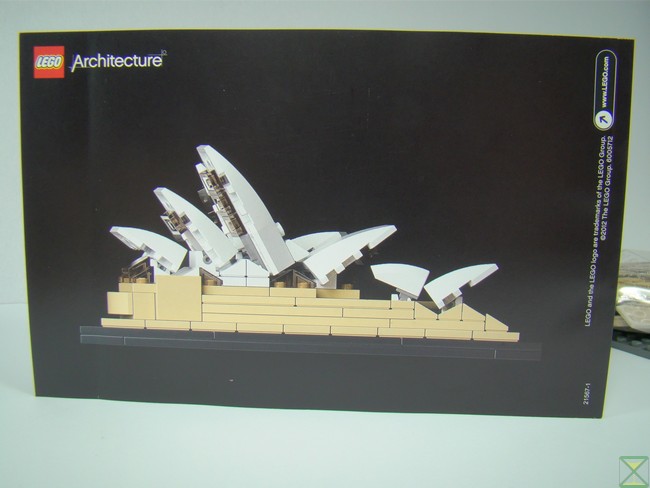 I think TLG should consider either bagging these and/or all of the parts; mine ended up with a noticeable bend on the back in transit, as well as some edge damage. (Mine was mailed however so it probably was mostly caused by mishandling.)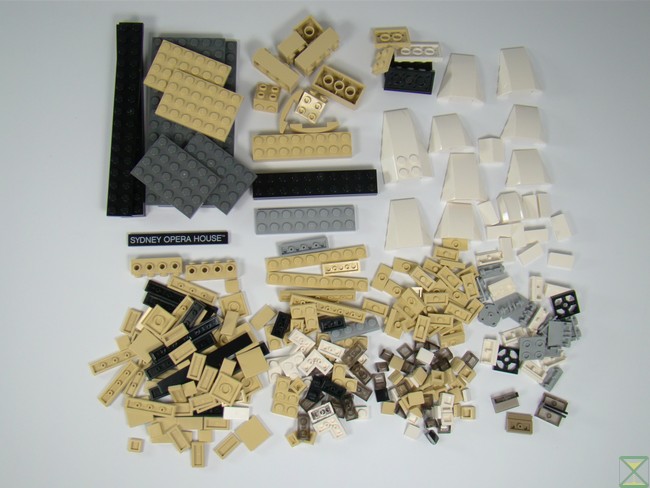 It's opening time! I considered arranging the parts really nicely, but there is a surprising amount of small parts and I got lazy! Thus I sectioned it instead. Interestingly there are no random colours (such as blue) in the set.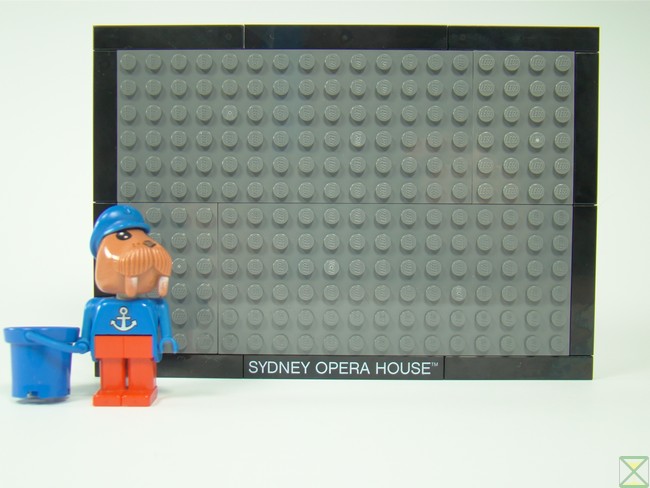 Finished! It's a the Opera House on a cloudy day... haw, haw, haw.
Actually there's more parts in the box so I might as well use them. From the start it's clear the amount of thought that has gone into this set; that amount of jumpers just to make a half stud offset? No way! But it's yes-way in a premium set.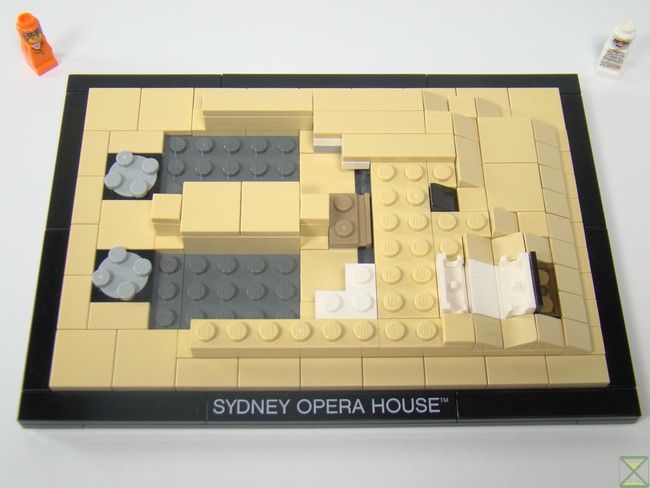 While it's smart part usage, I find it really weird that the door rail part is in dark tan... but more on that later. It is amazing how many parts have gone into these few layers though.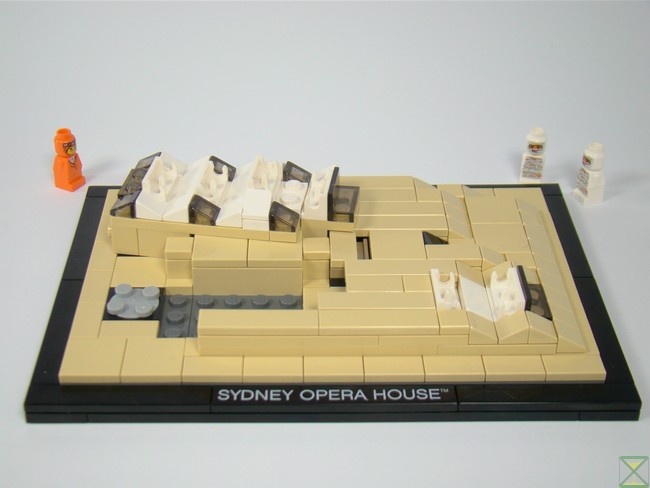 Even at this stage I think it's clear what it's going to be. The rear platform is complete now.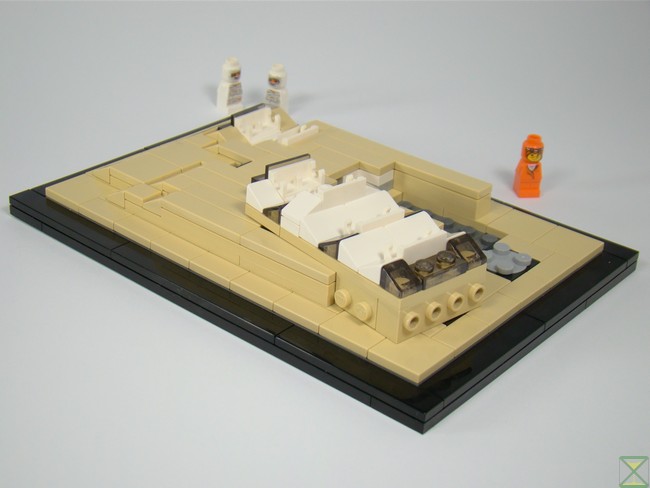 On the subject of colours, the turntables used to angle the structure don't come in tan, so there's nothing that can be done about that little spot of black.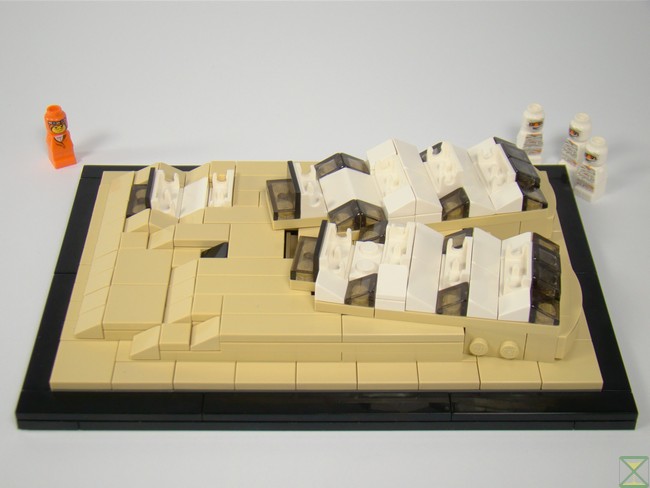 They're multiplying! (The buildings that is.)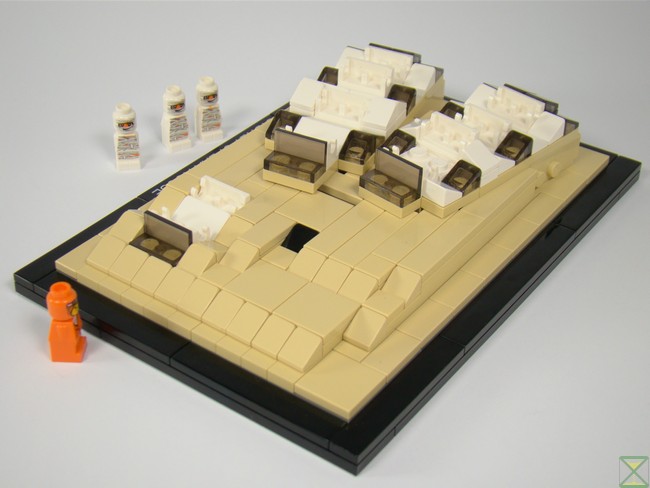 Taking shape...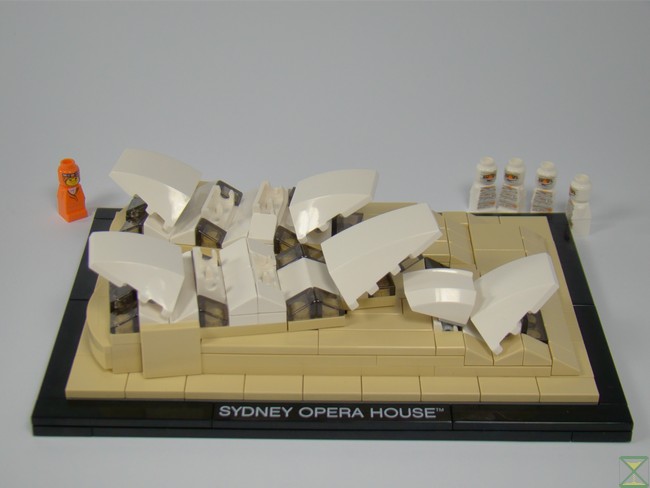 Adding the shells. The two angled structures are locked in by those 2x2 tiles, which are also needed for a more correct representation of the Opera House.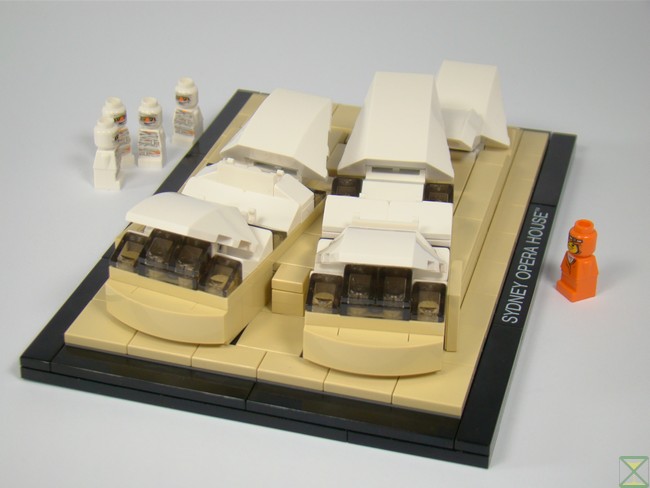 You can see here that the black turntables are mostly hidden... but not quite.
And now.... (photo shamelessly stolen from the
LEGO® Architecture
official sub-domain

)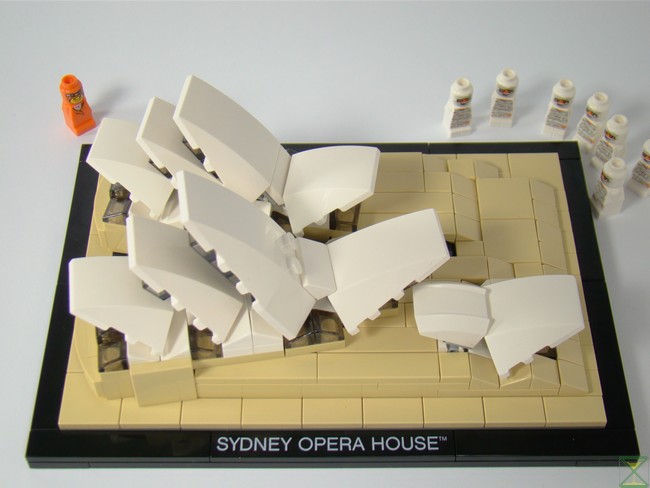 ...we're really finished! Personally I feel the Opera House looks odd without water. It's generally photographed showing the setting and, like most great architecture, it was designed specially for the location. But maybe I'm just having delusions of grandeur seeing myself as someone who can appreciate fine architecture.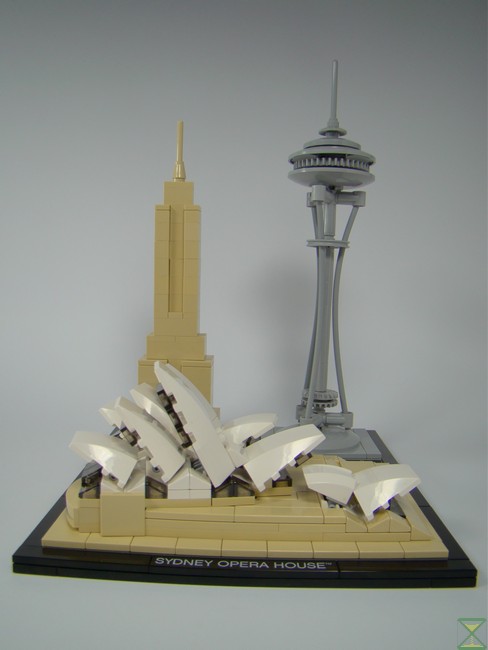 Here it is in comparison to two from the Landmark series. (N.B. Sets not to scale.) Anyway what I think would be cool would be if I could let our little model meet its Big Daddy....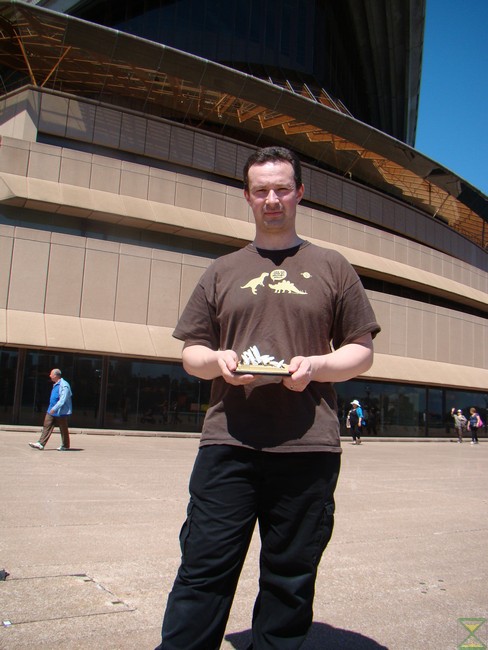 ...and as things turn out, I live in Parramatta, which is about 30 minutes from Sydney, so I can and will! Thus early on a Sunday I dragged myself out of bed, jumped on the bike, and took some photos. (This photo shows me after being in the sun for about 4 hours. I tried to smile, honest....

)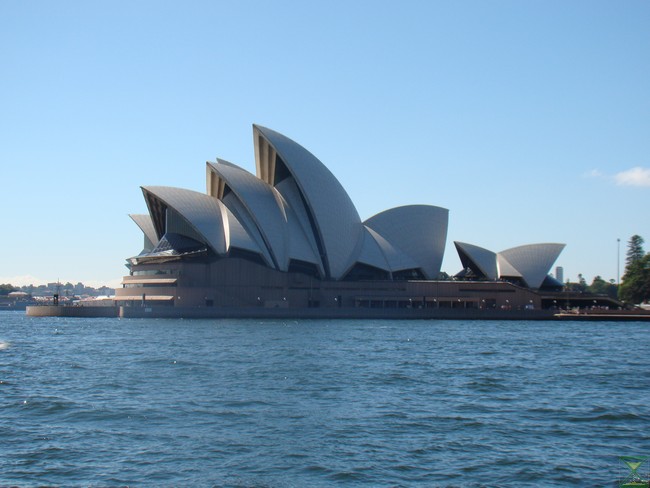 Now it's time for some comparisons. Before I do this I'd like to post a quote from the booklet in the section, "A Word from the Artist";
Adam Reed Tucker said:
I first and foremost do not view my models as literal replicas, but rather my own artistic interpretations though the use of LEGO bricks as a medium.
(Much the same is said in other sets.) In other words, regardless of the "replica" in the blurb (and on others from the line), these sets
aren't aiming for photo real perfection
. Even so, the temptation was too great so I've done some comparisons. First off, here is the real thing. I was "lucky" to get a clear day for my photos, but it was too hot... anyway, complaints aside, let's move on!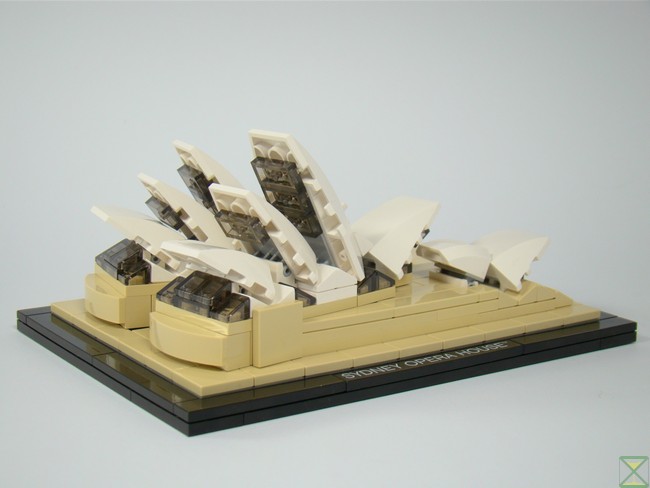 This is also the real one taken with a block filter... haw, haw, haw... darn, it seems the sun killed my sense of humor.

Anyway moving on...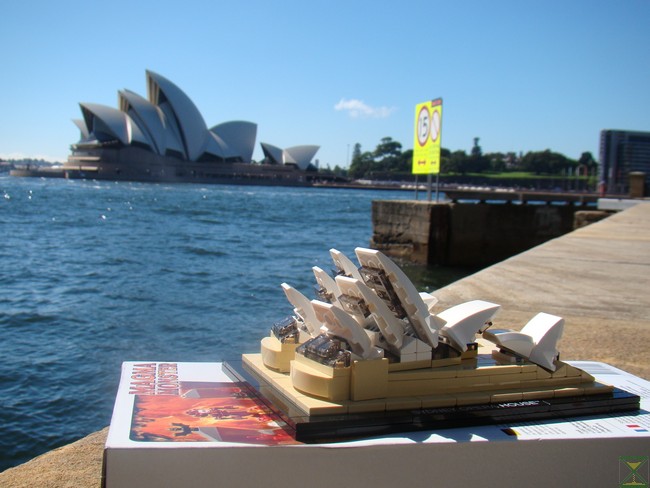 The fun thing I tried to do was do the comparisons in camera. (I like to avoid image editing if I can.) This one wasn't the best, but it does let you see that in basic form the set is "correct".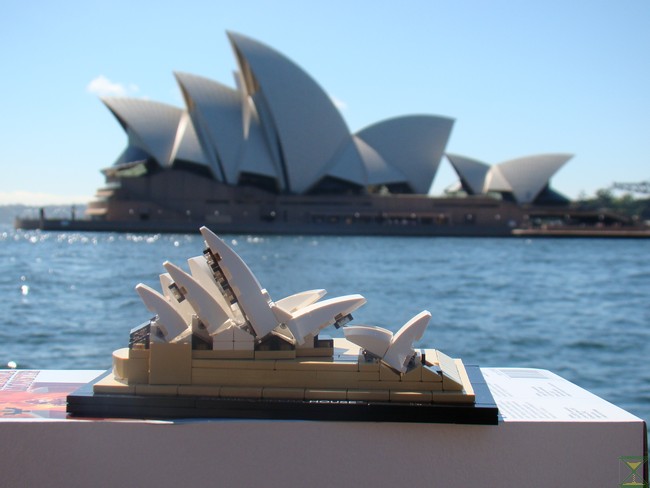 Moving down the coast I took this one. On a side note, it was funny doing this. I arrived at 9am-ish (which on a Sunday is a huge effort for me!) so there was good light but not too many people, but even so, each time I stopped and pulled out the Opera House from my bag I got loads of stares.

On a less positive note, it's clear from this angle that the single-piece shell is too simple to match the real thing.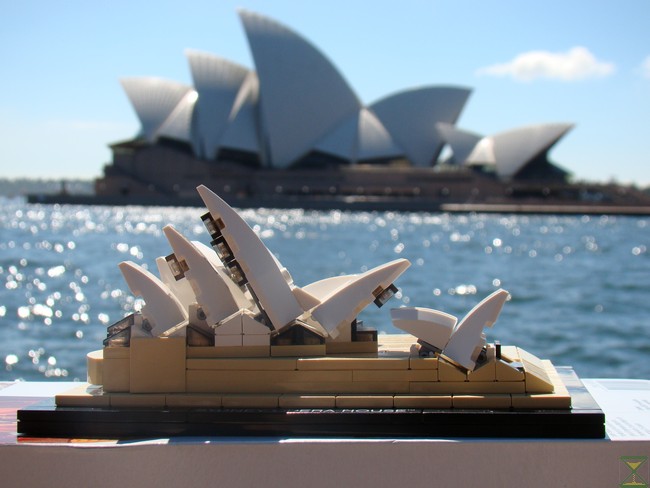 I tried to get the (Bennelong) restaurant shell to overlap the Concert Hall, but the gap between is too big. BTW, the base you can see in most photos is a 3847 Magma Monster box. I carried it in that instead of the actual one as I didn't want to damage it. The set generally got a bit broken each time... and it's annoying to fix and re-align while you're outside, so I wouldn't recommended taking it on tour.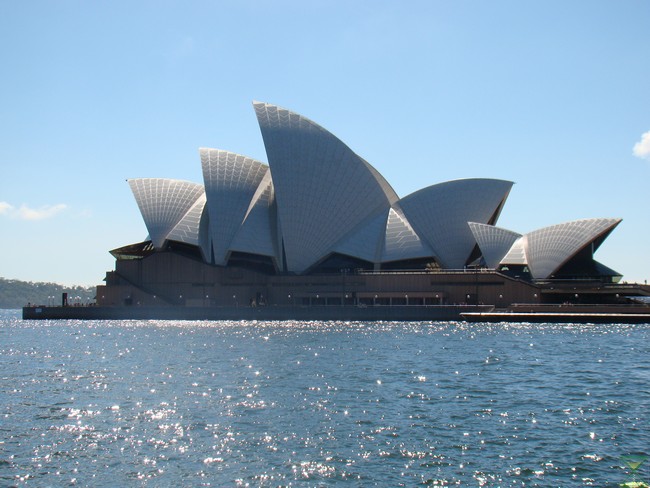 Forgetting about LEGO for a moment, I was able to catch the light here to highlight the tiled surface. Cool eh?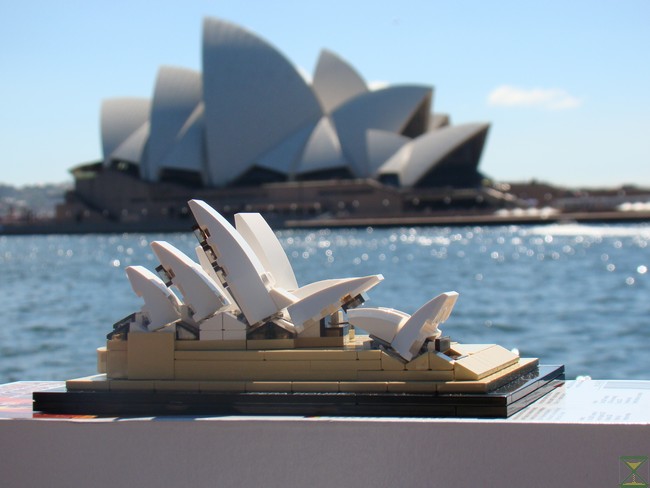 This one is a more successful comparison than the last. Interestingly I was rather close to the water while taking this one and I was concerned the whole time it'd fall in. (It didn't.

)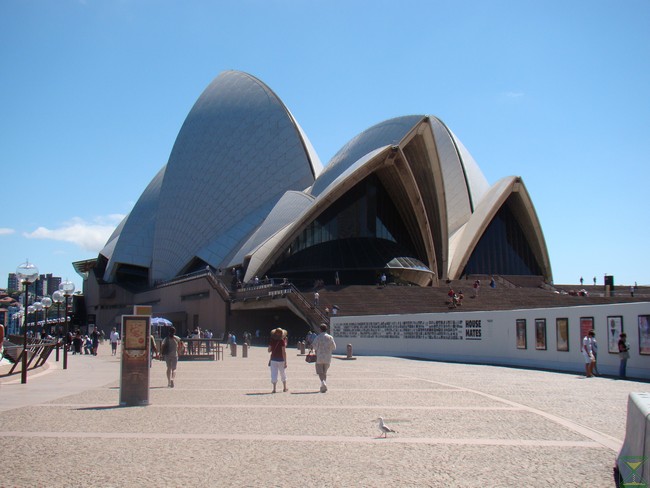 Well I've arrived, all hot sweaty and sunburned at the Sydney Opera House! Unfortunately they are renovating so I can't do any long shots of the stairs. As you would expect from artists, they have turned the temporary fence into an artwork...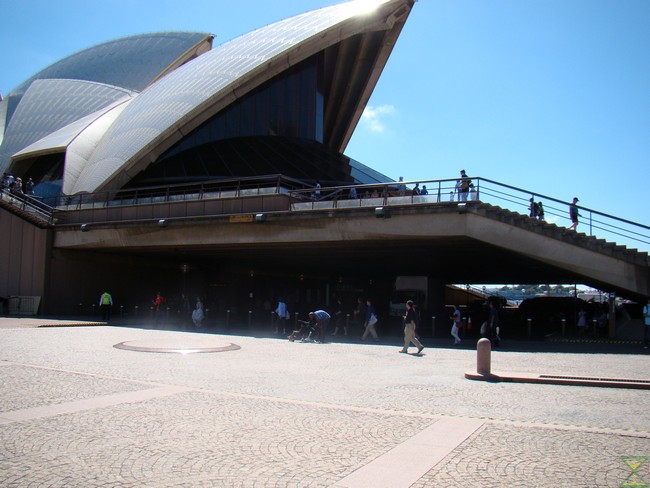 This part of the stairs people can actually walk under for another access point to the inside. This is a bit of detail that the model misses...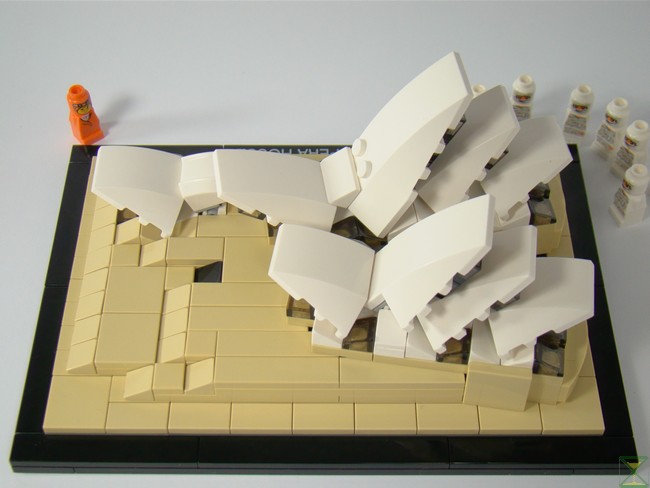 ...and I think a bit of black (2 stud long after the cheese slopes?) would have given a similar effect. I might actually mod mine!

Note that bit of black near the stairs? Good... keep it in mind.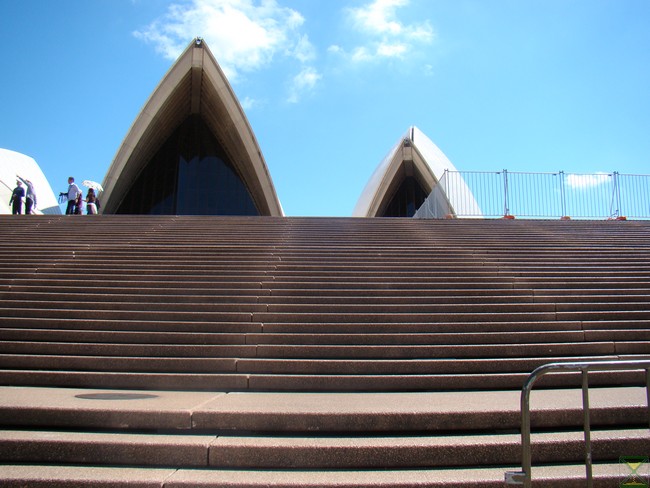 The stairs are captured as good as can be expected. Aside from a print (blurk) I can't see how it could be improved at this scale.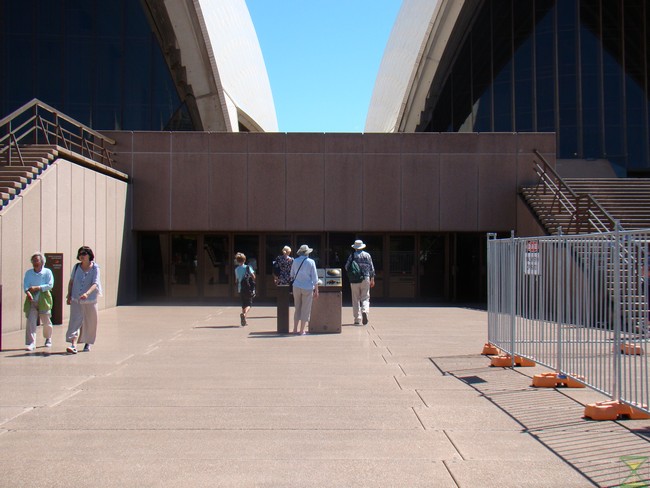 Still remember that black? This I think is the reasoning for it. To be honest I think it should have just been a black plate. However it's possible that the black angles is supposed to look like a shadow.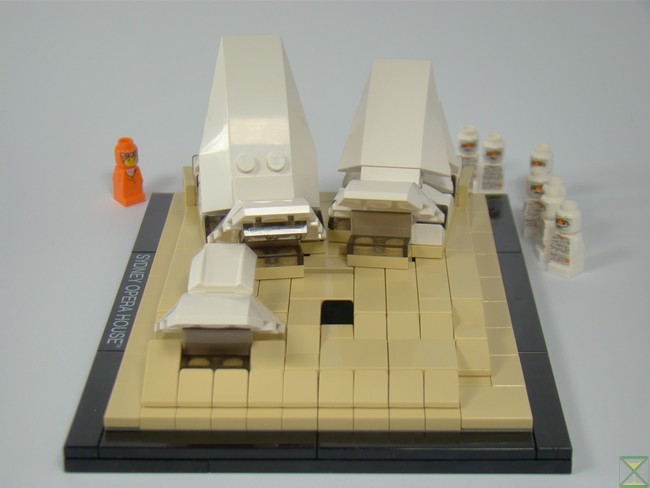 Here is another bit of detail in the model that confused me; see that gap in the "floor" between the main buildings? I saw that and thought that it was meant to be a water feature or similar, so I went looking for it...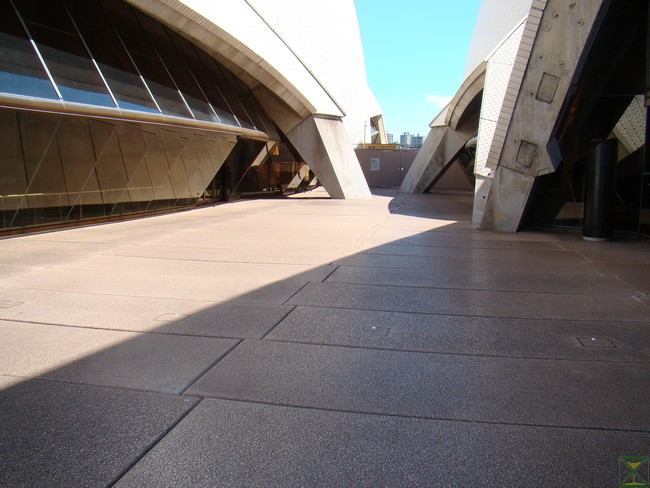 ...but found nothing.

Now that I've went to the effort to go and look for this "detail" I'm 95% sure that this is just a flaw in the model caused by LEGO limitations, but it does raise an interesting point about subtle details like this. In the case of this model the designer wanted a half stud offset and needed to do this to "catch up", but should it have done it somewhere else and in tan?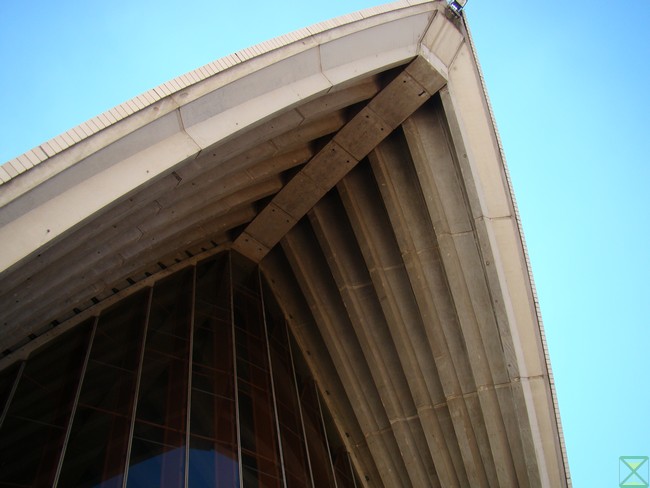 Interval. Time for five minutes of random Sydney Opera House appreciation. One...
...two...
...three...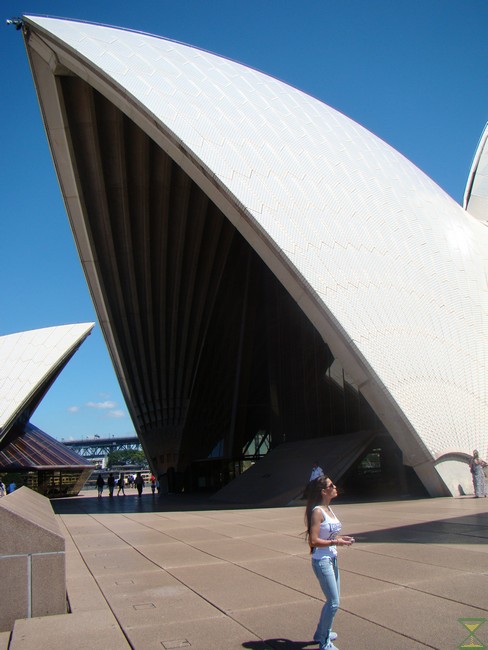 ..four (nice girl too)...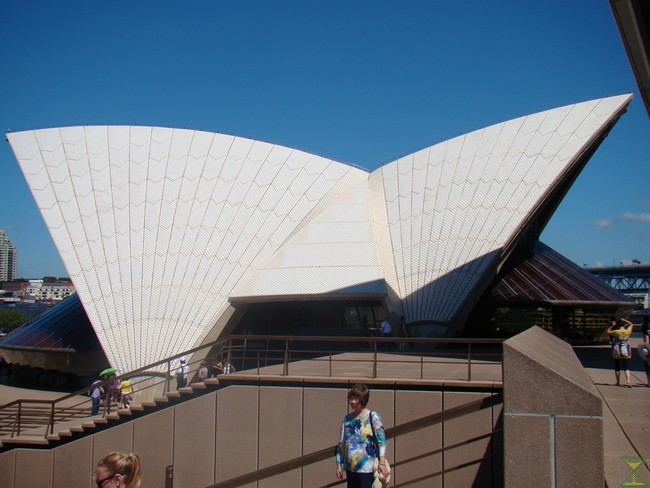 ...five. Resuming program.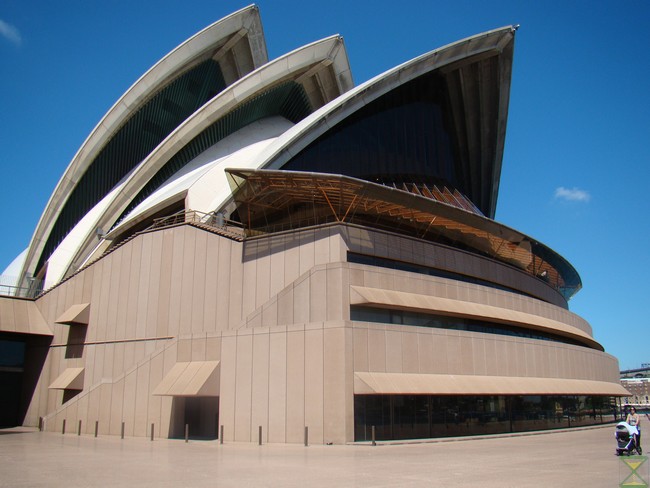 Sadly the details in the interval, while nice, would be impossible to replicate at any sellable scale, but this part can be, and...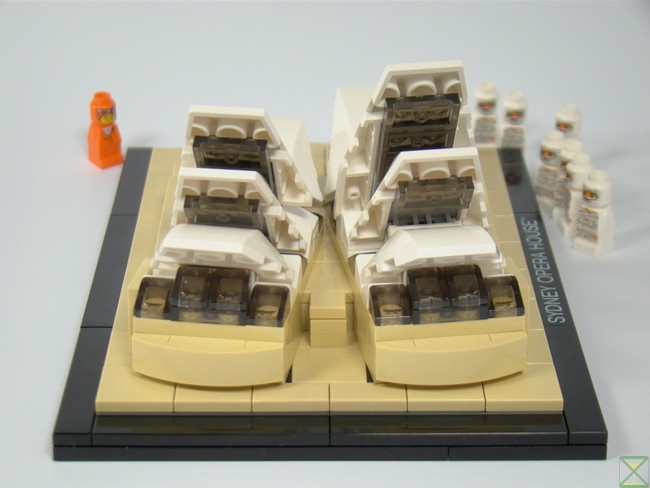 ...I think for the most part it does very well. This is actually the first time I've gone to the effort of walking out this far!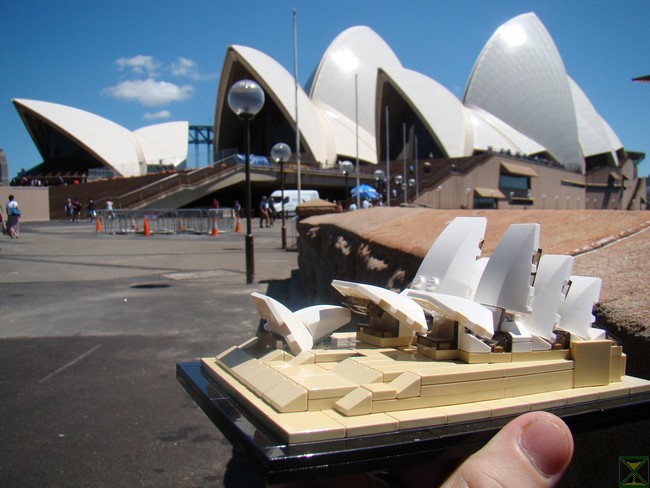 Continuing our walk we get to the the other side, so it's time for another comparison! I couldn't find a flat spot so I held it this time. I was tempted at this point to walk inside the Opera House and use my model to get a free tour but I feared the
Wrath of Jan
...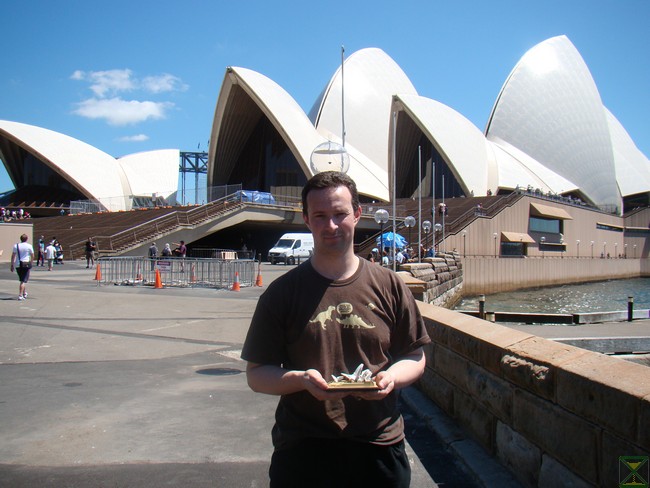 I was planning on taking photos from the other side of the harbour, but I was getting hot and I'd just ran into my wife and kids... so I called it a day. Here you can see me demonstrating my ability to balance glass balls on my head.
Summary: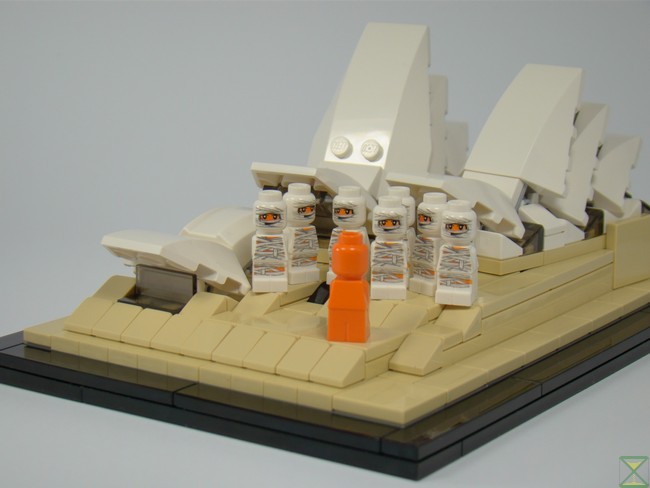 ...and so we come to the end of the review. Where's the score you ask? I'll pass this time. Why? Well normally I judge by things like appearance, function, parts and price... but the Architecture sets don't really turn out too well when measured like that. I could make a custom one (as I have before) but for the most part I have done that by making comparisons... which are not supposed to be perfect anyway!

So I think I'll just rant some more.
I do think this is a case of a huge opportunity missed. Because of the simple design concept of the shells they "jut" out rather than "flow" out in the case of the real one. I really think that they should have made it a bigger model, probably of around the size of
Robie House
. That would have made it more practical for this model to do more than merely resemble the Opera House, it would than have captured what I think is the essence of
Jørn Utzon's design
.
But I make no claims to be an artist, and I'm being a silly AFOL making comparisons that this model was not intended to stand up to. Ultimately the true test is "Would anyone who is familiar with the Sydney Opera House see this and know what it's supposed to be be?" and I think that the answer would be a "yes". The model is quite successful in pulling off a very complicated design in a small model, and I suspect this will turn up in the Gift Shop, where anything bigger simply wouldn't sell. This size is perfect for someone to buy as something to take home as an Australia souvenir, and unlike many, I suspect this would stay in a place of pride for a long time.
Edited by Rufus, 29 April 2012 - 08:44 AM.
Indexed