~This event is open to all players of Heroica RPG, whether or not they are on a quest. The event will run from the 14th to 29th of February, 2011, after which this topic will be closed. During this event characters can send letters to anyone within the Heroica RPG world, whether that person is another player character or NPC. Please post in-character, any questions related to this event should be asked in the Rules & Discussion -topic.~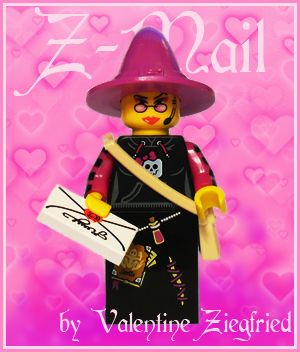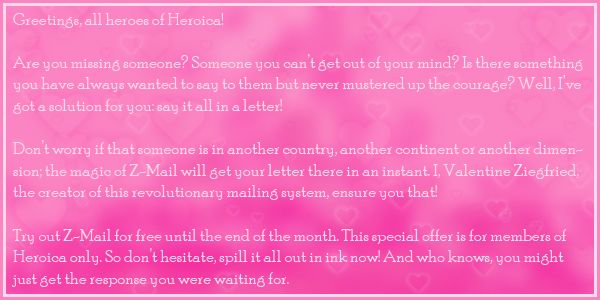 Upon returning to Eubric from a quest that took place on an enchanted island, Ellaria Arbour was surprised by an approaching wolf. The lupine was carrying a letter with her name on it. Having no idea who had sent it to her, Ellaria opened the letter with some trepidation.

TheBoyWonder, on 13 February 2012 - 08:18 AM, said:
Dear Ellaria,
My name is Leo Aragon. I too am a hero. I am leaving on a quest, so I could not deliver this in person.

I love you.

Hearing about the Z-Mail offer, Ellaria decides to respond to this Leo. She was unsure how the letter would reach its destination, but she had learned to believe anything when it came to wizards and their tricks. So she grabbed a quill and a bottle of ink, and began to write.
Dear Leo,

I do not believe we have been formally introduced. If we have met at a passing in the Heroica Hall, I must beg forgiveness that I do not remember such an event. What you wrote me is touching, nevertheless. I might be wrong about this, but you sound very young in your letter. Surely a man of more age and experience would not be so quick to use words as strong as "love" to a lady he hasn't even met properly.

I would have you know that without even meeting you I cannot respond to your feelings, although I am of course flattered by your letter. I am sorry to tell you that at the moment I am in no condition to rush into a romance with anyone. I bear a heavy burden that I do not think a man as young as you seem wishes to carry with me. I am with child, you see. Out of wedlock, conceived with hatred and blood. I pray to Sylvania every day that my child will be born hale and healthy, but I fear for the worst.

I am sorry to open up to you like this, but I'm in need of a friend, not a groom. If you can accept that, I would be pleased to continue exchanging letters with you, but if you cannot, I wish all the best for you. I hope you find love in another place.

Sincerely yours,
~Ellaria Arbour, a Cleric of Heroica

PS. Cute wolf.
With shaking hands Ellaria drops the quill, seals the letter into an envelope and utters the magic words:
"I've got Z-Mail!"
In a blink of an eye the envelope disappears. Ellaria lets out a long sigh. Half of her is hoping that the letter will never reach its destination, but what's done is done.