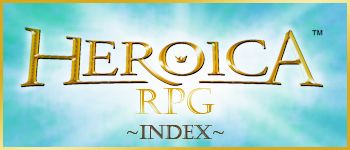 This is the index of all topics related to Heroica RPG, the Eurobricks community's own roleplaying experience that anyone can join at any time.
GENERAL TOPICS


Contains all the rules and game mechanics you need to know about Heroica Game. Before making the decision to join the game, visit here.




After you've read the rules, post your created character's general information here. Remember to edit the information whenever it changes.




When you have created your own character, post your introduction and join the quests here. Also contains a list of all the players.



All out-of-character discussion about the Heroica RPG not related to the rules should be posted here.




Learn the ropes of hosting your own quest here.




Buy equipment and items for your character with your hard-earned gold here.




Participate in special "hero vs. hero" battles here to spend time in-between quests.




After you reach Level 15, you can train for the advanced job classes here.



Learn and ask more about the world of Heroica RPG.




An off-site resource for all the information related to Heroica RPG.




Features a list of non-player characters encountered within the game.




Get familiar with the various races inhabiting the world of Olegaia.




Contains an incomplete list of monsters fought during past quests.




A collection of nearly all items featured within the game.




Get insight about the intricacies of roleplaying a believable character in a fantasy world.




Archived information about past quests and retired heroes.
QUESTS
#1: Harvest Time by Sandy

*successful*


#2: Looking Through the Wares (Part I of the Hinckwell/Shadeaux Story Arc) by Sandy

*successful*


#3: The Missing Matriarch (Part I of The Ziegfried Story Arc) by Sandy

*successful*


#4: Taming the Lions (Part I of the Lion Knights Story Arc) by Brickdoctor

*successful*


#5: Cave Sounds (Part I of the Porthiar Story Arc) by Sisco

*successful*


#6: WANTED! Donny Dozenhands (Part I of the Wolfgang Story Arc) by Sandy

*failed*


#7: The Arena (Part I of the Wren Story Arch) by Zepher

*successful*


#8: Sacred Sands by Capt.JohnPaul

*successful*


#9: Trespassers by Masked Builder

*successful*


#10: Extra-Curricular Activities (Part I of the Academy Story Arc; Part II of the Hinckwell/Shadeaux Story Arc) by Sandy

*successful*


#11: A Matter of Principle by Waterbrick Down

*successful*


#12: Honey, I Shrunk the Youngins! (Part I of the Maa'ri Story Arc) by Jebediahs

*successful*


#13: The Darkstar (Part I of the Haroka & Sorona Story Arc) by Rumble Strike

*failed*


#14: The Family Recipe (Part II of the Ziegfried Story Arc) by Sandy

*successful*


#15: Hoisting Down the Jolly Roger (Part I of the Bonaparte Story Arc) by Sandy

*successful*


#16: The Paladin Conquest (Part I of the Paladin Story Arc) by Etzel

*successful*


#17: The Lion's Share (Part II of the Lion Knights Story Arc) by Brickdoctor

*successful*


#18: The Storm by JimButcher

*successful*


#19: Let's Start a Riot (Part II of the Wren Story Arc) by Zepher

*successful*


#20: Missing Minerals by UsernameMDM

*successful*


#21: Family History (Part II of the Porthiar Story Arc) by Sisco

*cancelled*


#22: Winter Problems by Bricksandparts

*successful*


#23: Guarding the Guards (Part I of the Strivvi Story Arc) by Scubacarrot

*successful*


#24: Hunt for the Draugr by Capt.JohnPaul

*successful*


#25: Imbuing the Sword by Bricksandparts

*cancelled*


#26: Quarry Clean Up by Xarrzan

*successful*


#27: Badger Badger Badger by darkdragon

*successful*


#28: The Breakthrough by Waterbrick Down

*successful*


#29: Journey to Dastan (The Dastan Trilogy) by JimButcher

*successful*


#30: Ambassadors of Dastan (The Dastan Trilogy; Part III of the Wren Story Arc) by Zepher

*successful*


#31: Lions and Lambs (The Dastan Trilogy; Part III of the Lion Knights Story Arc) by Brickdoctor

*successful*


#32: The Lost Children by Rumble Strike

*successful*


#33: WANTED! Violetta the Cat Burglar (Part II of the Wolfgang Story Arc) by Sandy

*failed*


#34: The Dark Secret (Part I of the Guild of Invision Story Arc) by Sandy

*successful*


#35: Rescue the Maa'ri! (Part II of the Maa'ri Story Arc) by Jebediahs

*failed*


#36: The Voracious Vault (Part I of the Progg Story Arc) by Endgame

*successful*


#37: Princess Panic (Part I of the Fantome Croise Story Arc) by Capt.JohnPaul

*failed*


#38: The Lost Party (Part IV of the Wren Story Arc) by Zepher

*successful*


#39: The Great Guffington (Part I of the Guffington Story Arc) by Zepher

*successful*


#40: The Strivvian Job (Part II of the Strivvi Story Arc) by Scubacarrot

*cancelled*


#41: The Great Hunt (Part I of the Russel & Pigley Story Arch) by Zepher

*successful*


#42: The Meaning Of It All by Flare

*successful*


#43: Protect My Brother (Part III of the Hinckwell/Shadeaux Story Arc) by Sandy

*successful*


#44: My Best Friend (Part I of the Pandemonicon Story Arc) by Sandy

*successful*


#45: The Doctor Is In (Part II of the Guild of Invision Story Arch) by Khorne

*cancelled*


#46: Product Testing by Endgame

*failed*


#47: The Joust (Part II of the Fantome Croise Story Arc) by Capt.JohnPaul

*successful*


#48: Death's Homecoming (Part II of the Progg Story Arc) by Endgame

*successful*


#49: The Light That Reveals Everything (Part II of the Paladin Story Arc) by Etzel

*successful*


#50: 108 Stars of Destiny (Part I of the Ji Pei Story Arc) by Sandy

*failed*


#51: A Shanty for Science (Part II of the Ji Pei Story Arc; Part I of the Magpie Story Arc) by CallMePie

*successful*


#52: Tower of Doom (Part II of the Haroka & Sorona Story Arc) by Rumble Strike

*successful*


#53: Chaos in Eubric (Part V of the Wren Story Arc) by Zepher

*successful*


#54: Taking Out the Laundry by Waterbrick Down

*successful*


#55: Sang des Hommes (Part III of the Fantome Croise Story Arc) by Capt.JohnPaul

*successful*


#56: The Stealer of Senses (Part I of the Syndicate Story Arc) by Endgame

*successful*


#57: Green and Gone (Part III of the Ziegfried Story Arc) by Flare

*successful*


#58: Brothers-in-Arms (Part II of the Bonaparte Story Arc) by Sandy

*successful*


#59: Rito's Resolution by JimButcher

*successful*


#60: Predator to Prey by Capt.JohnPaul

*successful*


#61: Grim Grinning Ghosts (Part I of the Cemetery Story Arc) by Kintobor

*successful*


#62: Insider Trading (Part I of the Brendenton Story Arch) by Dannylonglegs

*successful*


#63: The Madness of Marc (Part III of the Guild of Invision Story Arc) by Masked Builder

*successful*


#64: Discord in Duplovia (Part I of the Duplovia Story Arc) by The Legonater

*successful*


#65: Breaking Down the Door by Waterbrick Down

*successful*


#66: WANTED! Steerpike the Poisoner (Part III of the Wolfgang Story Arc) by Sandy

*successful*


#67: Nova Tertia by Capt.JohnPaul

*successful*


#68: A Night at the Theatre (Part II of the Russel & Pigley Story Arc) by Zepher

*successful*


#69: The Hook on the Other Hand (Part II of the Magpie Story Arc) by CallMePie

*successful*


#70: The Syndicate (Part II of the Syndicate Story Arch) by Endgame

*successful*


#71: The Secret Under Eubric (Part I of the Haeresias's Vault Story Arc) by Kintobor

*successful*


#72: A Party (Part II of the Guffington Story Arch) by Zepher

*successful*


#73: Escort Service by joeshmoe554

*successful*


#74: A Grave Problem (Part IV of the Guild of Invision Story Arc; Part II of the Cemetery Story Arc) by Sandy

*successful*


#75: Falling Stars (Part III of the Ji Pei Story Arc) by Sandy

*successful*


#76: Trade Routes (Part II of the Brendenton Story Arc) by Dannylonglegs

*cancelled*


#77: Your Elves are Better Than Ours (Part I of the Dread Pirate Story Arc) by Brickdoctor

*successful*


#78: As Thick As Thieves (Part II of the Haeresias's Vault Story Arc) by Kintobor

*successful*


#79: Fading Spark (Part I of the Lifespark Story Arc) by Endgame

*successful*


#80: Sic Semper Tyrannis by Capt.JohnPaul

*successful*


#81: Home Sweet Home (Part III of the Progg Story Arc) by Endgame

*successful*


#82: Stop the Presses (Part I of the Crimson Crown Story Arc) by CallMePie

*successful*


#83: Four's Company (Part I of the Butcher of Eubric Story Arc) by Kintobor

*successful*


#84: Bad Blood by Zepher

*failed*


#85: Visions of an Unblinking Terror (Part II of the Pandemonicon Story Arc) by Sandy

*successful*


#86: Gaiden (Part III of the Syndicate Story Arc) by Endgame

*successful*


#87: The Marketplace Mystery by Sandy

*successful*


#88: Fathers and Sons (The Baltarok Trilogy) by Zepher

*successful*


#89: Reclaiming Glory (The Baltarok Trilogy; Part III of the Magpie Story Arc) by CallMePie

*successful*


#90: A Trip to the Circus (The Baltarok Trilogy) by Waterbrick Down

*successful*


#91: The Sounds of Music (Part IV of the Ji Pei Story Arc; Part I of the Alfendi Lupine Story Arc) by Kintobor

*successful*


#92: The Prophetess and the Warrior by Zepher

*successful*


#93: School's Out (Part II of the Academy Story Arc; Part IV of the Hinckwell/Shadeaux Story Arc) by Sandy

*successful*


#94: Go Now, In Peace (Part III of the Cemetery Story Arc) by Kintobor

*successful*


#95: Missing Wares by Bricksandparts

*successful*


#96: Tying Up Loose Ends (Part III of the Strivvi Story Arc) by Scubacarrot

*cancelled*


#97: Infestation by Endgame

*successful*


#98: Dark of the Moon by CallMePie

*successful*


#99: Six Thousand Feet Under (Part IV of the Progg Story Arc) by Endgame

*successful*


#100: To The Tower of Babel (Part IV of the Wolfgang Story Arc) by Sandy

*failed*


#101: Into The Woods by Kintobor

*successful*


#102: Debts (Part III of the Russel & Pigley Story Arc) by Zepher

*failed*


#103: Alfendi Lupine Strikes Again! (Part II of the Alfendi Lupine Story Arc) by Kintobor

*successful*


#104: Ace Assassin: Dual Dragoons by Flipz

*successful*


#105: Eternal Reaper (Part V of the Progg Story Arch) by Endgame

*successful*


#106: Devilish Documents by Pyrovisionary

*successful*


#107: Deeper by Zepher

*successful*


#108: Message in a Bag-of-Holding by Waterbrick Down

*failed*


#109: Dreamscape by emjajoas

*successful*


#110: Color Me Gone (Part I of the Tridentia Story Arc) by KingoftheZempk

*successful*


#111: No Fear of the Setting Sun by Khorne

*successful*


#112: The Lion, the Wretch, and the Warlord (Part II of the Dread Pirate Story Arc) by Brickdoctor

*successful*


#113: Mystery in the Mines (Part II of the Duplovia Story Arc) by The Legonater

*successful*


#114: The Tale of the Sea Fiend (The Halloween Anthology) by CallMePie

*successful*


#115: The Tale of One Bleach Too Many (The Halloween Anthology) by Endgame

*successful*


#116: The Tale of Two Faces (The Halloween Anthology) by Waterbrick Down

*successful*


#117: The Tale of the Caustic Collection (The Halloween Anthology) by Kintobor

*successful*


#118: The Tale of the Stolen Spirits (The Halloween Anthology) by Flipz

*successful*


#119: The Blackgull Inquisition (Part III of the Bonaparte Story Arc) by Sandy

*successful*


#120: Hand of Blue (Part IV of the Ji Pei Story Arc) by Sandy

*successful*


#121: Want Your Mummy? by Emjajoas

*successful*


#122: Invasion of the Sheep Snatchers by Kintobor

*successful*


#123: A Present for Doc Daneeka by Zepher

*successful*


#124: The Song of My Heart (Part V of the Hinckwell/Shadeaux Story Arc) by Sandy

*successful*


#125: The Dollhouse (Part IV of the Ziegfried Story Arc) by Sandy

*successful*


#126: Paint by Heroes (Part II of the Tridentia Story Arc) by KingoftheZempk

*successful*


#127: A Light in the Darkness by Zepher

*successful*


#128: A Study in Red Death by Cutcobra

*successful*


#129: Flying the Coop (Part IV of the Bonaparte Story Arc; Part IV of the Magpie Story Arc) by CallMePie

*successful*


#130: Sisters in Salmanda (Part I of the Sisters of Danab Story Arc) by Sandy

*successful*


#131: The Kind Of Law They'd Understand by Lind Whisperer

*successful*


#132: The Clans Under the Mountain by Waterbrick Down

*successful*


#133: A Walk Through the Parlor by Asphalt

*successful*


#134: The Sky Is Falling (Part I of the Dragons Story Arc) by Endgame

*successful*


#135: Kill Baba (Part V of the Wolfgang Story Arc) by Sandy

*failed*


#136: The Sorcerer's Stone by Purpearljellyblob

*successful*


#137: Where the Dead Go to Live (Part IV of the Cemetery Story Arc) by Kintobor

*successful*


#138: Fade To Black (Part II of the Dragons Story Arc) by Endgame

*successful*


#139: Around the World|West (Part III of the Guffington Story Arc) by Zepher

*successful*


#140: Requiem for a Machine (Part II of the Crimson Crown Story Arc) by CallMePie

*successful*


#141: A Bone to Pick by Flipz

*successful*


#142: Day of the Triffid (Part V of the Guild of Invision Story Arc) by Sandy

*successful*


#143: Making Amends (Part IV of the Syndicate Story Arc) by Endgame

*successful*


#144: The Pen is Mightier Than the Sword by Kintobor

*cancelled*


#145: Rescue My People! by Palathadric

*successful*


#146: Red is the Bloodiest Color (Part III of the Tridentia Story Arc) by KingoftheZempk

*successful*


#147: Judgment Day (Part III of the Dragons Story Arc) by Endgame

*successful*


#148: Once Upon a Time in Goetia (Part III of the Pandemonicon Story Arc) by Sandy
#149: Cleaning Out the Pipes (Part VI of the Guild of Invision Story Arc) by Waterbrick Down

*failed*


#150: A Moment of Silence by CallMePie
#151: Send the Pain Below by JimBee

*successful*


#152: Wine and Di(n)e by KotZ
#153: Missing Medusa by Zepher

Unlimited Quest: Fields of Glory by Sandy, Asphalt, CallMePie, Flipz & Waterbrick Down
SPECIAL EVENTS
Ethereal Letters by Sandy (Valentine's Day 2012)
First Anniversary Lottery by Sandy (August 2012)
Heroica RPG - A Year In Review by Zepher (August 2012)
Grogmas Gifts by Sandy (Christmas 2012)
The Henrys - Award Celebration by Waterbrick Down & Zepher (February 2013)
Summer Photoshoot by Sandy (June-July 2013)
Second Anniversary Lottery by Sandy (August 2013)
Second Anniversary Building Contest|Entries|Voting|Winners by Dragonator (August-September 2013)
Cruel Angel's Thesis ~ Downfall of Heroes|Day One|Day Two|Day Three|Day Four|Day Five|Day Six|Final Day by Sandy (August-September 2013)
Tidings of Comfort and All That Sh*t by Sandy (Christmas 2013)
Third Anniversary Lottery by Sandy (August 2014)
Decamon Tournament|Cerulean Cup|Saffron Cup|Vermilion Cup|Viridian Cup|Championship Cup by Sandy (Christmas 2014)
Fourth Anniversary Lottery by Sandy (August 2015)


Choose Your Side:

Crescent Union|Sungold Alliance|Wolf King's Followers by Sandy (September 2015 onwards)
The Henrys - 2nd Award Celebration by Waterbrick Down, Zepher, Flipz & Endgame (September 2015)
Grogmas Wishlist by Sandy (Christmas 2015)
Fifth Anniversary Lottery by Sandy (August 2016)
Wikia Contest by Sandy (August 2016)