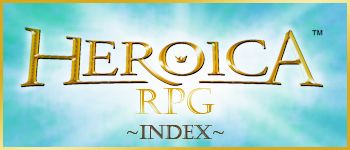 This is the index of all topics related to Heroica RPG, the Eurobricks community's own roleplaying experience that anyone can join at any time.
GENERAL TOPICS


Contains all the rules and game mechanics you need to know about Heroica Game. If you wish to join the game or have any questions about it, visit here.




After you've read the rules, post your created character's general information here. Remember to edit the information whenever it changes.




When you have created your own character, post your introduction and join the quests here. Also contains a list of all the players.




Learn the ropes of hosting your own quest here.




Buy equipment and items for your character with your hard-earned gold here.




Participate in special "hero vs. hero" battles here to spend time in-between quests.




After you reach Level 15, you can train for the advanced job classes here.



Learn and ask more about the world of Heroica RPG. Also contains details from all the past quests.




Features a list of non-player characters encountered within the game.




Get familiar with the various races inhabiting the world of Olegaia.




Contains an extensive list of monsters fought during past quests.




A collection of nearly all items featured within the game.




Get insight about the intricacies of roleplaying a believable character in a fantasy world.
QUESTS
#1: Harvest Time by Sandy
#2: Looking Through the Wares (Part I of the Hinckwell/Shadeaux Story Arch) by Sandy
#3: The Missing Matriarch (Part I of The Ziegfried Story Arch) by Sandy
#4: Taming the Lions (Part I of the Lion Knights Story Arch) by Brickdoctor
#5: Cave Sounds (Part I of the Porthiar Story Arch) by Sisco
#6: WANTED! Donny Dozenhands (Part I of the Wolfgang Story Arch) by Sandy
#7: The Arena (Part I of the Wren Story Arch) by Zepher
#8: Sacred Sands by Capt.JohnPaul
#9: Trespassers by Masked Builder
#10: Extra-Curricular Activities (Part II of the Hinckwell/Shadeaux Story Arch) by Sandy
#11: A Matter of Principle by Waterbrick Down
#12: Honey, I Shrunk the Youngins! (Part I of the Maa'ri Story Arch) by Jebediahs
#13: The Darkstar (Part I of the Haroka & Sorona Story Arch) by Rumble Strike
#14: The Family Recipe (Part II of the Ziegfried Story Arch) by Sandy
#15: Hoisting Down the Jolly Roger (Part I of the Bonaparte Story Arch) by Sandy
#16: The Paladin Conquest (Part I of the Paladin Story Arch) by Etzel
#17: The Lion's Share (Part II of the Lion Knights Story Arch) by Brickdoctor
#18: The Storm by JimButcher
#19: Let's Start a Riot (Part II of the Wren Story Arch) by Zepher
#20: Missing Minerals by UsernameMDM
#21: Family History (Part II of the Porthiar Story Arch) by Sisco

*cancelled*


#22: Winter Problems by Bricksandparts
#23: Guarding the Guards (Part I of the Strivvi Story Arch) by Scubacarrot
#24: Hunt for the Draugr by Capt.JohnPaul
#25: Imbuing the Sword by Bricksandparts

*cancelled*


#26: Quarry Clean Up by Xarrzan
#27: Badger Badger Badger by darkdragon
#28: The Breakthrough by Waterbrick Down
#29: Journey to Dastan (The Dastan Trilogy) by JimButcher
#30: Ambassadors of Dastan (The Dastan Trilogy, Part III of the Wren Story Arch) by Zepher
#31: Lions and Lambs (The Dastan Trilogy, Part III of the Lion Knights Story Arch) by Brickdoctor
#32: The Lost Children by Rumble Strike
#33: WANTED! Violetta the Cat Burglar (Part II of the Wolfgang Story Arch) by Sandy
#34: The Dark Secret (Part I of the Guild of Invision Story Arch) by Sandy
#35: Rescue the Maa'ri! (Part II of the Maa'ri Story Arch) by Jebediahs
#36: The Voracious Vault (Part I of the Progg Story Arch) by Endgame
#37: Princess Panic (Part I of the Fantome Croise Story Arch) by Capt.JohnPaul
#38: The Lost Party (Part IV of the Wren Story Arch) by Zepher
#39: The Great Guffington (Part I of the Guffington Story Arch) by Zepher
#40: The Strivvian Job (Part II of the Strivvi Story Arch) by Scubacarrot

*cancelled*


#41: The Great Hunt by Zepher
#42: The Meaning Of It All by Flare
#43: Protect My Brother (Part III of the Hinckwell/Shadeaux Story Arch) by Sandy
#44: My Best Friend (Part I of the Pandemonicon Story Arch) by Sandy
#45: The Doctor Is In (Part II of the Guild of Invision Story Arch) by Khorne

*cancelled*


#46: Product Testing by Endgame
#47: The Joust (Part II of the Fantome Croise Story Arch) by Capt.JohnPaul
#48: Death's Homecoming (Part II of the Progg Story Arch) by Endgame
#49: The Light That Reveals Everything (Part II of the Paladin Story Arch) by Etzel
#50: 108 Stars of Destiny (Part I of the Ji Pei Story Arch) by Sandy
#51: A Shanty for Science by CallMePie
#52: Tower of Doom (Part II of the Haroka & Sorona Story Arch) by Rumble Strike
#53: Chaos in Eubric (Part V of the Wren Story Arch) by Zepher
#54: Taking Out the Laundry by Waterbrick Down
#55: Sang des Hommes (Part III of the Fantome Croise Story Arch) by Capt.JohnPaul
#56: The Stealer of Senses by Endgame
#57: Green and Gone by Flare
#58: Brothers-in-Arms (Part II of the Bonaparte Story Arch) by Sandy
#59: Rito's Resolution by JimButcher
#60: Predator to Prey by Capt.JohnPaul
#61: Grim Grinning Ghosts by Kintobor
#62: Insider Trading by Dannylonglegs
#63: The Madness of Marc (Part III of the Guild of Invision Story Arch) by Masked Builder
#64: Discord in Duplovia by The Legonater
#65: Breaking Down the Door by Waterbrick Down
#66: WANTED! Steerpike the Poisoner (Part III of the Wolfgang Story Arch) by Sandy
#67: Nova Tertia by Capt.JohnPaul

Unlimited Quest: Fields of Glory by Sandy, CallMePie & JimButcher
SPECIAL EVENTS
Ethereal Letters by Sandy (Valentine's Day 2012)
First Anniversary Lottery by Sandy (August 2012)
Heroica RPG - A Year In Review by Zepher (August 2012)
Grogmas Gifts by Sandy (Christmas 2012)
The Henrys - Award Celebration by Waterbrick Down & Zepher (February 2013)