So continuing the theme of classic set reviews, I decided to go with another old favorite, the Rebel Roadster from 1994. This set was one of my absolute favorite as a kid, loving its slick design and how cool it look compared to the other boring cars. I was lucky enough awhile back to find a CIB one off ebay for a decent price so I can happily say I owned both as originals, straight out the box...
Number
: 6538
Name
: Rebel Roadster
Theme
: Town
Year
: 1994
Minifigs
: 1
Pieces
: 57
Price
: 4.50 USD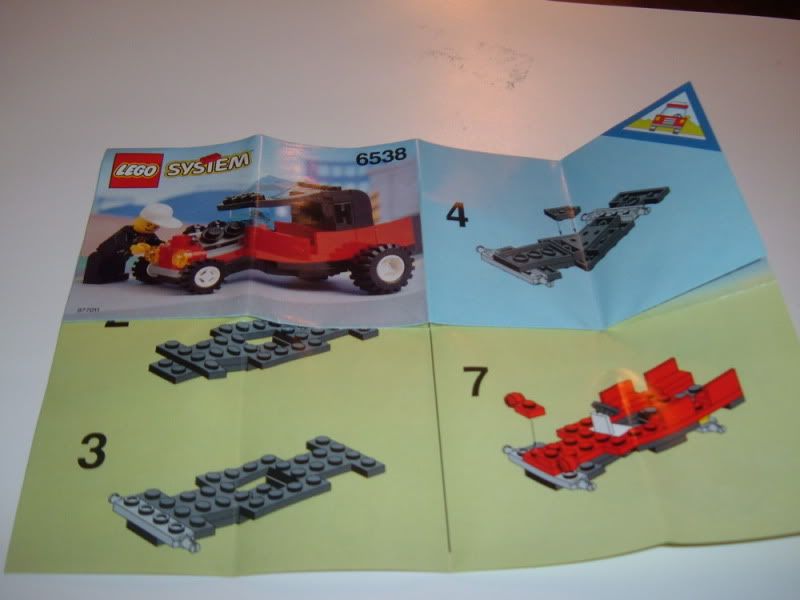 No box but here we got a shot of the booklet and a random page from it! Actually it's a single piece of paper, folded in countless ways so it's a pretty simple build. I can pretty much complete it off of memory...
And your standard photo of the pieces! Not a huge amount of variety, nothing real special really. I think the black curved piece was new to 94...maybe? Oh wait, nope! Silly me!
The minifig, with his swanky leather getup. The face was new to the 1994 model year and get used to it because you'll see it a LOT in this year and the following ones. Lego was so excited to add a new face that they just had to make sure you knew about it! Or maybe...it's the same guy...!!
And here we go with the build...nothing real complicated but then again these sets were pretty basic compared to what we have now! The red is bright but it is a bit subdued a bit later.
And we continue. Now you begin to see the makings of the roof and the windshield. Oh and I didn't show it but this bad boy does have a bit of a tilt to it...not a lowrider but it could be with a few mods...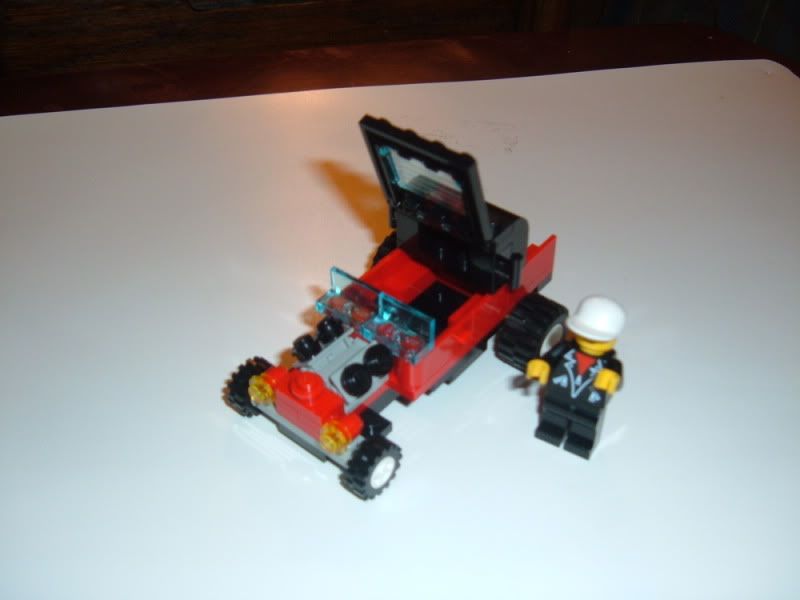 The complete model...with swag! Ummm er...here it is in it's sleek glory. It really is a pretty sweet little model. You can pop the sun roof for some added wind or just for the cool factor. I really think a darker tint would fit in better but eh.
What Lego car is complete without multiple angles?? Not much trunk but it is what it is. This is where the obligatory add a Friends' fig in would go but I don't feel like opening up that set yet and I don't think Dirk (Yes, that's his name) would care much for that much drag on the back!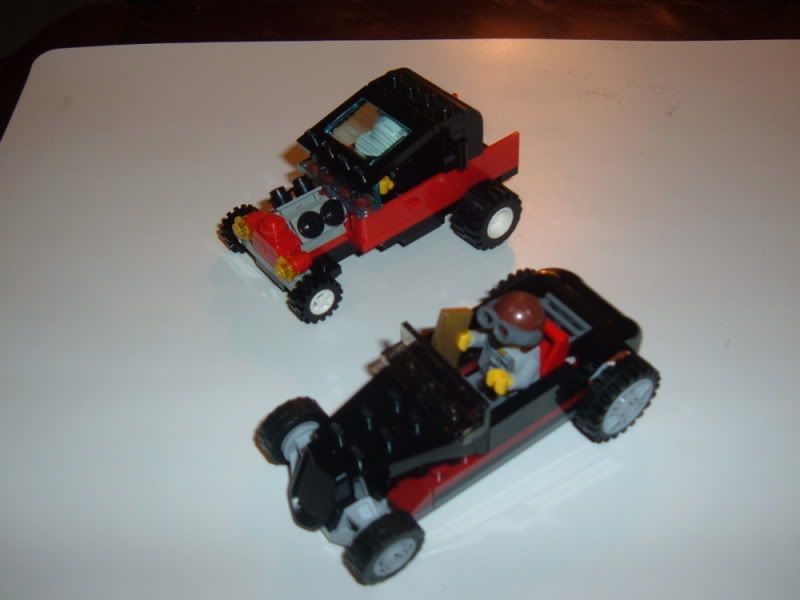 A comparison shot with the new roadster from the Robber's Hideout set I bought today. (Maybe I should do a review for it? Or maybe let someone else do it?). Both are pretty slick and with the new piece (I think) from the new roadster, It would be kinda cool to remake this bad boy. Maybe...
Remember in my past review where I lamented about the cop getting stuck chasing a SUV with an ATV? Well it looks like it's the revenge of the cops! Bunch of party poopers they are...
Design
: 10/10 This is a nice change up from the usual boring vehicle designs Lego had. I thought this was the year when they began to start to make some decent cars...or at least make an effort. I'm biased though since this model year is the one I remember fondly.
Parts
: 9/10 Not much but it's a decent selection. Lego cars back then weren't known for a huge variety of parts.
Figures
: 10/10 He's a nicely designed minifig and it fits in with the vehicle.
Build
: 9/10 Simple build but it's kind of fun. Yea...that's all I got.
Price
: 10/10 Imagine what this would cost now. Ten at least! 4.50 for this little bad boy was a steal! Good luck finding it that cheap now!
Overall
: 10/10 I think it's one of the best Lego cars designed...and it's design still holds up pretty well. Plus the price point was pretty on point and I think you have one of the best value sets around.
Edited by Rick, 05 January 2012 - 08:49 AM.
Indexed