Hello everyone.

Today I'm presenting my MOC of the
Royal Liver Building
, one of Liverpool's Three Graces by the side of the River Mersey. Anyone who is familiar with the city or has maybe visited the new LEGO shop here should know this building as it is one of the biggest and most recognisable landmarks in the city.
I was walking past it a few days ago and decided I should try making it in LEGO Digital Designer in a similar way to the models of the Architecture theme. So without further ado, here it is:
A three-quarters view of the front (road-side) of the building.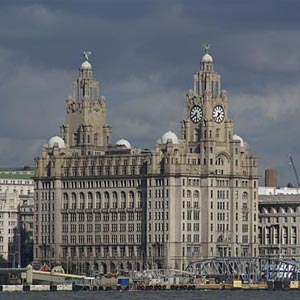 The real thing.
One of the two identical clock towers, each topped by a fictional liver bird. Various legends exist about this couple. Apparently, the female looks out to the river to guide in the ships, and the male looks into town to see when the pubs open.

Looking down on the river-side of the building.
LXF file
Comments and criticisms welcome.
Thanks for looking!
Edited by Rufus, 24 December 2011 - 07:55 PM.
Indexed