~~~~~~~~~~~~~~~~~~~~~~~~~~~~~~
INTRODUCTION
~~~~~~~~~~~~~~~~~~~~~~~~~~~~~~~~~~~~~~~~
(ST)
How Mpya Stedor is founded:
~~~~~~~~~~~~~~~~~~~~~~~~~~~~~~
SHIELD
~~~~~~~~~~~~~~~~~~~~~~~~~~~~~~~~~~~~~~~~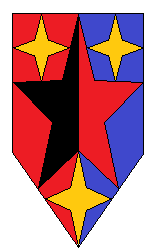 ~~~~~~~~~~~~~~~~~~~~~~~~~~~~~~
MAP
~~~~~~~~~~~~~~~~~~~~~~~~~~~~~~~~~~~~~~~~
With his large amount of gold, Lord Damaximus started the construction of Mpya Stedor, a trade port named after one of the 4 Legendary Cities of his homeland.
Because of his good relationships with leaders of many different exotic countries, Mpya Stedor will become one of the largest ports in Historica.
--> Inner City
In here you see:
- Gate, Wall and Tower
*
Great Gatehouse
*
Wall
*
Tower
- Bridge and Tower
- Embassy square with Gatehouse and Tower
*
Mitgardia Embassy
- University (in the Mtn)
- Palace
*
Palace
- Market and Noblemenhousing
--> Great City of Mpya Stedor
- Inner City
- Outer City
. * Walls
. * Housing
. * Tribune (the red|darkblue coloured part)
- Army-Quarter (the citypart on the Right) with docks, stables, shooting range, barracks, ...
~~~~~~~~~~~~~~~~~~~~~~~~~~~~~~
LAWS
~~~~~~~~~~~~~~~~~~~~~~~~~~~~~~~~~~~~~~~~
And because every city needs laws to maintain order, this are the laws of mpya stedor:
X -------------------------------------------------------------------------------------------------------------- X
LAWS OF MPYA STEDOR
1. Only the Knights Of Mpya Stedor, the City Guards and persons who have the permission may wear a weapon inside the Inner City Walls. Breaking this rule will result in PUBLIC EXCECUTION! There is absolute no need to wear a weapon in the innercity. Persons who think they need a bodyguard can always use one of the Knights of Mpya Stedor!
2. Official Traders may have only 2 guards of their own. To defend themself, they got the permission to be equipped with a small sword or a dagger. Adding an extra guard will been seen as provocation and will result in diplomatic trouble, bannishment and replacement.
3. Not-Official Traders may have NO guards with them in the city walls. Also they may only trade with inhabitants of Mpya Stedor and the Official Trader of their Guild or Faction. If they are caught trading with a trader of another Guild or Faction, it will result in a fine of 1000 gold coins.
This is to prevent diplomatic trouble between 2 Guilds or Factions due some some dangerous traders (NOT's).
4. Trading with inhabitants of Mpya Stedor is only allowed at the market. Everybody may trade with them (townsmen, NOT's and OT's). Trading outside those areas will be considered illegal and if caught, see rule #3
5. In Mpya Stedor Innercity Bay are only rowboats allowed. Tradingvessels will be parked outside the small bay in the Great Mpya Stedor Bay. As this bay is defended by our navy, those tradingvessels are safe here. Breaking this rule will result in nothing as it is impossible for vessels to enter the undeep waters of the small bay.
6. Tradingvessels will have to make a list of the amount of soldiers who are on the ship. Those soldiers are not allowed to disembark (except 2 of them, see rule #2). When there are more quards discovered by the control, the vessel will have not the right to enter the greater bay of Ghuba-ya Biashara.
7. Robbery of othermans property (or property of Mpya Stedor) will result in slavery for a period linear to the value of the robbed items.
8. Fights are only allowed in Inn's or outside the citywalls. When a discussion is happening, ask the cityguards to be the diplomat. Fighting at public places will result in 5 months slavery.
9. Insulting the Guild of Kaliphlin or one of it's vassals will result in slavery for 6 months.
10. Rebellion, or planning of rebellion will result in 120 months slavery and lifelong slavery for the leader.
11. Visiting military places without permission will result in 24 months slavery.
12. Traders, residents, travellers, ... from another Guild are protected by the City of Mpya Stedor. Every kind of assissantion attempt on them will be considered as an attempt against a citizen of Mpya Stedor and will result in PUBLIC EXCECUTION!
Signed, Lord Damaximus, Lord of Mpya Stedor, Vassal of Kaliphlin.
Note: new rules can be added without warning so check always this official paper
latest addition:
- January 2: rules 3, 4, 5 and 11 edited
- January 11: rules 1, 2, 9 and 11 edited
- May 25: rule 12 added
- April 13: Edition
X -------------------------------------------------------------------------------------------------------------- X
~~~~~~~~~~~~~~~~~~~~~~~~~~~~~~
The Stories of Mpya Stedor
~~~~~~~~~~~~~~~~~~~~~~~~~~~~~~~~~~~~~~~~
The rise of Mpya Stedor (all working links):
1 -
Mpya Stedor introduction + Maps & Laws
2 -
Arriving at the bay of Mpya Stedor
3 -
Designing of Mpya Stedor
4 -
The visit of the werewolves
5 -
The Kaliphlin Embassy in Claw Breakers Area (Nocturnus)
6 -
The Laws of Mpya Stedor
7 -
A Day at The Market
8 -
Letter to Mattiximus, king of Ximus
(note: Mattiximus lost the letter, so no one know anymore what was in it)
9 -
The Stoneroda Connection
10 -
The Mpya Stedor Archery Tournament intro
11 -
There Is No Place Like Home
12 -
The Archery Tournament continues
13 - The Search for The Mystic Crystal (note: this story is never published as it contains secret information about the I.A.M.S., which is founded in this story)
14 -
The New Law
15 -
The Assassination Attempt
16 -
Painting The Army
(before the reinforcements)
17 -
The Turbulent Weeks
...
~~~~~~~~~~~~~~~~~~~~~~~~~~~~~~
The Storytellers
~~~~~~~~~~~~~~~~~~~~~~~~~~~~~~~~~~~~~~~~
(LD) - Lord Damaximus => when answering posts of other Historica figures
[ST) - The Storyteller => when telling the stories of Kaliphlin, Mpya Stedor, Ximus and Lord Damaximus. Lord Damaximus is his ancestor, but ST was born hundreds years after Lord Damaximus died.
[PD) - The (Picture) Director => He lives nowadays and is making legoscenes of the stories, based on the tales of the Storyteller. He will answer the posts about Lego/Bricklink/... .
~~~~~~~~~~~~~~~~~~~~~~~~~~~~~~
BOW FOR ALMIGHTY
KALIPHLIN !
~~~~~~~~~~~~~~~~~~~~~~~~~~~~~~~~~~~~~~~~
Edited by Damaximus, 13 April 2013 - 08:36 AM.