Figure I would do like I did with Flare again and just make the model now, get some pictures, then return the parts to the proper sets and get the real parts for this another time.
Story wise, Rocket is one of the newer members of the legendary Hazard Unit. He wasn't even in the Legotron Army during the days when Stormer first led the unit when it was created in 2365. He study the events of the Galactic War, the war that made the unit famous when he joined the Legotron Army Academy in 2391. During that time he was trained by retired Hazard Unit member Nex in the arts of hand to hand combat. He became a specialist fighting with twin jointed swords and has battle skills with them perfected that he can deflect laser fire with them. He would often talk with Stormer about his days in the Great War (1720-1970) to how his old Terrorcon enemies were like during the Galactic War (2325-2367).
In 2395 he graduated from the Legotron Army Academy and was shocked when active Hazard Unit commander Evac asked him if he wanted to join his unit. Since that point he has been a member of the unit as of the early 2400's.
Personality wise, he's more of the less talking and more hitting types when there is trouble going on. When he is on no missions, he more talkative and has several friends. Such as his teammates and the retire Stormer, Bulk, and Stringer. Along with Gamma Unit commander Vapour.
Stormer, Rocket, and Evac:
Comannder Evac and Rocket gets ready for battle: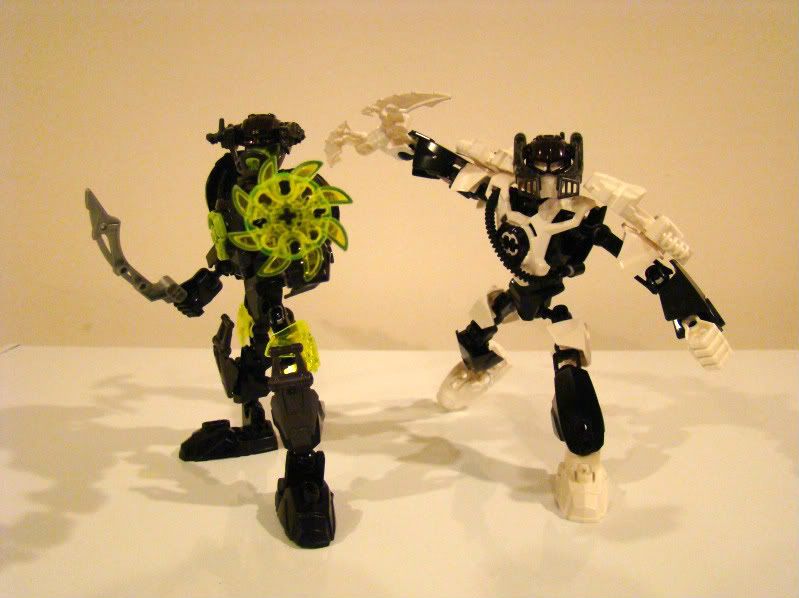 Notes:
The white and black color scheme is a personal MOC homage. Back in my older brick Lego transformer days, I had a character named Orbit and that transformed into an shuttle.
Also the name Rocket is also a nod, one of my early Throwbot transformers back in 2000 was named Rocket but was never added in my stories. So the name finally sees action though a different character.
The sword idea comes from Star Trek and Star Wars, I kind of like the idea for double jointed swords.
As for the Bionicle era parts on it, I had to cut rods to make connect them to the HF armor parts.