Heroica RPG - Quest#19: Let's Start a Riot
The heroes of Quest 19 traveled by ship to a small port near Newharbour and then were guided by a shady guide who claimed to have been hired by Felton. He took them to a mountain range on the outskirts of the Mountains of Titans, and told them that the village of Haddon that Felton had hired them to help with was in a large valley just over the mountains. The heroes set out over the mountains. The way was treacherous and the heroes almost lost their ways multiple times, but eventually, after two days of travel, they emerged to see the village, at the base of the mountains. Snow peppered the roofs of houses and the grass was sparse. The heroes thought it looked beautiful.
Skrall (played by WaterBrickDown)
Level 10 Ranger (Party Leader)
Power: 19 (+4 Against Beasts)
Health: 15/15
Gold: 3
Inventory: (CAN YOU WRITE IT OUT, I'M TOO LAZY TO REWRITE EVERYTHING, AND YOU HAVE IT ON THE ANNOYING POP-UP, sorry, love ya)


Tesni Hightribe (played by Peppermint_M)
Level 15 Berserker (Back-Up Party Leader)
Power: 23
Health: 31/31
Gold: 480
Inventory: Cysgodion the Great Sword of Darkness (WP: 8, Darkness), Cryfder (WP:6), Training Spear (WP: 2), Training Morning Star (WP: 2), Mercutio's Dagger of Mugging (WP:5, Mug Ability +5), Phoenix Essence, 3 Potions, Mead, 3 Venom


Haldor Skovgaard (played by Scorpiox)
Level 11 1/2 Cleric
Power: 22 (21+1)
Health: 19/19
Ether: 13/18 (14+3)
Gold: 70
Inventory: Heavy Metal Rod (WP:10), Lesser Ethereal Cloak (SP:1, +3 Ether), Paper Doll (Hexed immunity), Frying Pan (WP:1+1 health, unequipped), Spike Coller (+1 power), Shovel, Pickaxe, Potion, Remedy, Venom and a fur-lined bedroll


Hoke Ablesword (played by UsernameMDM)
Level 6 Knight
Power: 14
Health: 15/15
Gold: 156
Inventory: Vintul, the Greatsword of Wind (Great sword: WP 8, wind), Kriegsmesser (Long Sword: WP 3), Steel Buckler (Shield: SP 2), Cultist Hat, Emerald, Potion x2, Venom, Bedroll, Pickaxe, Shovel, Magnifying Glass


Jess Islanti (played by Cralegoboy)
Level 12 1/2 Rogue
Power: 21 + 1
Health: 18/18
Gold: 61
Inventory: Blohdhurm (WP: 8)(Fire elemental), 2 Venoms, Potion, Mead, Fire Bomb, Smelling Salts, 2 Remedies.


Dyric Rone (played by Legonator)
Level 6 Rogue
Power: 11
Health: 12/12
Gold: 283
Inventory: Double Chain Whip (WP: 5), Throwing Knife (WP: 3), Longsword (WP: 3), Venom, Smelling Salts, Pre-Rolled Loaded Die, Holy Bomb

The heroes turn upon hearing something in the bush, and are greeted by the face of Felton. He walks calmly ovver to Jess and gives her a hug.
"Good to see you again," he says. He then shakes the other's hands. He stops at Haldor. "Jess has told me a lot about you." He indicates that he should be followed, and the brings them to a small camp. Hans sits by a fire, but rises upon hearing the Heroes approaching. He also shakes all their hands and mumbles greetings.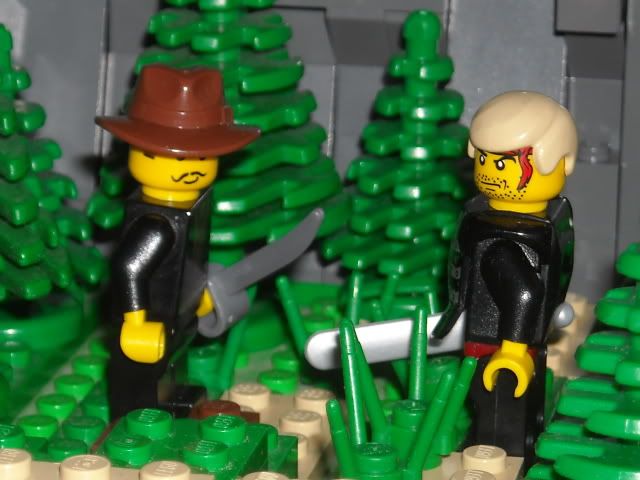 "It's great to see you again Jess, others. I think it's important that you know how we came to this. After we left the Arena, Mr. Cleric, Phil, Hans, and myself all awoke where we had been taken from - me slightly outside my village, Hans on a plain near-by, as it turns out, Mr. Cleric outside his home near Ennoc, and Phil near Newharbour. We all met up, and vowed that we would track down and defeat Lady Wren while she was still on large. Sadly, Phil had obligations in his home land and sailed off, and Mr. Cleric had a family to look after, but they promised they'd keep an eye out for Wren in their areas of the world, while Hans and I did the same in our world. I had a Mage in my village devise a system for us to communicate, and I hired someone on Eubric to post Quests if we ever needed Heroica's help again."
"Hans and I stumbled upon this chance thanks to one of my contacts in Newharbour. They said that Wren had been sighted up north, and we gathered information until we were sure of what was happening here, and then we tried to cross the mountains. We were seperated for a night or two and lost our way as a snow storm hit, but eventually we reconvened."
"
Wren
has seized control of the town and the guard, who were already corrupt and suppressing the people. She has convinced them to make
Chaos Factories
, which literally produce Chaos. We believe that she is attempting to rise an army of
Chaos Monsters
, the beast that Cronk, Hans, Mr. Cleric and myself encountered on our way out of the Arena. There are
three of these factories, and it is important that we destroy them all
."
"Luckily, we won't have to do this on our own. Hans has been in contact with four rebel leaders, all of whom wanted to bring down the government of this town even before Wren allied herself with them. He has been in contact with them while I've scooped out the town. The rebels wish to make a move in about a week, but want to first make sure that you are all honestly on our side.
You will have to go meet with the various leaders on different days
."
"You ain't gonna like the leaders. They may be on our side, but they sure as hell are megablockers, each and every one of them. I wouldn't trust them as far as I could throw them. I'd expect them more to be the corrupt government rather than trying to over-turn them, but hey, I guess people surprise you."
"You have seven days. You may use them whatever way you like. Three days will be spent with me destroying factories, three days will be spent with Hans meeting the Rebel Leaders, and one day you may venture into the town to explore. You may choose the order which you do these events.
Each day decide to either visit a rebel leader, destroy a factory, or go to town
. Any questions for us?"
Suddenly, a ghostly female voice whispers in the Hero's ears. The voice is bubbly and sweet and seems on the verge of laughter. Only Jess recognized it, and it sent shivers down her spine.

"Oh, heroes of Heroica! You came! How lovely! How is Scheherazade? This is going to be a treat, trust me! We're going to have a lot of fun. Just call me if you need help." The heroes looked around, but no one other than Hans, Felton and themselves were in sight.
<Please make sure that all these stats are right. Also, if you did not have a chance to go to the Marketplace before realizing you were on a Quest, you may visit it if you do so before posting in this thread.>