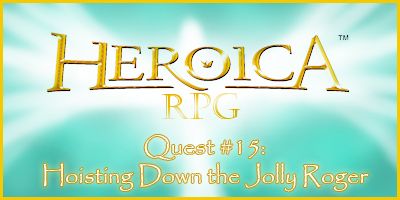 Six heroes were summoned to Fort Bonaparte, the small island fortress owned by the guardians of the Crystalline Sea. The waters around Eubric had become perilous, and the skills of the champions of Heroica were needed to make them safe again.
Ad-Hoh (played by ADHO15)
Level 10½ Mage *resistant to magic*
Power: 15
Health: 14/14
Ether: 14/14
Gold: 15
Inventory: Rhabdomance Staff (WP:5), Robe of Spell Resistance, Emerald (Wood), Amethyst (Darkness), Ruby (Fire) 4 Potions, 3 Tonics, 2 Lightning Bombs, Bedroll, Shovel

Sir Christopher Daggerfall (Fred Fred Burger)
Level 9 Knight
Power: 17
Defence: 4
Health: 18/18
Gold: 22
Inventory: Great Sword (WP:7), Mockthril Shield (WP:4), 3 Potions, Grand Potion, Remedy, Mead, Smoke Bomb, Fire Bomb, Holy Bomb, Bedroll, Shovel, Pickaxe, Bone


Erdathcath Madilinas (played by The_Customizer)
Level 9 Ranger
Power: 14
Health: 15/15
Gold: 100
Inventory: Longbow (WP:5), Helmet (+1 max. health), Snake Eye Charm (protects from petrify), Potion, Grand Potion, Phoenix Essence, 2 Smoke Bombs, Fire Bomb, 2 Ice Bombs, Lightning Bomb, Water Bomb, Holy Bomb, Bedroll, Shovel, Pickaxe, Telescope

Eric (played by Khorne) *Party Leader*
Level 12½ Barbarian
Power: 20
Health: 20/20
Gold: 27
Inventory: Godricsleif (WP:8, ice-elemental), Potion, Mead, Venom, Bedroll, Bone

Hybros (played by JimButcher)
Level 10 Rogue
Power: 20
Health: 17/17
Gold: 81
Inventory: Zoot's Reaper (WP:10), Shuriken of Mercutio (WP:5), Throwing Knife (WP:5), 3 Potions, Grand Potion, 2 Remedies, Smoke Bomb, 3 Nostrums, 3 Meads, 3 Smelling Salts, Shovel, Bone, Bedroll

Maurice Ratibor (played by Etzel)
Level 9 Cleric
Power: 13
Health: 18/18
Ether: 13/13
Gold: 25
Inventory: Diamond Mace (WP:4, light-elemental), Helmet (+1 max. health), Helmet (+1 max. health, unequipped), Scroll of Sleep, 2 Potions, 2 Tonics, 2 Nostrum, Phoenix Essence, Venom
Since it was located on an island in front of the Eubric harbour, the party had to take a boat to reach Fort Bonaparte. The imposing white walls rose from the sea, and the heraldic colours of the naval family fluttered in the flags above the construction.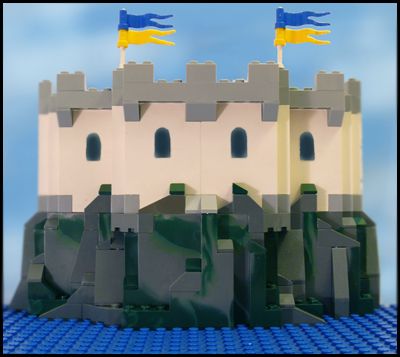 The ferry took them to a pier that was located outside the walls. A steep climb of stairs lead them to the gates of the fortress, where they presented their business. A guard clad in blue-and-white took them to the offices of the admiral himself.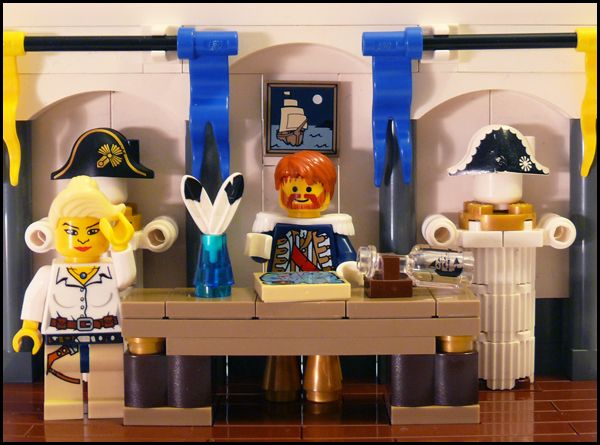 Nemo Bonaparte stared at the party sternly from behind his desk. Spread in front of him was the map of the Crystalline Sea. He was accompanied by a fair-haired lady who had a cheeky grin on her face.
"Good, you have arrived. I have come to trust your organization through my wife Hestia here. She always speaks fondly of her adventures in Heroica."
The admiral looked fondly at her wife.
"Come on now, sweetie, back to business",
Hestia reminded her husband.
"We've got a pirate to catch, remember?"
"Ah yes... Pirates are like rats - even if you catch one, there will always be more, nibbling away your possessions. This latest rat calls himself
Jolly Roger
, but make no mistake that there is nothing 'jolly' about him. He has thus far raided and sunken at least seven mercantile vessels outside the Free Islands - two of the Hinckwells and one of the Shadeaux among them. Needless to say, our family's status as the guardians of the Crystalline Sea is at stake here. Our reconnaisance have discovered that Jolly Roger has made his den into an abandoned
slave hold
in an island off the coast of Ennon. It is a formidable fortress, carved inside a large hill and enhanced by devilish weapons that the pirates have acquired from who knows where. We cannot conquer their base in direct combat, but we can sneak our way in and defeat them from the inside. And when I say 'we', I of course mean the six of you."
Hestia giggled.
"That's my husband for you, always leaving his dirty work to others."
"On the contrary, my dear. My ships will create a diversion for the pirates, so that you can sail one ship around the island and make a landing in the dead of the night. You will no doubt face resistance inside the base, but with most of the pirates occupied with the battle against my fleet, you should be able to locate Jolly Roger and bring a swift end to his piracy."
"Aren't you forgetting something, sweetie?"
Hestia asked.
"Yes, of course! I have a secondary task for you. See, when Jolly Roger first started attacking the ships, my twin brother Reno decided to play a hero and sailed his ship to the pirate base. We have not heard of him since, and I fear that the pirates have made sharkfood out of him, but just in case they happen to hold him hostage on the island, you should look for Reno when you get into the base. Of course I will
add some extra gold to your reward
if you bring my brother back to me alive."
"With the big mouth Reno has, though, I fear for the worst",
Hestia sighed.
"Now, my fleet of eleven ships is waiting for you in our private harbour. You will personally sail
The Sunflower
, the swiftest vessel we own. I am sure you will find her captain to be quite a handful, though. Haha! So,
any more questions
before you depart?"