Four heroes returned the plead of the Ziegfrieds to gather ingredients for a cure for their comatose matriarch. Those four were:
Bartholomew Docken (played by Brickdoctor)
Level 13 Ranger *scary*
Power: 18
Health: 19/19
Gold: 289
Inventory: Mockthril Longbow (WP:5), Dread Hat (lower level enemies won't attack directly), Potion, Phoenix Essence, Mead, Smoke Bomb, Bedroll

Cinna the Dark (played by darkdragon) *Party Leader*
Level 10½ Mage
Power: 15
Health: 14/14
Ether: 14/14
Gold: 0
Inventory: Nimbus Broomstick (WP:5, ranged), Pongcanis Mage Staff (WP:5), Shadeaux Staff (WP:4), Quarterstaff (WP:3), Amethyst (Darkness), Scroll of Sleep, 6 Grand Potions, Tonic, Phoenix Essence, 2 Smelling Salts, Bedroll, Shovel

Thormanil Nihai (played by swils)
Level 10½ Barbarian
Power: 17
Health: 17/17
Gold: 25
Inventory: Thundering Shadeaux Axes (WP:6, lightning-elemental), Tongue on a Stick (WP:1, Miss>Aim), Dull Greataxe (WP:3), Potion, Pickaxe


Thothwick (played by Professor Flitwick)
Level 3 Rogue
Power: 9
Health: 9/9
Gold: 72
Inventory: Whip Chain (WP:6), Shuriken (WP:5, ranged), Potion, Venom, Fire Bomb, Bedroll
They arrived to the Ziegfried Manor, where the peculiar butler of the house was waiting for them.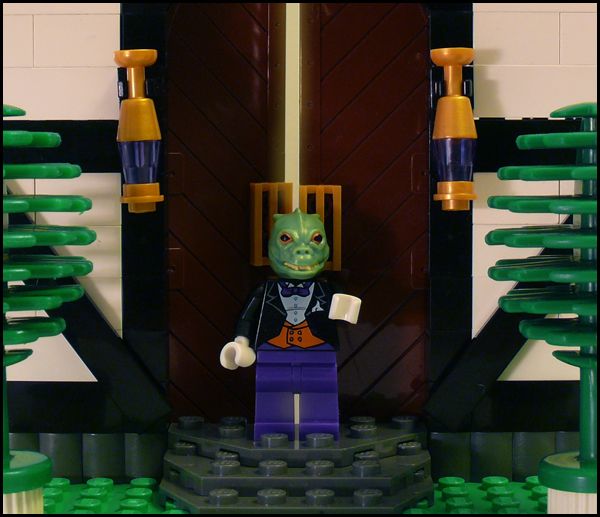 "Ssshhheeelooo, ssshhheeerrrooossshhh. Pleeessshhh eennntrrr. Ssshhhooossstrrr ssshhhooo whhheee."
How will the party respond?