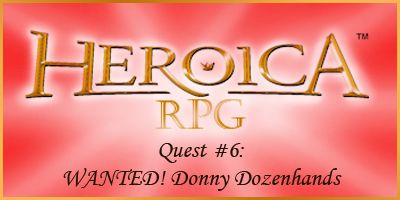 Three aspiring heroes left the Heroica Hall and made their way to the Town Watch barracks to begin the quest they were chosen into. Those three were:
En Sabah Nur (played by Jebediahs)
Level 1 Mage (Party Leader)
Power: 4
Health: 5/5
Ether: 5/5
Gold: 5
Inventory: Sangriste Dagger (WP: 3), Garnet (Earth), Potion, Bedroll

Haldor Skovgaard (played by Scorpiox)
Level 1 Cleric
Power: 4
Health: 9/9
Ether: 5/5
Gold: 5
Inventory: Gauricheim (Mace, WP: 3), Potion, Remedy, Bedroll

Skrall (played by Waterbrick Down)
Level 1 Ranger
Power: 4
Health: 6/6
Gold: 0
Inventory: Boar Bone Longbow (WP: 3), Potion, Smoke Bomb, Ice Bomb
The trio has been assigned to catch a notorious picpocket called Donny Dozenhands. The thief-catchers arrive to the entrance of the barracks, where two scruffy-looking guards stop them.
"Meh, whataya want?"
one of the guards asks. The Town Watch certainly isn't know for being polite and honourable.
What will the party answer?