Please excuse any mistakes and the photography as this is my first review and I know everyone wants to know what this set is all about. Sorry if I've infringed on any rules
For a video review if this thing on youtube please click here:
Lego Super Star Destroyer Review
Super Star Destroyer
Item : 10221
Ages: 16+
Pieces: 3152
Price: £350/$400 + shipping exclusive to Lego.com or Lego stores.
Hello, the Super Star Destroyer everyone has been waiting for has finally arrived and at £350/$400 for only 3152 pieces the final product better be worth it's hefty price tag.
I've been waiting for this model ever since I saw it preview on the Lego website and on the 26th I ordered it. This took me countless hours to build. Let's starts
Here is the box everyone has seen already so we will get it over and done with. They are big on showing the minifigs and boasting the length of this thing.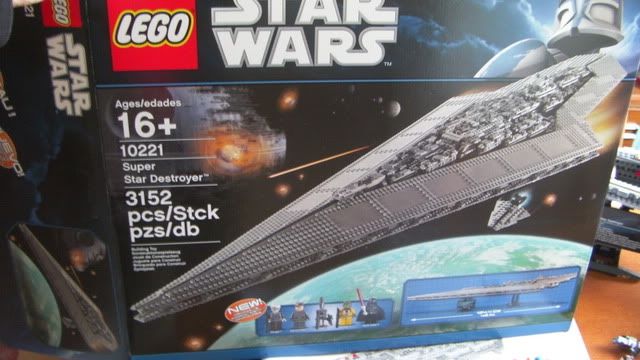 And they show the opening 'bridge' section on the top of the box.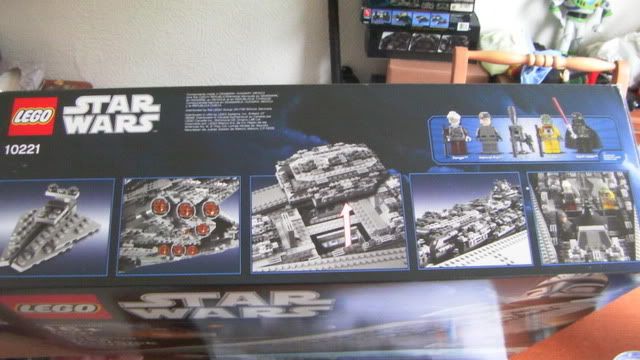 Anyway enough about the box let's build this thing. What you see before you is all that comes in subsidiary box number 1 (like many of the UCS sets there are boxes inside boxes). Initially it is very daunting especially because this is the biggest set I have ever built (and own)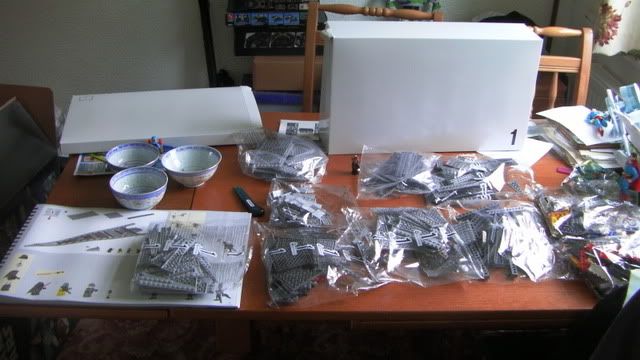 Let's go through the minfigs first. They all come in box number one and bag number one (each box contains two or three numbered sets of bags) so you can get them right of the bat.
Not much to say. It's excellent that you get figures in this set I didn't expect them at all. It's certainly not scaled. But one crappy exclusive and two rehashes? I guess they didn't want to annoy the minfig collectors who don't like UCS. Means you don't have to shell out loads for the elusive 4-lom figure everyone wants. We just get a bunch of old bounty hunters.
Here is the exclusive. Piett is nice and remarkably different to Grand Moff Tarkin from the 'other' Star Destroyer I have which was my one fear is that they'd just look the same.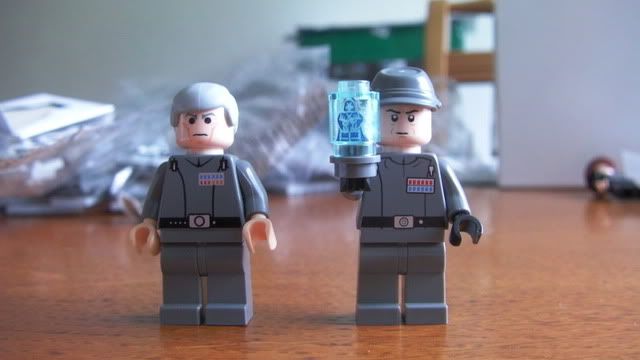 IG-88 is a improvement. And now we can't make him from painted spares. He had a specially printed face. He also has two guns which is awesome. Doesn't IG-88 have a gun are too? He really is packing.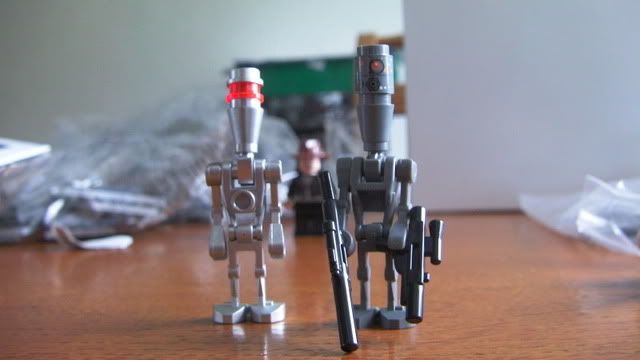 New Darth Vader... or at least new to me. He first came with the Tie Advanced but I never got that set I preferred the older one. Who is that in the background?
And without the mask. The new face is better than the old.
Yup, Bossk is idendicatal to the Slave 1 version way to go Lego.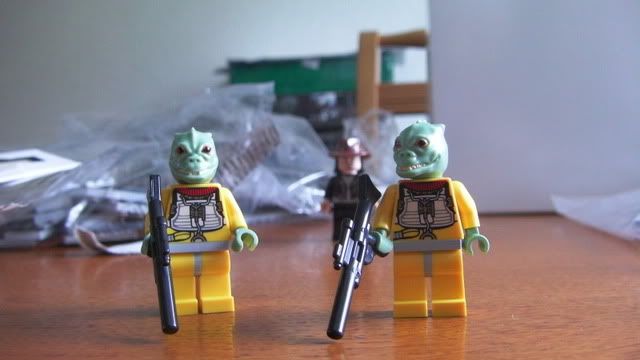 And the one you've all been waiting for New Dengar. Much better than old. No longer has the smiley face under the Ninjago mask. I love the body printing too. That's all the minifigs but I can't help feeling someone is missing. Anyone?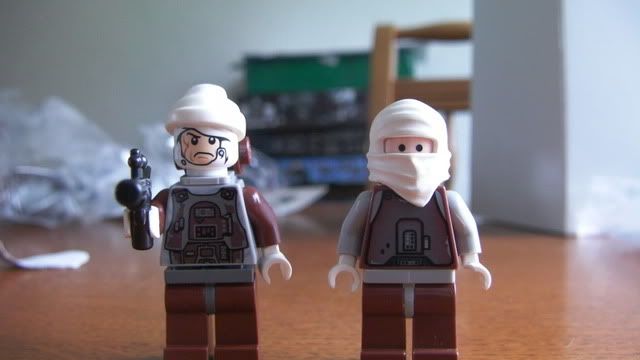 Hey it's me! In Lego form. And an invited guest.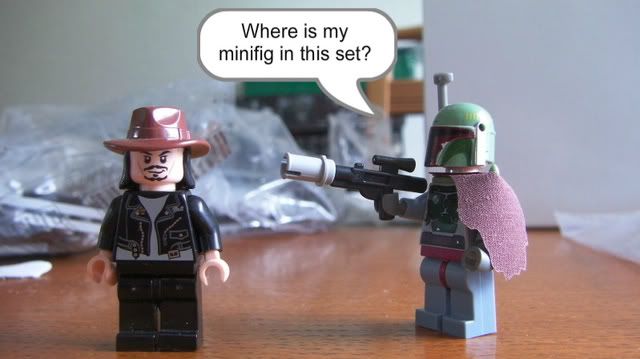 Yeah, wouldn't this set be so much better with the best bounty hunter in the galaxy in it?
So that's the minifigs. Overall I wasn't expecting a single one in this set so 10/10 wise move Lego giving some figures that only the hardcore fans would want because realistically, a 8 year old won't ever get his hands on this set and why deny him of a brand new figure?
Get your QC together Lego I'm missing one bit! And it's the first few bags. I suppose that's an email to Lego. (and yes I put every bag into separate bowls before I started the build so there would be no fear of missing bits)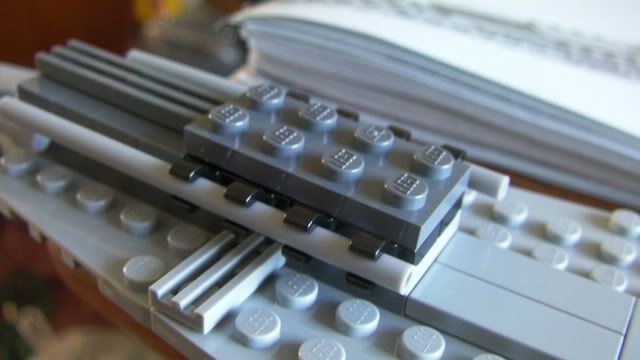 This is what I have after building all of bags labeled one. As Han Solo once said 'It may not look like much but... she isn't built yet so stop complaining Luke.'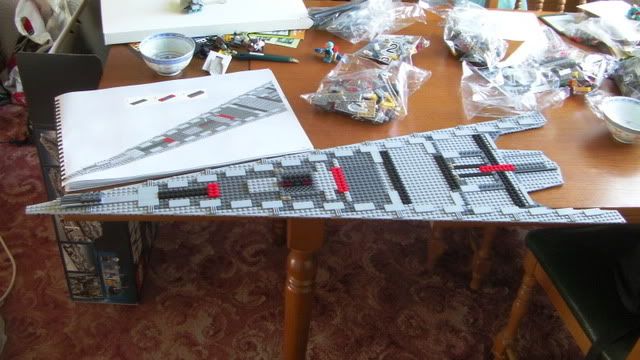 Onto bags labeled 2.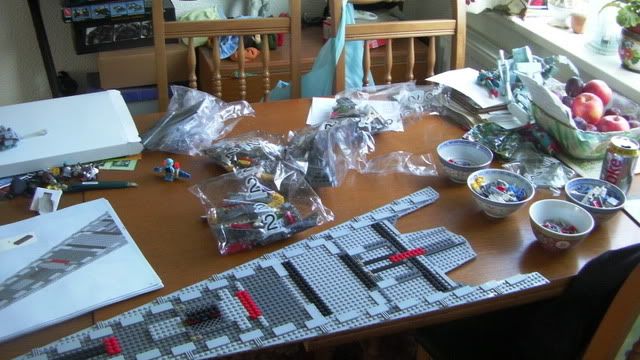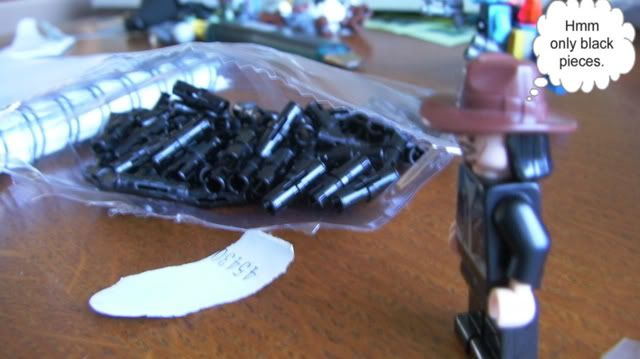 Yes, a random grey piece. It's part of my spares so I guess it was an accident but who knows?
After bags labeled 2 it's starting to take shape. And get very long.
Onto bags labeled three and four.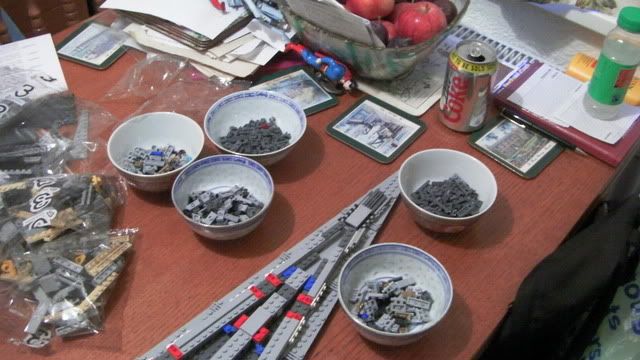 I had to admit it was fun putting the massive amount of details onto the bridge and deck on the ship. So many tiny bits. Although it has the problem of a lot of Lego sets, really you are making two or three detailed little bits and they just tell you to make up to 12 of them yes. 12!
And the two stands are identical. They are really nicely detailed and show little to no studs, making them not look like Lego.
Here is the section that covered the 'bridge'. You make it separately and like the details on the top of the ship it is so fun, so detailed and so intricate to make! A+ to Lego for that.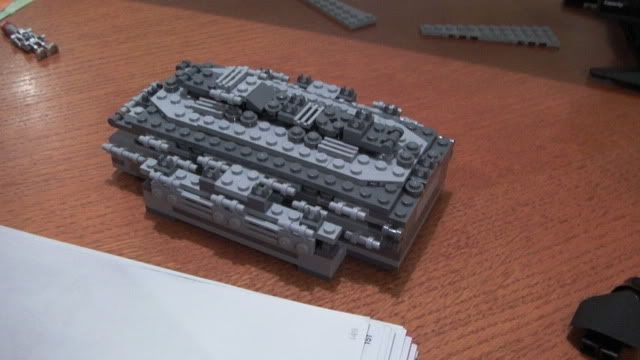 Here is a close up of the bridge section with figures. A lot of stickers. If you hate stickers you will hate this part. I don't mind them but I prefer printed bricks like anyone sane. My major gripe with this is that anyone standing on the top deck (where Vader and bounty hunters are) will have to be removed if you want the lid on. They stand too tall to replace the lid when you have minifigers inside.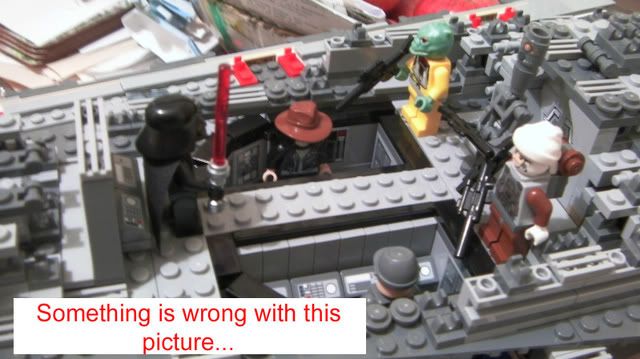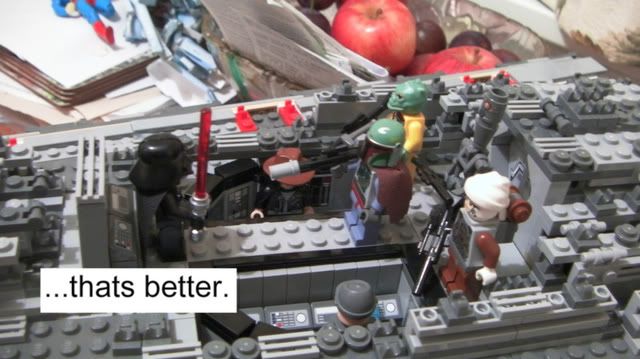 With the stand applied the ship is now much more easily to maneuver as this thing feels like 8lbs they weren't joking.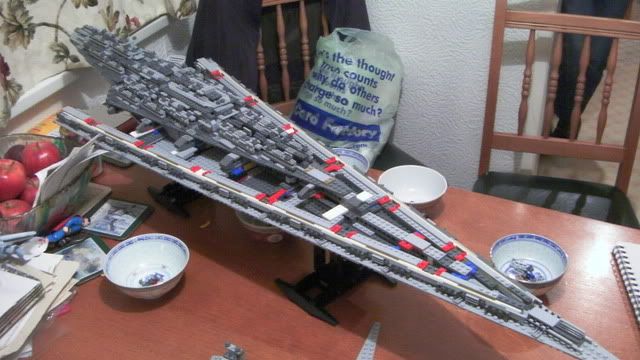 This is the point at which the day ended and I went to bed. Talk about a massive build there is no way you could do this in one sitting!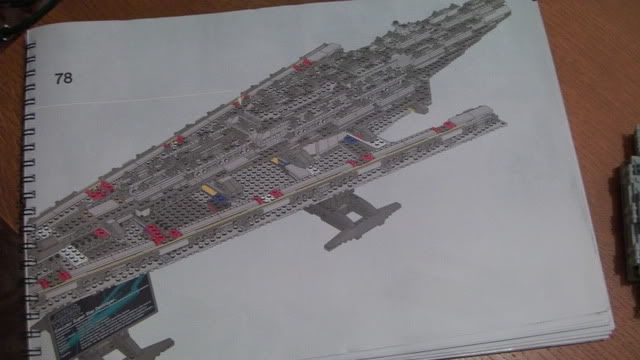 Onto box 3. We are almost there. And the bags labeled 5!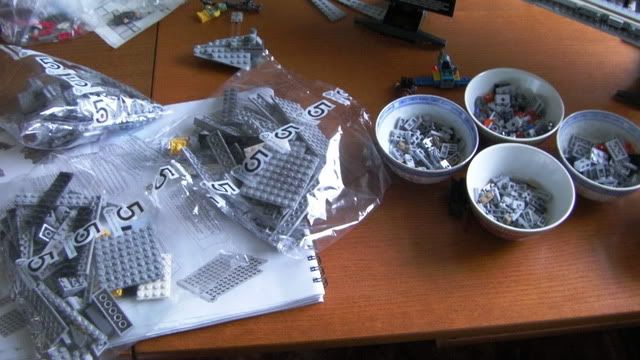 These pieces build the engines. Very distinctive and different to any other Star Destroyer I've seen it's why I love the SSD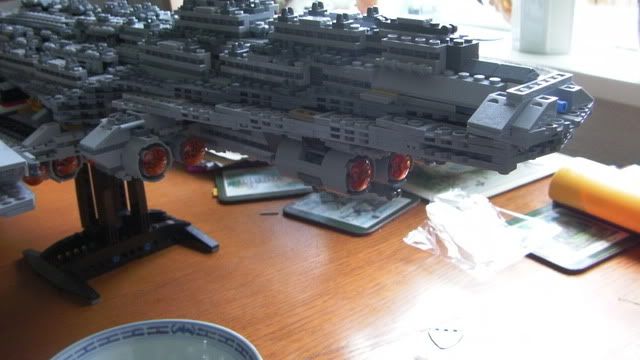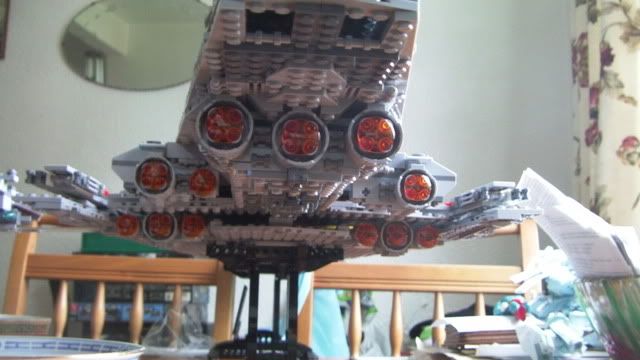 Onto bags labeled six we are almost there. These build the left hand side of the ship. I found it a very difficult build due to the length of the pieces. There is no simple way to handle a piece that long when constructing it and it will and did break many times during the process.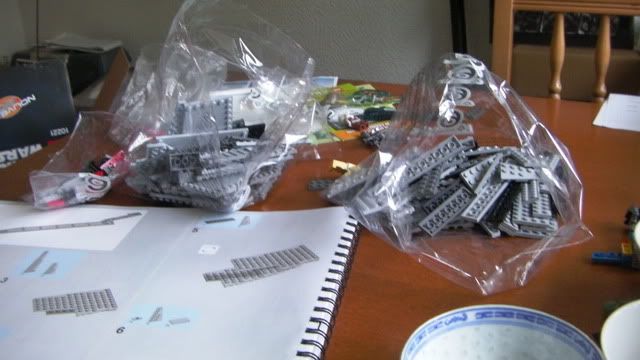 And after a quick build there it is complete. Finished this set is rather unimpressive I expected much more...
Oh I see what's wrong. There is another two sets of bags.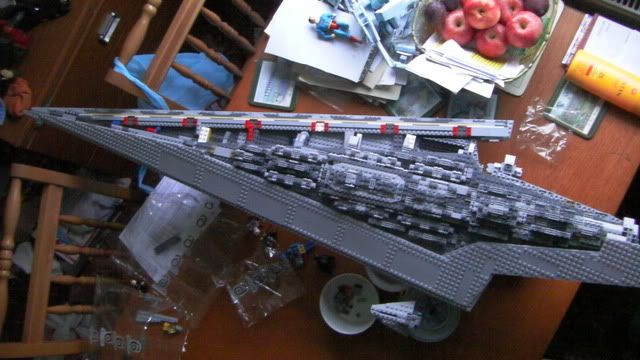 Symmetry is a thing of beauty however not very fun to build. Basically I was building the same thing again only mirrored. A whole set of bags devoted to a build I already done. But wait? What is that blue thing?
Yes they get you to stick it all together in the end. All the panels are connected and everything and for a UCS this feels sturdy!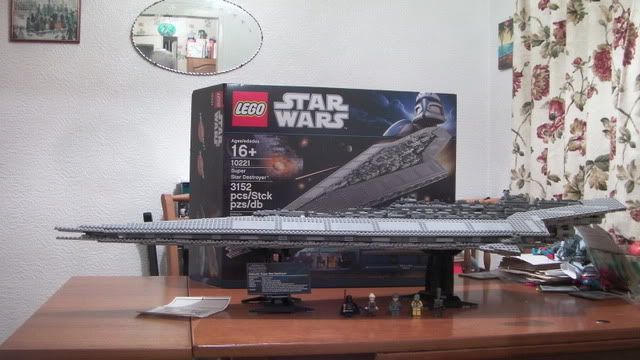 Just wow this thing is massive.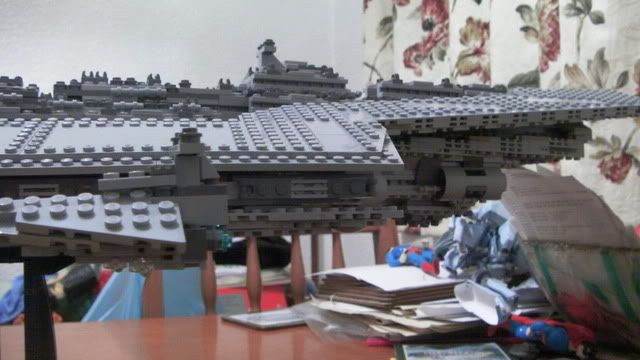 My thoughts when this thing is finally together. Some good, some bad but most amazing.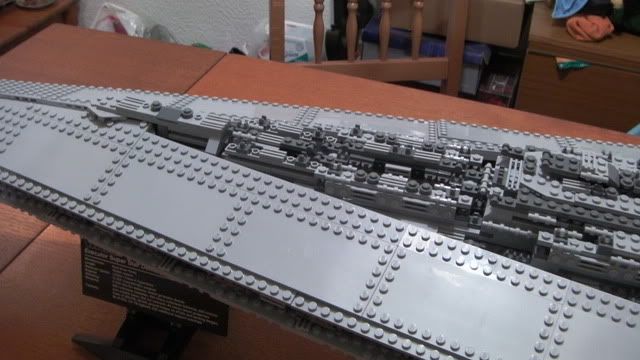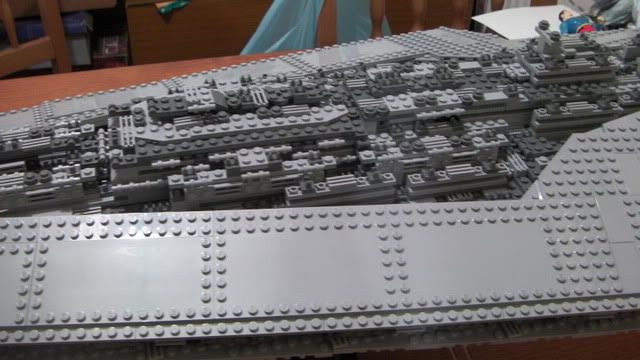 The mini city they were advertising really does look like a mini city! It's stunning. It's the best part of the set and a fun build. I love the UCS ISD but it has nothing compared to the complexity and diversity of the top of this one.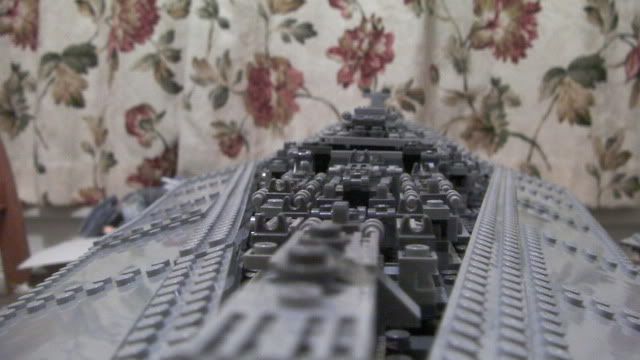 Having said that I still prefer the overall look of the original ISD and I know I will never have it. But is still doesn't mean this SSD can't hold it's own. Yes it's still a big triangle in space but ' She may not look like much but she's got it where it counts'
But now it had come to the bad. I cannot ignore it. The metaphorical elephant in the room - the bottom.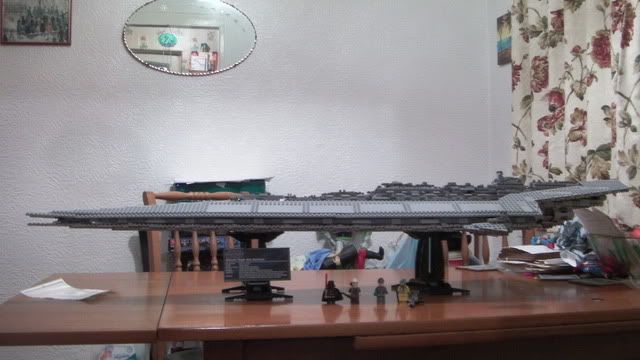 Yes, it's really flat. Almost unfinished in it's looks. Maybe the bottom of the ship isn't susposed to the focus (like the smaller ISD) but then why go to all that trouble making such detailed engines. Lego messed up. And I wouldn't be surprised if it is a deal breaker for some people. I've gotten used to it. The top is so well done the bottom would have to so ugly I'd stop building half way through.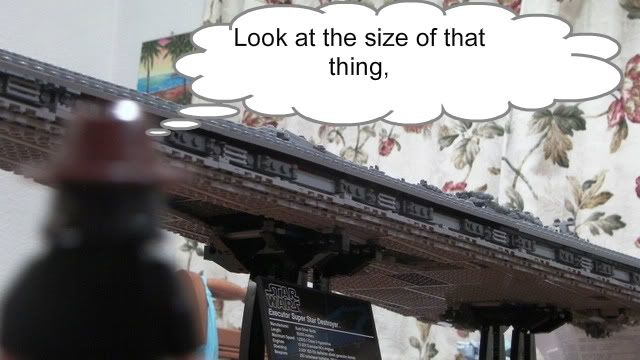 Minifig me was amazed.
I'm glad to see no typo. I was looking forwards to a turoblaser though.
And Size comparison. (that AT-At is the walking one)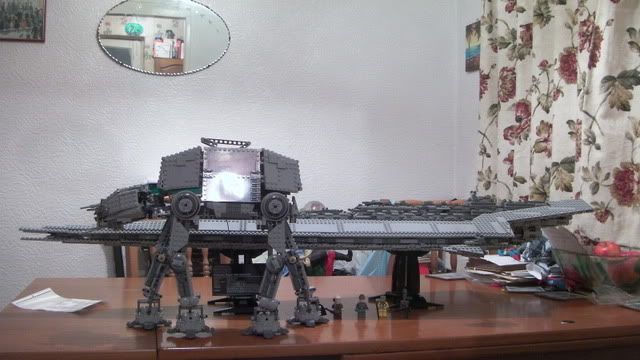 And to finish of the price. This thing is so overpriced it's not funny. The ISD was cheaper than this at launch and I find that model better than this one. Saying that all Lego including minifig scale has shot up (I bought the Hoth Millenium Falcon for £100. RRP in the UK is £130). Unless you have a burning desire to get this thing I would suggest you wait. At the price it will be in stock for a while but I'm sure once they stop making this, this will become an expensive set. Moreso than the ISD which tops the $1,000 MIB. If I could sum up the value of this piece to me though I would say that the Death Star is £75 cheaper and comes with nearly 700 more pieces but I passed that and got this and I don't regret it. And besides where else will I get to act out my creepy Lego brick flick with minifig Princess Leia?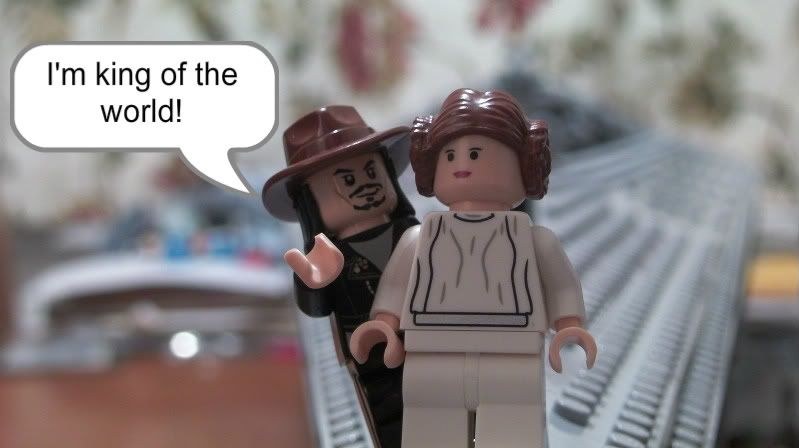 Mandatory 'extra bits pic'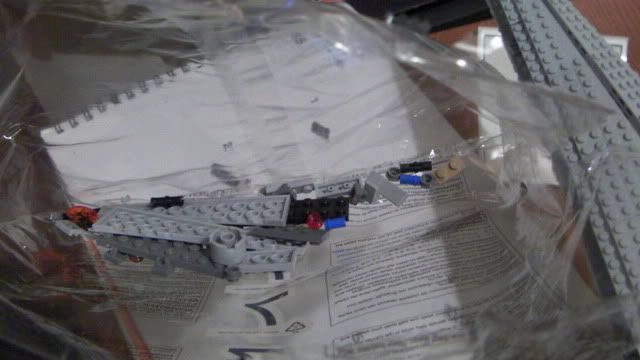 Sorry for the long reveiw but this is a big set. It derserves it.
looks/detailing: 9/10 (the underside stops it from being a 10)
Price: 5/10 (Overpriced! Overpriced! Overpriced!)
Mini-figs: 10/10 (I didn't expect any.)
Playability: 5/10 (suprisingly durable
Pieces: 8/10 (nothing further to say)
Over all:37/50 Wait till a sale!
Edited by dcflake, 02 September 2011 - 07:01 PM.
Indexed