~This topic is meant only for the players who have been chosen to participate into this quest. If you wish to join the game, head to the Rules & Discussion topic to learn how to do so.~
The harbour of Eubric is not a place for the faint-hearted. Ships from every corner of the world dock there, honest traders as well as smugglers, slavers and pirates. Six figures make their way from the Heroica Hall to the warehouses of the Hinckwells, who are one of the two wealthiest and most powerful merchant families in the whole city. Those six are:

Alexis Fenral
(Masked Builder)
Level 1 Ranger
Power
: 4
Health
: 6/6
Gold
: 5
Inventory
: Longbow (WP: 3), Smoke Bomb, Potion, Venom
Atramor Gibbin
(played by CallMePieOrDie)
Level 1 Rogue
Power
: 4
Health
: 7/7
Gold
: 0
Inventory
: Sai-dagger (WP: 3), Venom, Potion, Shovel
Eric
(played by Khorne)
Level 1 Barbarian
Power
: 4
Health
: 8/8
Gold
: 5
Inventory
: Godricsleif (WP: 3), Potion, Mead, Bedroll
Hybros
(played by JimButcher)
Level 1 Rogue
Power
: 4
Health
: 7/7
Gold
: 0
Inventory
: Reaper Scythe (WP:3), Potion, Venom, Shovel

Lord Lawrence Boomingham
(played by Zepher)
Level 1 Knight
Power
: 4
Health
: 10/10
Gold
: 5
Inventory
: Longsword (WP: 3), Shield (SP: 2), Potion
Rufindel Galadhras
(played by Rufus)
Level 6 Cleric (Party Leader)
Power
: 10
Health
: 14/14
Ether
: 10/10
Gold
: 7
Inventory
: Oaken Staff (WP:4), 2 Potions, Remedy, 2 Bones, Pickaxe, Tonic, Bedroll
The party was surprised when upon arriving to the Hinckwell warehouses, they found the doors bolted shut. Nobody would answer to knocking. Disappointed and frustrated, they almost turned to return back to the Heroica Hall when they heard someone whispering to them.
"Psst, over here! Quickly!"
A man in a black cape and a fancy feathered hat was waving at them from a shady alley nearby. The party went to him.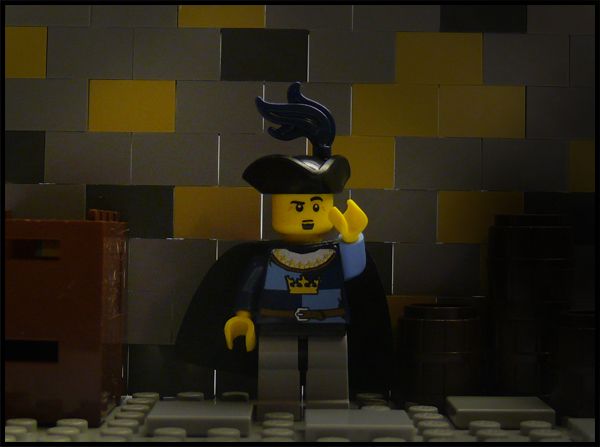 "So, you're the ones I chose then? Did you make sure nobody followed you here?"
The heroes nodded, even though they had done no such thing. There was not a soul in the area around the Hinckwell warehouse save for them, in any case.
"Good, good. I am Lorcan, son of Heinrich Hinckwell, as you probably deduced by now. Now, you must listen carefully. I'm sending you to infiltrate the warehouse of no other than the
Shadeaux family
, who are our sword rivals in matters of trade. We highly suspect that they were behind the robbery of our cargo last week. After all, they are trying to get their share of the oriental perfume market as well, and that's exactly what was in our cargo. So, when you get into the Shadeaux warehouse,
look for crates marked with a crown
, my family's insignia. My men have been watching that warehouse since last week, and they have not seen such crates taken out of there, so they must still be there."
Lorcan Hinckwell adjusted the feather in his tricorn hat.
"Now, and this is of uttermost importance, if you get caught during this stealthy mission,
do not under any circumstances reveal who sent you or what you were looking for
. You will certainly not be rewarded if you do so, and furthermore none of you will ever be hired by our family ever again. I hope I am making myself as clear as possible. Now, do you have any further questions before I point you to the correct warehouse?"