~This topic is meant only for the players who have been chosen to participate into this quest. If you wish to join the game, head to the Rules & Discussion topic to learn how to do so.~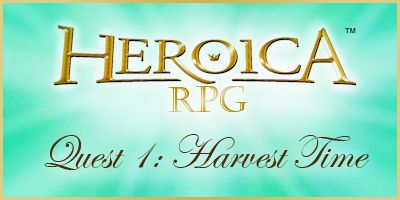 Six aspiring heroes left Heroica Hall and Eubric Freeport behind and headed to the rolling fields outside the city. They were supposed to meet the spokesperson to the local farmers, Old Mack Donauld, at his farm. These six champions were:
Bartholomew Docken
(played by Brickdoctor)
Level 1 Ranger (Party Leader)
Power
: 4
Health
: 6/6
Gold
: 5
Inventory
: Longbow (WP: 3), Smoke Bomb, Bedroll
Sir Christopher Daggerfall
(played by Fred Fred Burger)
Level 1 Knight
Power
:4
Health
:10/10
Gold
:0
Inventory
: Shining Greatsword (WP:3), Shield with Crown Emblem(SP:2), Bedroll, 2 Potions
Jess Islanti
(played by cralegoboy)
Level 1 Rogue
Power
: 4
Health
: 7/7
Gold
: 5
Inventory
: Longsword (WP: 3), 2 Venoms, Potion

Tesni Hightribe
(played by Peppermint_M)
Level 1 Barbarian
Power
: 4
Health
: 8/8
Gold
: 10
Inventory
: Cryfder (WP:3), Potion, Mead
Thrain Longbeard
(played by Lego Pinocchio)
Level 1 Knight
Power
: 4
Health
: 10/10
Gold
: 10
Inventory
: Dwarf Sword (WP: 3), Shield (SP: 2), Potion
Tomas
(played by Captain Tamamono)
Level 1 Cleric
Power
: 4
Health
: 9/9
Ether
: 5/5
Gold
: 5
Inventory
: Gold Staff (WP: 3), Potion, Remedy, Bedroll
Upon arriving to the farm, they meet Old Mack in front of his house. The elderly farmer has a worried expression on his face. The pig and the chicken accompanying him make nervous voices as well.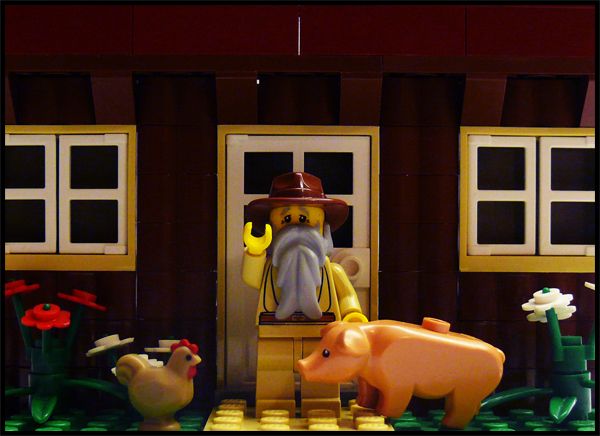 "Well met, would-be heroes. So, you're the ones who think they can rid our fields from the beasts plaguing them? Well, it's easier said than done. There are
five
important fields around this farm here, each infested by different monsters. I need you to
save at least three of the five fields
in order for us to keep sending resources to the city. Remember that a ruined field can take years to become useful again. A field is ruined if one of these things happens:
~ Any task given fails.
~ A battle lasts more than four rounds.
~ Fire is used during battle.
To make it clear as goat's balls, if three or more fields are ruined, you will not get the promised reward, got it?"
Then the geezer went on to explain the situation in each field in more detail.

"The five fields surrounding the farm are:
1. Sheep Meadow
~ You must find the Direwolf hiding among the twelve sheep. Each time one of you catches a normal sheep, the Direwolf eats another sheep. If six sheep get eaten before the beast is captured, the field is ruined.
2. Corn Maze
~ You must navigate through the corn maze to find the possessed Scarecrow. If you return to the entrance two times before the monster is slain, the field is ruined.
3. Haystacks
~ You must search through nine haystacks to find three Battle Ants. The ants have also hidden three Fire Bombs into the haystacks that will go off if the stack is searched. The ants must be found before the three bombs, or the field is ruined.
4. Apple Orchard
~ You must find the Autumn Dryad hiding up in one six apple trees. Each time you climb the wrong tree, the dryad withers the tree she was hiding in and moves onto another. If the dryad withers four trees, the field is ruined.
5. Pumpkin Patch
~ One of the seven huge pumpkins is a monster called Pumpkinface. They must squash the pumpkins until they find it. If four pumpkins are squashed before finding the monster, the field is ruined.
So, now you must choose which field you try to save first. Needless to say, you must move as a group to have any hope in defeating the monsters - they're really tough. So, any questions from you lot?"
Old Mack Donauld stares at the party under the brim of his hat expectingly.