~This topic is meant for all out-of-character discussion and questions about the Heroica RPG. For other topics related to the game, see the Heroica RPG Index.~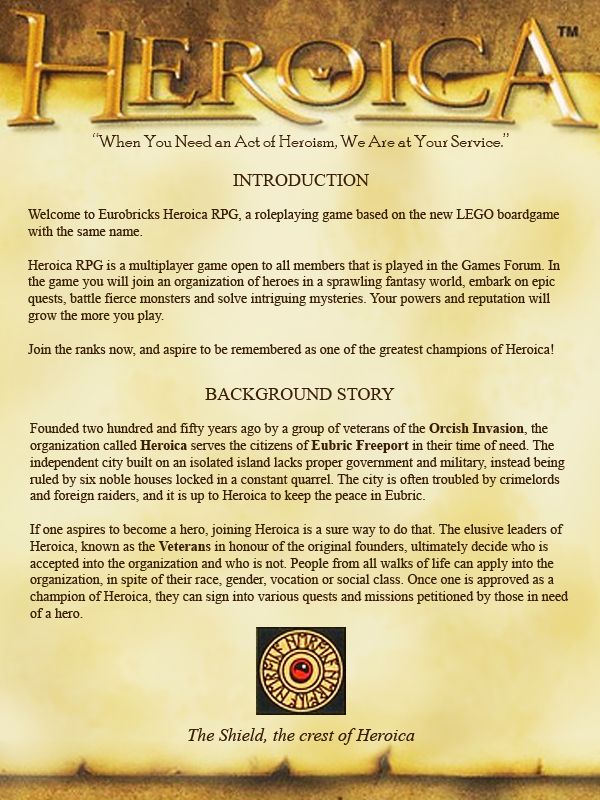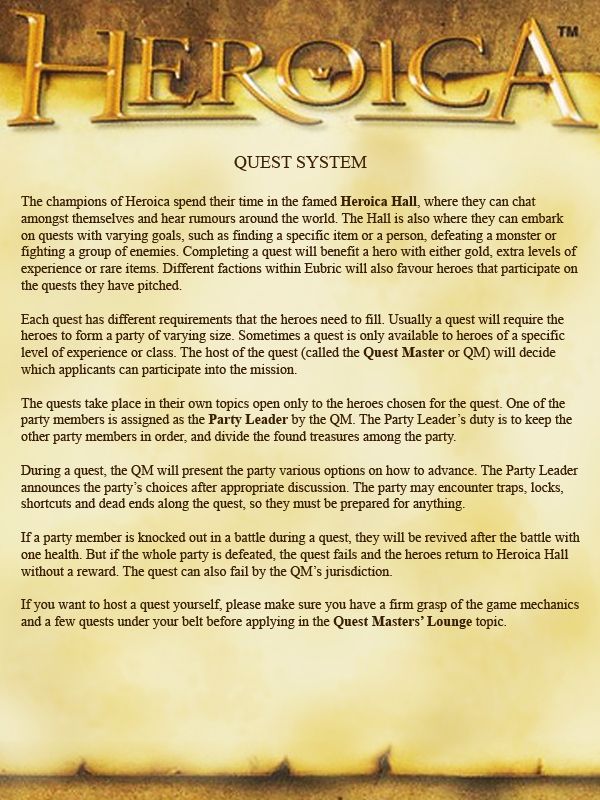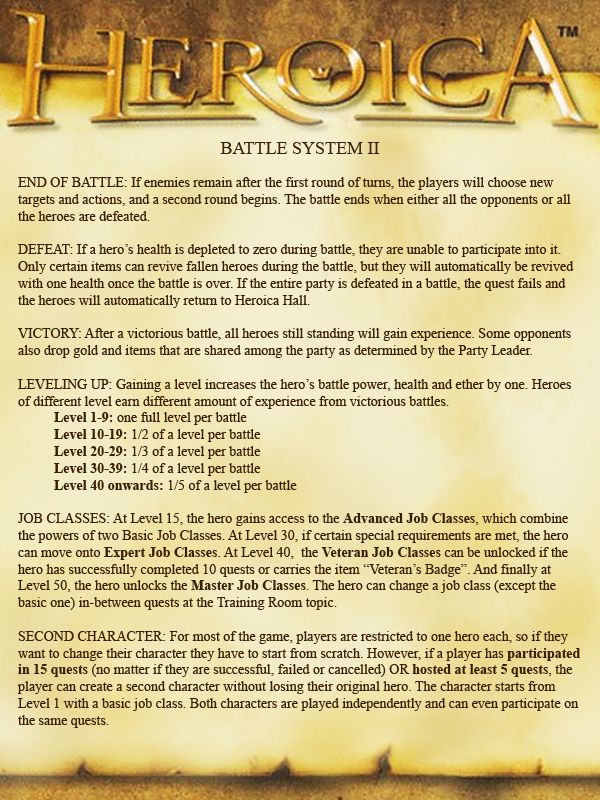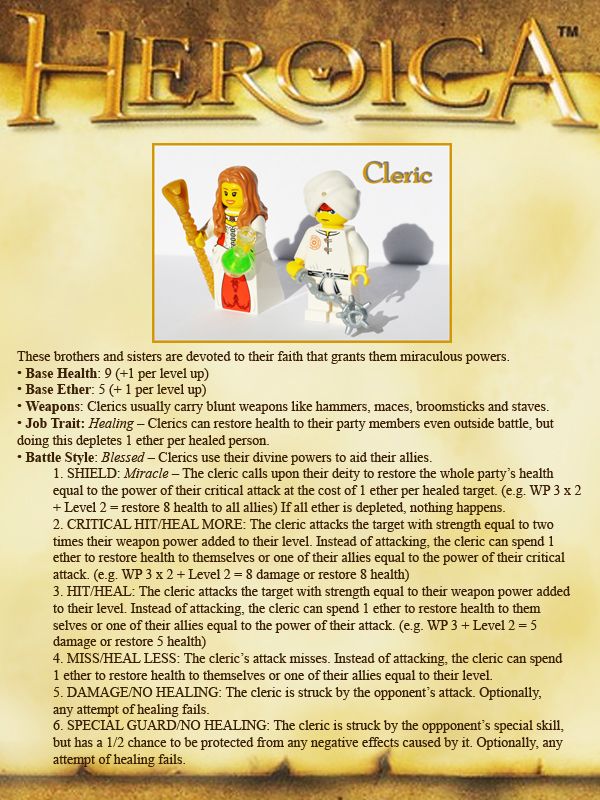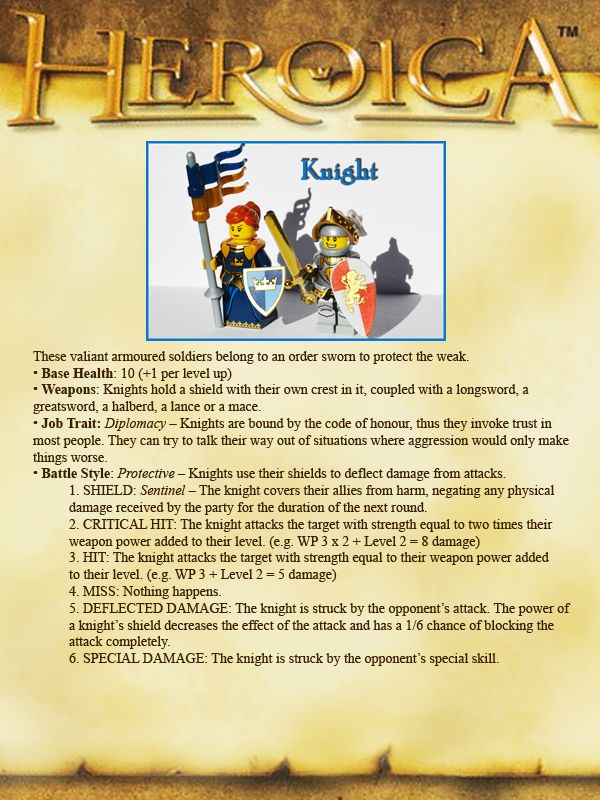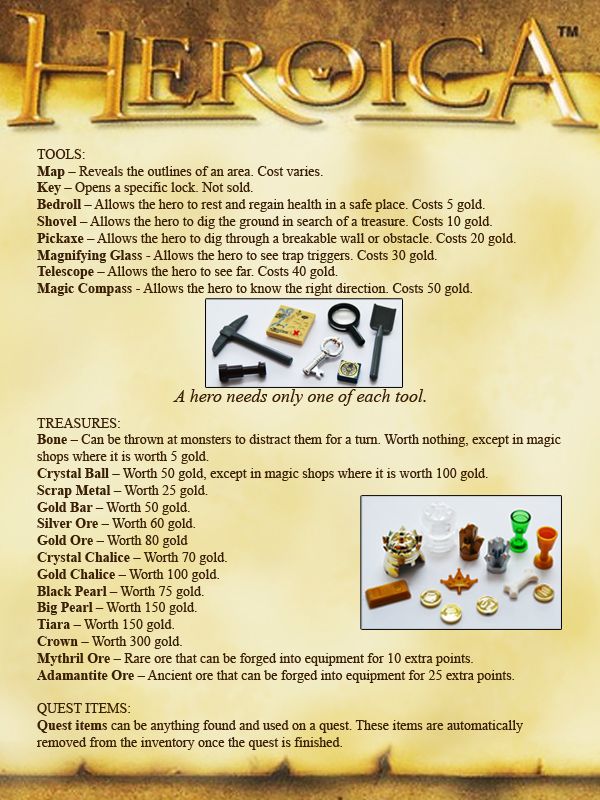 FREQUENTLY ASKED QUESTIONS
Characters:
Q: When creating a character, what topic do I post it into?
A: Post the character's statistics into the Hero Statistics -topic, and make a link to that post in your signature (the link address can be found by clicking the number on the upper right corner of the post). Then introduce your character in the Heroica Hall -topic.
Q: When introducing ourselves, do we need a lengthy intro?
A: It's up to you how long and detailed you want your intro to be.
Q; Do I need my character picture up right away?
A: No, as long as you get them up eventually. You will not be able to go into a quest without a picture of your character, though. If you can't make one yourself, ask your fellow players.
Q: Can I change my character?
A: Yes, as long as you start over completely. No levels or items can be transferred to the new character. Note that you can create a second character when your original character reaches Level 50. The second character has to be somehow related to the first, and has to start at Level 1.
Q: I can't make a long-term commitment. Can I still play?
A: Heroica RPG is more of a game system than a single continuous game. You can create your hero character whenever you like, and wait for a good time to sign into a quest. You must be able to play for the duration of the quest you sign into, though.
Q: I am now at Level 15, how can I upgrade to the Advanced Job Class?
A: Congratulations! Simply visit the Training Room and follow the instructions found there.
Quests:
Q: If there are enough sign-ups to a quest and everything was ready, would the quest start early?
A: Not necessarily, we'd still need to give everyone time to sign up before the deadline. The sign-up deadlines can be changed by the QM's jurisdiction, though.
Q: Is it possible to change what quests you sign into?
A: Yes, you can change as much as you want until the sign-ups end.
Q: How long does a quest take?
A: It varies greatly, so you have to ask each Quest Master separately.
Q: When a quest starts, can the chosen players still post in the Heroica Hall topic?
A: Not until the quest is over, unless the Quest Master specifically allows it.
Q: Will my health and ether be restored automatically after I finish a quest?
A: Yes, since you can rest as much as you want in-between quest.
Q: When you lose a quest, do you keep the experience and items you earned in battles?
A: You get to keep the experience and items you gain during a quest, even if it fails. You just won't get the promised reward.
Battles:
Q: What happens to the effects when a hero is knocked out and then revived?
A: Temporary effects - both negative and positive - all vanish upon getting knocked out. Only permanent effects gained from equipment stick.
Q: Do the special effects and elements on weapons also affect spells? Like if a mage is carrying a wand that inflict sleep with each attack, does the mage's spells do the same?
A: No, the effects and elemental properties on weapons only apply to physical attacks made with that weapon. A mage's spell uses only the power of the weapon, not the effects. Effects cast on the hero, such as encouraged and hastened, do apply to spells as well.
Q: What does it mean that when several enemies get Free Hits on the same hero, their attacks are combined?
A: It means that when two or more enemies attack one hero during the Free Hit phase, their damage input is added together. The hero's Shield Points (SP) are only taken into a count once. For example, when two Level 5 enemies attack a hero with 5 SP, their combined attacks allow 5 damage to surpass the defense. This way even low level enemies have a chance of damaging a hero with high SP.
Q: How do the effects differ when applied to enemies?
A: Not all effects work the same way as they on heroes when they are used on an enemy. Here is a comprehensive list of the differences:
Hastened - The enemy will perform a single Free Hit if it is targetted during the round, and two Free Hits if it is not targetted.
Lucky - Everyone targetting the enemy will roll twice and perform the worse result of the two.
KO - Not usually applicable to enemies. Once their health is depleted to zero, enemies cannot be revived except where explicitly stated otherwise.
Stunned - The enemy misses on the next DAMAGE or SPECIAL DAMAGE rolled for it. If nobody targets it, the enemy loses its Free Hit.
Asleep - The enemy is unable to act for three rounds unless it is woken up by an attack.
Fast Asleep - The enemy is unable to act for six rounds unless it is woken up by an attack.
Blinded - The enemy misses on every DAMAGE rolled for it for three rounds. This also applies to Free Hits.
Sealed - The enemy misses on every SPECIAL DAMAGE rolled for it for three rounds.
Bound - Not applicable to enemies.
Afraid - Not applicable to enemies.
Enraged - Not applicable to enemies.
Confused - The enemy has a 1/2 chance of hitting a random ally instead of the target with every DAMAGE or SPECIAL DAMAGE rolled for it or with Free Hits for three rounds.
Slowed - The enemy cannot perform a Free Hit even if nobody targets it.
Jinxed - Everyone targetting the enemy will roll twice and perform the better result of the two.
Minimized - The enemy's level, max. health and max. ether are reduced to 10% (rounded up) for three rounds, after which the values are restored, except any health or ether lost during the minimized phase.
Encouraged

,

Blessed

,

Inspired

, Doomed,

Petrified

,

Poisoned

,

Badly Poisoned

,

Cursed

,

Enamored

,

Hexed

,

Weakened

and Fragile have no difference when applied to enemies.
Q: How can I damage undead enemies?
A: Undead enemies are immune to normal, non-elemental attacks. However, they can be damaged by all elemental spells and items as well as healing, including potions. Light-elemental damage is especially effective against them, causing double damage.
Q: If an enemy falls into more than one type, how are conflicting or aiding elements determined? For example, an enemy is both flying and mechanic, and is attacked by a wind element (sapphire). How is damage determined then?
A: In your example, the two types cancel each other out, so a Flying Mechanic type enemy would take normal damage from wind spells. If the enemy was a Flying Vermin type, though, the wind spell would cause quadruple damage against that enemy, since both those types are weak to the element.
Q: For Clerics and Mages, is the option to heal/cast decided before the dice roll or after it? Also, is ether depleted if they choose to heal/cast, even if the heal/spell fails?
A: The players choose their actions before the die is rolled. Healing and casting are also affected by the die roll just like attacks are. Ether is only depleted upon successful casting and healing.
Q: Does an unsuccessful casting of an effect from a scroll cost ether?
A: Yes, ether is deducted each time a scroll is used, whether successful or not.
Q: If I target an ally standing on a different row than myself with an attack for some reason (eg. in confusion, with a healing weapon), how will the damage be calculated? And what if "DAMAGE" or "SPECIAL DAMAGE" is rolled?
A: When it comes to attacking allies, the rows make no difference. You will always have full power against your allies. The targeted ally will not counter the attack, but rolling "DAMAGE" or "SPECIAL DAMAGE" will be counted as a miss.
Q: Does a knight's "Sentinel" or a paladin's "Guardian Angel" protect from friendly fire too?
A: Yes, those "SHIELD"-skills protect the whole party from all physical damage (and in "Guardian Angel's" case, all elemental damage and negative effects as well), no matter what the source is. The skills do not protect from special skills that do not deal direct damage or negative effects.
Q: Can I stack damage-dealing effects such as "poisoned", "badly poisoned" and "cursed"?
A: An enemy can only be poisoned once, and "badly poisoned" overtakes a previously inflicted "poisoned"-effect. "Cursed"-effect affects maximum health, so it affects a poisoned enemy separately.
Q: What happens when a hero with "hastened"-effect is inflicted with "slowed"-effect, or vice versa?
A: The two opposing effects nullify each other, so the hero will return to acting once per round, as normal. The same applies to "lucky" and "jinxed", "encouraged" and "weakened", etc. Note that the effects are only negated, not removed.
Q: Do "lucky"- and "jinxed"-effects affect other rolls than the one for battle results?
A: Not unless it specifically says so. For example, the odds for SPECIAL GUARD, scroll effects and assassination are not increased or decreased by these effects, but the Alchemist's "Mixture"-skill is.
Q: What about when a "lucky" hero attacks a "jinxed" enemy, what happens then?
A: The die is rolled four times in that case, and the best results out of the four is used. If the situation is reversed, then the worst result is chosen out of the four.
Items:
Q: Consumable items can be used on anyone in battle, correct?
A: Yes, on yourself, on your allies, even on enemies.
Q: Does Phoenix Essence restore ether as well as health?
A: No, it only affects health.
Q: Do bombs affect their own elements?
A: Bombs are like elemental spells, so they follow the same rules of weakness and immunity as the spells do.
Q: Can dual weapons be used?
A: Yes, but only with the same power as one-handed weapons. For example, you can put Daggers (WP: 3) into your inventory.
Q: Do you have to sell treasures you get on quests?
A: No, after the quest ends, you can just add their value to your amount of gold automatically.
Q: Is it possible to stack special effects to weapons?
A: Yes, you can for example use a Venom on a weapon that already has a sleep-effect on it.
Q: Is there a limit to how powerful a weapon can be?
A: No, there is no limit. Quest Masters must be wary of the game balance when handing out weapons, however.
Q: What happens if you have multiple weapons?
A: You can only equip one weapon at a time, and that is the weapon that is listed in your equipment. Usually the strongest available weapon is equipped, but if a situation rises where you would like to use another weapon instead, just mention it to the Quest Master. Changing equipped weapons in a battle does not cost a turn, so it is often a smart strategy to carry spare weapons with different effects. However, you can only change weapons once per turn.
Q: What does "retrievable" mean in the case of the throwing weapons?
A: The throwing weapons need to be retrieved in order to use again, which means during a battle, if you roll any result from 1 to 4, you have to spend a turn to get your throwing weapon back. You cannot do anything else on that turn. If you have thrown several throwing weapons at the enemies, though, you can retrieve them all on the same turn. They are automatically returned to you once the battle ends, though. In any case, it would be smartest to hold another weapon ready if you have a throwing weapon.
Q: You can only equip a certain amount of artifacts, but can you carry more? What exactly is classified as an artifact?
A: You can carry more than the amount of artifacts you can equip in your inventory, but only the ones listed in your equipment will have an effect. Remember that the equipped artefacts cannot be of the same category. The different categories of artifacts are headwear, bodywear, backwear, handwear, footwear and accessories (such as off-hand items and jewelry). If you are unsure whether some item is an artifact or not, ask the Quest Master that gave it to you. Note that if you want to change your equipped artifacts during a battle, it will cost you a turn.
Q: Can I give items and gold or trade things with other players?
A: Yes, it is allowed as long as both of you update your profile accordingly. Cheating will not be tolerated.
Q: Can I give items to another ally during a battle?
A: Yes, but it will cost a turn for both of you.
Q: Does using an item such as a bomb or a scroll on an enemy negate its Free Hit?
A: No, it does not. Items are not actual attacks, so the enemy is not "locked in a duel" like it is with normal attacks. That's why it is free to attack the heroes at the end of the round.
Q: How do weapons with a "dual strike" effect work, exactly? And can a shield be carried with "twin weapons"?
A: "Dual strike" deals damage to either the targetted enemy and the enemy next in the order OR double damage to one enemy upon a successful hit. A shield can be wielded with any weapon that doesn't specifically negate its use.
Q: How does the Healing Staff work, exactly?
A: In most cases, it works like when attacking someone with a normal weapon, but instead of causing damage, it heals the target instead. It does damage undead enemies like all healing, though. Because of it's unique properties, the Healing Staff sometimes overrides some battle results. If it is used on another hero, for example, the healer will not be damaged even if "DAMAGE" or "SPECIAL DAMAGE" are rolled. Those rolls are counted as a "MISS" in that case. The Healing Staff can also change some "SHIELD"-skills if you're using it on an ally. The main principle is that the Healing Staff never causes damage except to the undead. Consult your Quest Master if you are unsure how the Healing Staff works with your class.
Q: How are artifacts that give bonus WP and bonus Power factored into battle calculations?
A: There is a distinct difference between those two values, even though they both affect the strength of the attack. Extra WP given by an artifact is added to the weapon's WP, and thus is doubled in a CRITICAL HIT and taken into account when AIM is rolled. If the artifact gives extra Power, it is simply added to the overall attack power, like the level of the player. For example, let's take a Level 10 hero with a WP:10 weapon, an artifact that gives +1 WP and an artifact that gives +1 Power. When that hero rolls CRITICAL HIT, his attack power is calculated thus: ([WP:10+1]x2+Level 10+1=33 damage)