Hi!
I did a small series of colonial marines from the second aliens movie. I did a run of all the prominent characters like Hicks, Hudson, Apone etc. for myself. Now I'd like to offer some of the spare figures to you. These figures are generic colonial marines, with a standart face and no personal markings on their armor.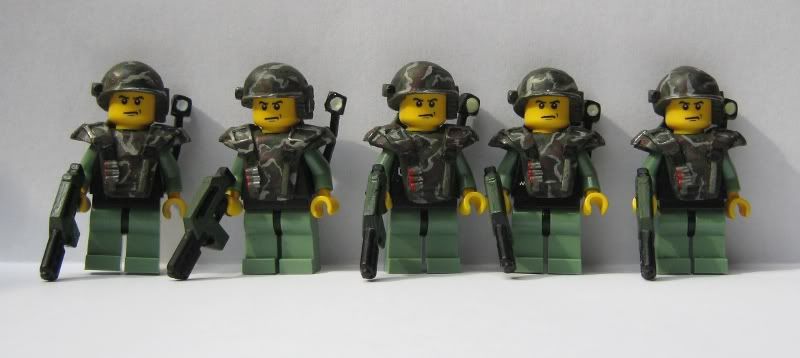 This is what you get:
- each figure is hand painted and comes with:
- removable helmet with neck flap on the back
- removable body armor
- shoulder lamp at the back with a light spot, that glows in the dark
- painted pulse rifle
I offer these for 13,95 Euro per figure.
Also available now: Smartgunner "Vasquez":
- hand painted and hand made
- removable body armor with shoulder lamp
- custom made Smartgun
- removable head wear
1 got 1 Vasquez available for 15,95 Euro
Please keep in mind, that these figures are not mass produced parts. They are not as accurate and clean as mass produced, new lego parts - so please no nitpickers. The custom made pieces are made out of resin. They are durable and a little flexible, so don't be afraid that they could break easily. If you are interested, please send me a PM. I will ship internationally to people who love the colonial marines as much as I do.

Edited by Blacktron, 06 March 2013 - 04:17 PM.