Set Review of #4643"Power Boat Transporter"
When I first opened the box I noticed the white boat right off. It comes assembled and appearing to be one solid piece. As you can see, it's actually 2 pieces.
Bag #1 contains the boat construction pieces, the only new pieces here that aren't in my collection are the two long sloped yellows at the bottom right of the picture.
So let's get building and dive right in eh!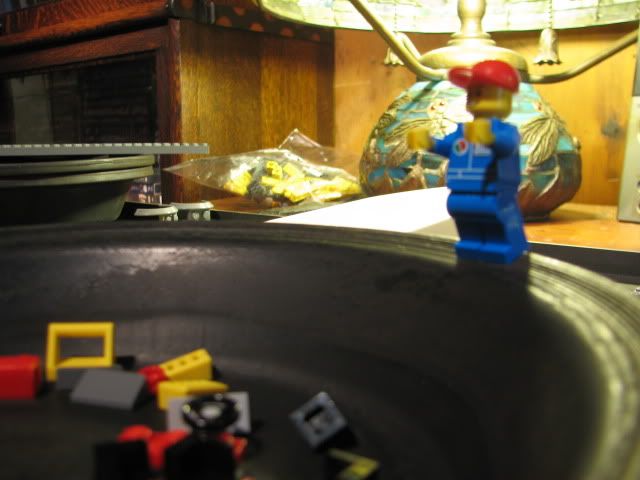 Construction of the boat is simple in design. Though the good news is, is that you can re-design the build to harbor more area. Also the 2 piece shell could easily be adapted to provide power functions, since the boat can float.
Bag #2 contains the pieces for the tractor and #3 has the Float trailer ones.
I love the jet boat and the fact it could be modified to include PF, although I wish they had done a grey or blue for the boat belly.
The truck is not unfamiliar to me; I have a few pulling a truss and a dozer, though there is a unique change in design on the rear view mirrors which I think is really cool.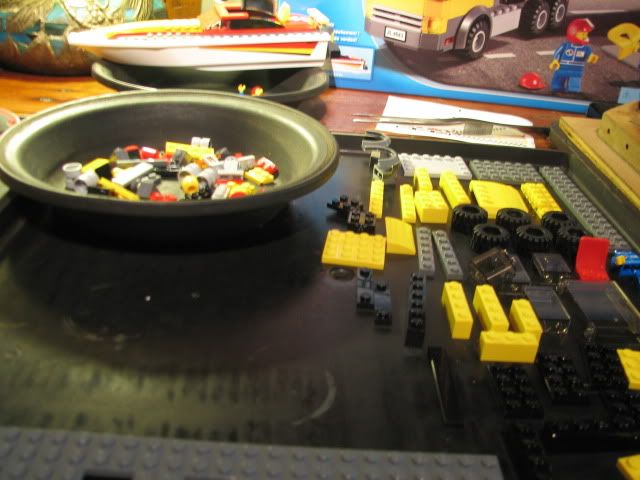 I will always say to Lego that they would sell a lot more big sets to the AFOL's if they included more mini-figures. More advanced ones as well. The two in this set are okay,but I don't think much thought went into which would be best to suit the model.I mean really, these guys are pumping gas right?
One cool note I noticed about the stickers, the number of the boat is the same as the Lego kit number. Good idea eh?
Essentially, this model has really only one flaw. The age group is 5 to 12, so you're going to spend more time flipping instruction pages then you do attaching bricks, lol. My opinion on possible improvements, would be simple, the doors on the tractor, or lack there of. Some remember Lego's old style cupboard doors and drawers. Some were even semi-clear. They could be incorporated here to add a little more dimension to the model.
One more very minor deficiency; the trailer has the same license plate sticker as the tractor, oh well, nobody's perfect.
One last great note on this kit, the trailer uses a train car plate as its base, which means with a few extra bogies, your boat can be cruising around your train set as well. On the same note, Lego has shown how to turn Train car base plates into trailers with a nice landing gear as well.
I think the wideload markers were a nice touch too.
All things considered, if you're into Lego City, this set is for you,. 4/5stars.
Keep on Brickn' eh…The legodac Brickerage Firm.
Edited by Zorbas, 31 July 2011 - 10:09 AM.
Indexed