I'll start off by saying I didn't think much of this set going in to the build. Maybe the set will change my mind?
Set name: Hoth Echo Base
Set number: 7879
Year of release: 2011
Price: 89.99 EUR? / 89.99 USD
Parts: 773
Minifigures: 9 (Luke Skywalker, Princess Leia, Han Solo, Chewbacca, Snowtrooper(2), R3P0, 2-1B, Tauntaun)
Front:
Back: (will take a better one later)
Side:
Random Bag:
Bag 1:
Let's start with the best feature of the set: the minifigs. A couple new figs and some big improvements on repeated figures.
Han: Improved hood.
Leia: More accurate hair style, more detail on jacket. Yes, they gave her a popsicle as well.
Luke: Bacta Luke! Definitely the best fig of the set. Injured eye and cut on face. It's too bad the mask is on the face as well or this could work in the Wampa cave scene.
R3P0: An odd choice for a fig, but an exclusive fig is better than a standard soldier here.
Snowtroopers: No changes.
Chewbacca: Bowcaster is now a dark grey.
2-1B: Medical droid to put in the med bay with Bacta Luke.
Both Leia and Luke have reversible heads. These are likely their "we just kissed" faces. Let's not dwell on that longer than we have to.
You can really see how much of an improvement Han and Leia are when you compare to their counterparts, especially Leia. For Han, the new hood makes a world of difference, and is able to rotate since it's not attached to the torso.
Protocol party! Now we just need a silver one... (edit: yes, there's a black one...forgot to add it)
Tauntaun is pretty standard. Comes with saddle or a few blocks to close the gap for a saddle-less Tauntaun.
Note: this Tauntaun is NOT the same as the one that comes with 7749. The tail is a different piece that is slightly-off colored and made of a tough rubber. You can all speculate why they made this change.
Basic E-web blaster. Nothing too fancy, slightly different build from 7749.
As you can see, some color changes and a couple different pieces.
The speeder, while using many of the same pieces as past speeders, is a very unique build.
The speeder in the background is from the Snowtrooper battlepack. Stop doing this TLG! Stop it now! The speeders are so different I can't even display them next to each other.
So this is the bridge that I assume goes with an X-wing. No, it doesn't normally sit on top of the base, I believe it CAN go there when you pick up the set to move it. A bit low though, right? Let's raise it.
Yes, this is as high as it goes. An X-wing nose can fit through this, although the crane device gets in the way. It slides back and forth on the bridge and is used to pick up boxes. It's a pretty awful play feature.
Alright, let's get to the base building...which always starts with a magical DSS.
Some great stickers in there, but a shame they're going to fall off and/or look like crap in a few years. TLG, give us some printed pieces!
Bag 2:
Bag 2 result:
Bag 3:
Bag 3 result:
Bag 4:
Bag 4 result:
Bag 5:
And...done!
Let's look at some of the "features".
Yes, the wall actually folds so rebels can grab weapons while outside. This makes about zero sense but a kid might enjoy it.
The Tauntaun's have their own, weather prone gate to come and go through. Huh? This makes no sense either...but it's fun I guess? Kids must not care about accuracy. Comes with some foliage to eat, which is attached to the door. Sigh.
The med bay isn't awful, just cramped. Why couldn't they have just made this room instead as shown below? Still, it's sadly the best part of the base.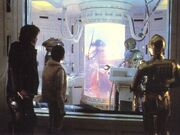 The control room is so cramped there's no room to sit down at the other panel. Unlike 7666, the glass screens do not fold open. The sticker placement is on the INSIDE of the transparent piece making accurate placement very difficult. I originally thought the glass screens would slide to the right for more room, but no. All of this is just so horribly cramped.
Tauntaun saddle holder. It's an interesting feature, I kind of like it. Next to it looks like a Snowspeeder fuel tank.
This is just awful. What were you thinking TLG? The icicles fall when you pull out the pin, but no one will be under them because they hang so low that they block the doors! They're also a pain to put back unless you have 6 year-old fingers.
Which leads me to my final conclusion. This set was designed for little kids. It has no regard for accuracy, just small bits from Hoth scrambled together to an undecipherable mess. It looks okay, but it's not remotely accurate. It's designed for this guy.
You'll be right at home here, Ice Planet guy.
Do I suggest this set? If you can get it on sale, you'll get some nice figures and some pretty good pieces for a MOC. Otherwise, unless you're 6-8 years old, I'd stay clear. It's just not Echo Base.
Edited by KielDaMan, 23 July 2011 - 11:07 AM.
Indexed