Pictorial Review - 6285 - Black Seas Barracuda
After being in love with this set from a distance for 22 years, I finally had the guts to buy one, even though I knew it would be quite expensive. Luckily the set was 100% complete with the original box in a quite good condition.
I know that there is already a nice review of the Black Seas Barracuda, but I love to play with photoshop, and I decided to do my own review after playing around with a few ideas I had in mind.
So without further ado, I give you my review of one of the finest sets ever released by LEGO.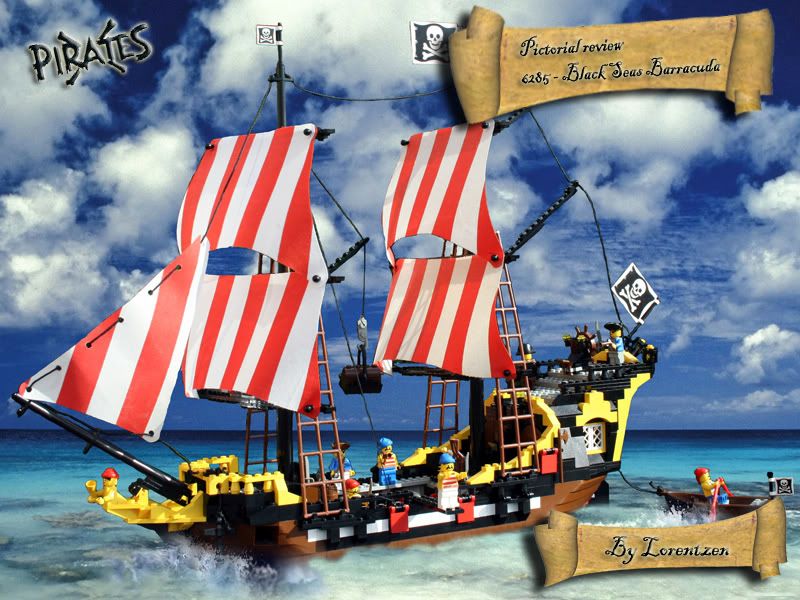 I have decided to do most of the review in pictures, with less text than I am used to.
If you want, you can always take a look at some of my other reviews:
Pirate theme:
6267 - Lagoon Lock-Up
6270 - Forbidden Island
6273 - Rock Island Refuge
Caribbean Clipper
6286 - Skull's Eye Schooner
Other themes:
6353 - Coastal Cutter
6376 - Breezeway Cafe
6062 - Battering Ram
And some shameless self-promotion:
My article on the "classic" LEGO houses
I know how you guys just love to look at photos of LEGO, so there'll be approx 30 pictures all in all.
I hope you enjoy the picture-tour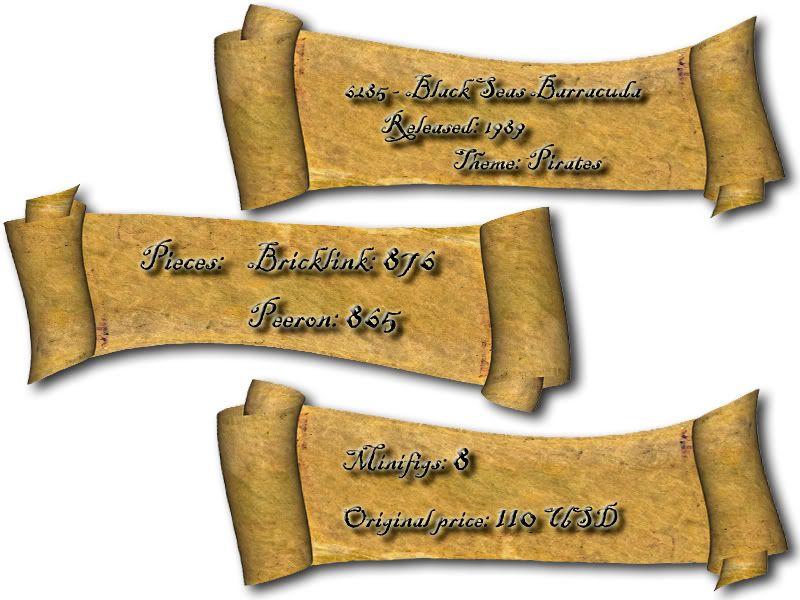 The box for this set is HUGE - I don't think I've ever held such a huge box before - perhaps maybe the 6286 Skull's Eye Schooner box is the same size. I should compare them at some point - they are currently in my attic though.
The good old days when boxes had flaps, cellophane and plastic trays to present special parts - those days are unfortunately over. It's a good thing that most LEGO collectors keep the original boxes to store their vintage sets in. The boxes these days are not as interesting - yes I know that the graphics are better, but it's not nearly as interesting to investigate boxes compared to the 1980's/early 1990's.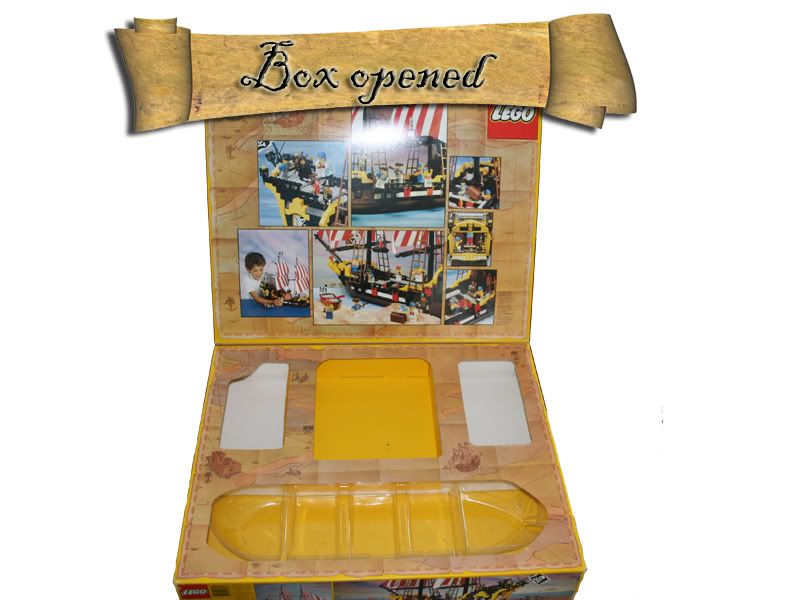 They even had lots of alternate models on the boxes and manuals. Here are three of them:
It wasn't as easy to build large sets back then - but that's completely fine with me. The harder the challenge, the better. The manual did have sub-model building, but no numbered bags, no specific piece call-outs or anything. Just plain ol' LEGO building as I love it

To build a LEGO ship, you naturally need lots of special parts. The classic masts are so much nicer than masts today.
A big set such as this naturally comes with countless of cool accessories - but one thing that I think sets today does better than back in the 1980's/1990's is that they offer more accessories, and of a much better detail.
That does not, however mean that the parts offered with this set is bad - at all - just look at the next few pictures. There are lots of great parts to help enhance playability.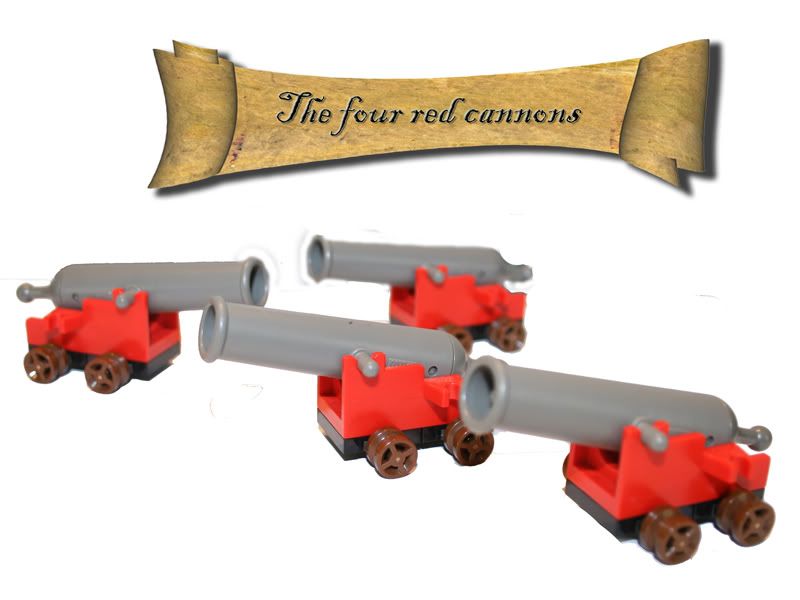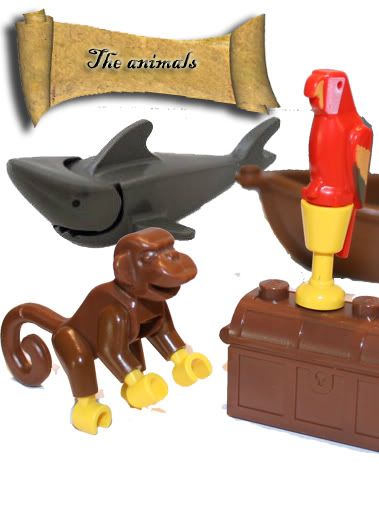 The beautiful red/white sails:
You get two of these:
...and two of these:
The rowing boat is a great addition to the set and adds even more to the playbility: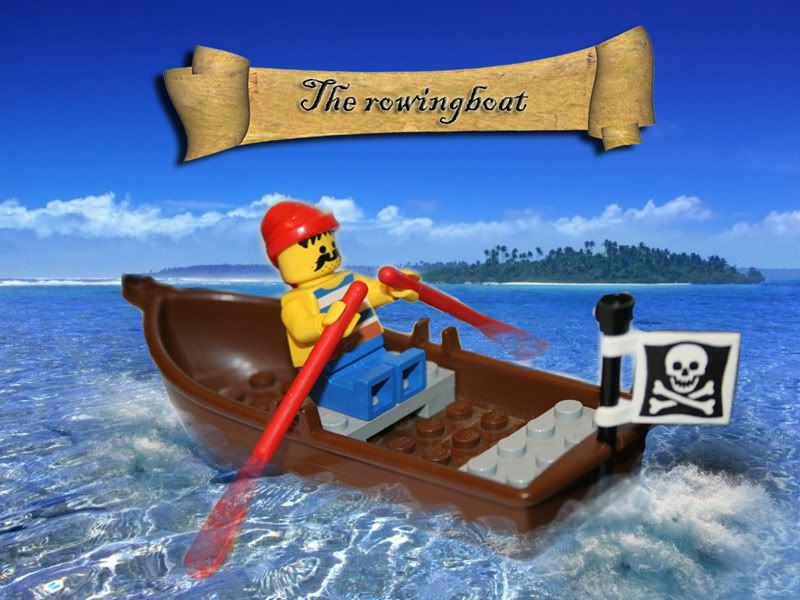 We get 8 minifigs and even a yellow lady figure head. All the minifigs are supposed to be pirates. We all know that Steve from 6286 - Skull's Eye Schooner was perhaps supposed to be a neutral trader of some sorts. But here, on the epic Black Seas Barracuda, all on board are swashbuckling swashbucklers - even the hard core female. First of its kind in LEGOLAND to have lipstick on.
The prefab hull - nice classic brown color
This is the only shot I did of the building process - I always forget to take photos when building sets, because I get so excited. This is not even a genuine "building process" shot - it was taken as I took the ship apart again for safe storage in the box

After she is built, she is ready to set sail for the small hide-out Forbidden Island.
The next handful of shots are all here to show you the magnificent design and color scheme of the ship. Kudos to the designer for creating this masterpiece.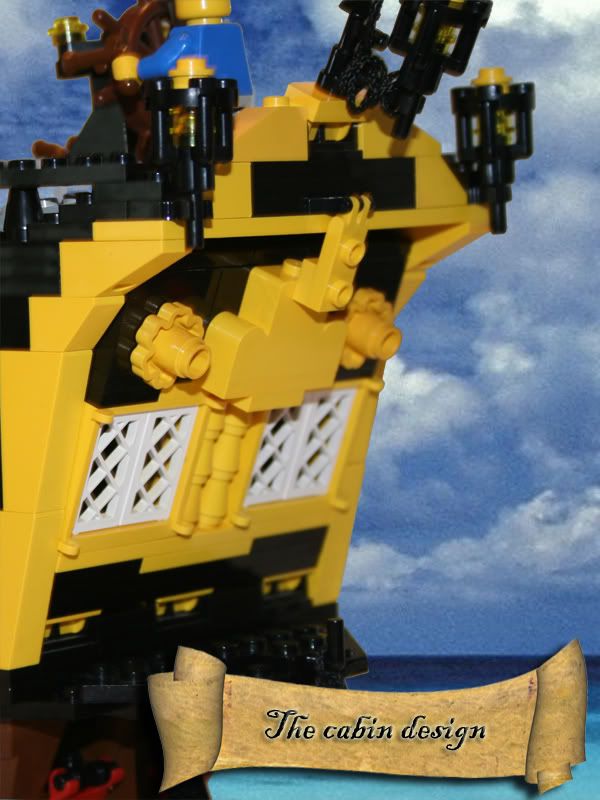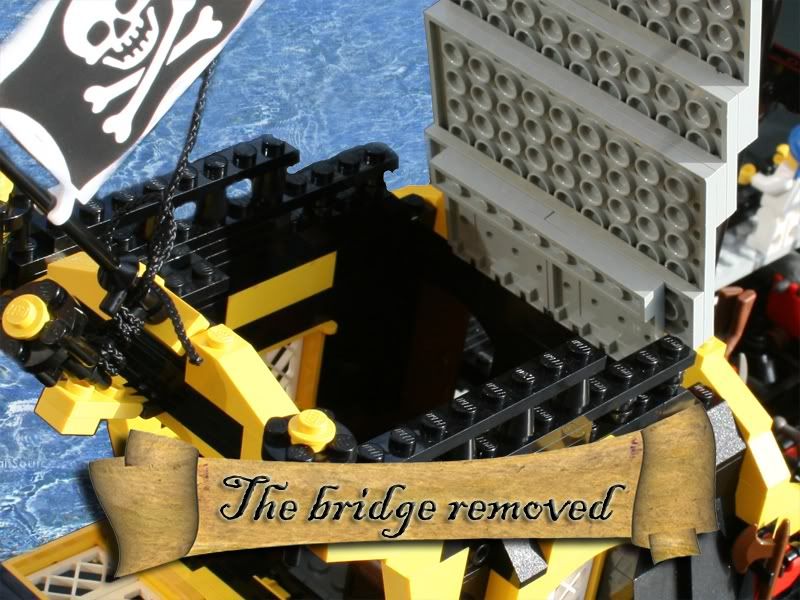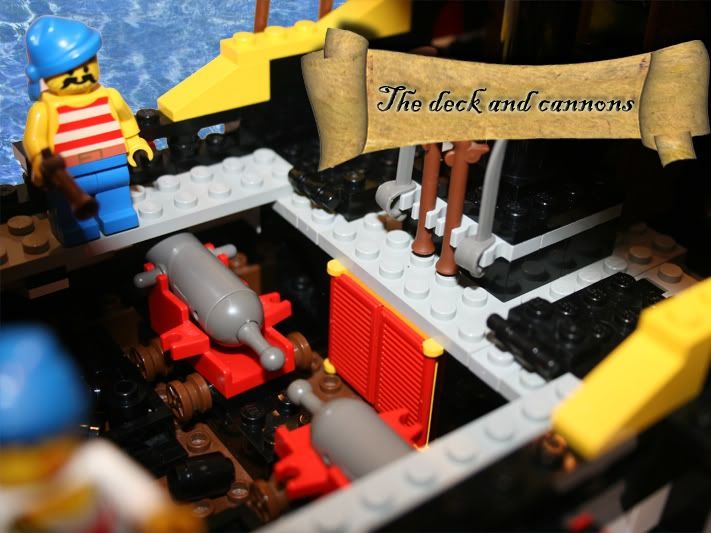 As you can see, there are of course numerous play features on the ship - it's an important detail that there is easy access to the captain's cabin - just to name one feature - the cannons, the anchor, the walk-the-plank plank. etc. etc. etc.
It's always a bit difficult for me to give LEGO sets points, so instead I'll just say that this has always been the set that I've dreamt of the most, and after cleaning it, and ironing the sails, and building it, I was not at all disappointed that I purchased it. It is the most beautiful thing ever... I love how it shines as if it was 1989 again. I am even happy to own the huge box, even though it takes up a LOT of space in my house
I rate this set 11/10

I hope you enjoyed the pictorial tour.
Please remember to vote
Edited by Lorentzen, 28 June 2011 - 05:55 PM.